Seattle Mariners postseason tickets go on sale this week: What you need to know
SEATTLE - The Seattle Mariners have unveiled ticket sale details for potential home games during the 2023 Postseason. The tickets will be made available to the public on Friday, but some fans will be able to access presale tickets sooner.
The Seattle Mariners are preparing to face their division rivals, the Houston Astros and the Texas Rangers, in the last week of regular season play before setting their sights on October.
"It's been another incredible season. We're looking forward to our last week of regular season play against our division rivals and riding that energy all the way through October," said Catie Griggs, the President of Business Operations for the Seattle Mariners.
For those eager to secure their seats early, the presale of tickets will begin on Thursday, September 28, for current Season Ticket Members and new 2024 Season Ticket Members. Fans who wish to enjoy priority presale access can still obtain it by purchasing a '24 Season Ticket Membership through Tuesday, September 26, at 11:59 p.m. Detailed instructions for presale access will be sent via email to all eligible fans before their designated presale date.
The public on-sale date for tickets to the potential home games in Seattle during the American League Wild Card Series, the American League Division Series, and the American League Championship Series will begin on Friday, September 29, at 8:00 a.m.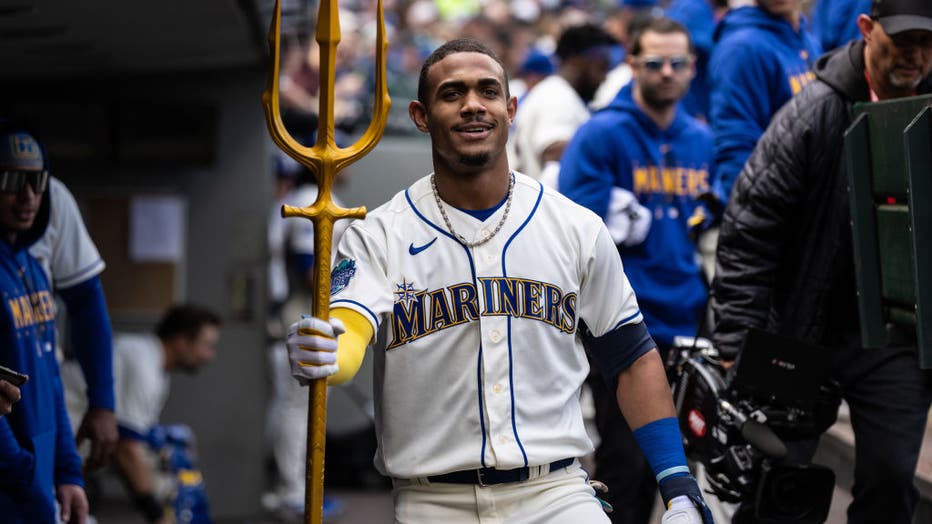 SEATTLE, WA - MAY 07: Julio Rodriguez #44 of the Seattle Mariners poses with a trident in the dugout after hitting a solo home run against the Houston Astros during the second inning at T-Mobile Park on May 7, 2023 in Seattle, Washington. (Photo by S
Fans can purchase these tickets at Mariners.com/postseason. Details regarding tickets for possible World Series games will be disclosed at a later date, the team said.
The Mariners have also ensured that fans who purchase postseason tickets through the team will receive refunds for any unplayed games within 30 days of the conclusion of the team's postseason play.