Takeaways from Seahawks 17-16 loss to Rams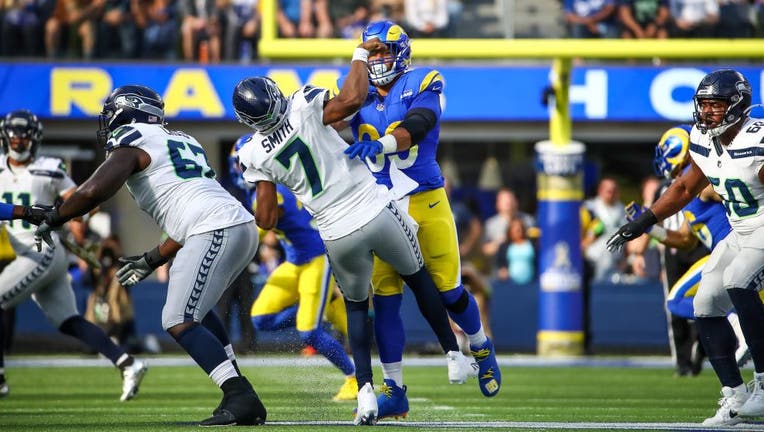 article
A game that started so, so well for the Seahawks ultimately went wrong in so many ways as Seattle was unable to close out a victory against the Los Angeles Rams.
Quarterback Geno Smith and running back Ken Walker III both left the game with injuries for Seattle. Smith returned from an elbow injury to lead a valiant last-minute drive that gave the Seahawks a chance for a game-winning field goal only for the 55-yard attempt from Jason Myers to be poorly struck and sliced off target short and right in a 17-16 Seahawks loss.
Myers was coming off a week when he was named as NFC Special Teams Player of the Week after converting five field goals with a game-winning kick last week against the Washington Commanders. Myers had already converted three field goals on the day, including two from over 50 yards before the closing chance. Myers had made 15 straight field goals and 20 of his last 21 attempts before the miss at the end of the game.
"It's tough because it's indoor but it's not. It's pretty windy in there so I knew I had to kind of drive it a little bit. So yeah it was a tough kick," Myers said.
"Great snap. Good hold. It just didn't go through."
But this loss wasn't on Myers. It was on a number of factors that came into play long before the kick with eight seconds remaining.
After an opening touchdown drive that was one of the best the offense has produced all season, the offense was unable to find the end zone again. They had to settle for four total field goal tries from over 40 yards as the offense was unable to truly threaten the end zone the rest of the day.
Defensively, penalties and a few sustained drives by the Rams were enough to sink Seattle's hopes.
"We got to finish," safety Quandre Diggs said. "We didn't finish. I mean it's good to start off early, you know, play well throughout the game, but we didn't finish, you know. I mean we were able to get some stops and we held them to 17 points, but I feel like these guys really shouldn't have that many points. We could have been better we got some things that obviously has to be fixed and we'll reassess and we'll go from there."
Here are the takeaways from the loss to the Rams:
– Penalties, penalties, penalties.
The Seahawks saw a lot of good work on both sides of the football completely destroyed by their worst penalty performance of the season.
The team had season-highs in both penalties called and penalty yardage as they were dinged for 12 penalties and 130 yards for the day.
"We made it really hard on ourselves so many times in this game with the calls that were made there, and I'm not disputing any of them, just in general and today it really blew up on us and gave them a really good chance to take advantage of it and they did," head coach Pete Carroll said.
The Seahawks took four penalties for 69 total yards on a single defensive possession in the first quarter. That one surprisingly didn't come back to bite them as the defense stopped the Rams on fourth down from the Seattle 2-yard line to keep L.A. off the board.
After converting a fourth down of their own in the second quarter to reach the Rams' 26-yard line. An illegal shift penalty and delay of game call on offense contributed to destroying a strong touchdown chance as the Seahawks settled for a 54-yard Myers field goal. Upon reaching the L.A. 28-yard line, a Colby Parkinson holding penalty thwarted another drive with a 52-yard Myers field goal to follow.
"We really were controlling the game but it was still only scored 13 points or something like that. It felt like we were in really good shape and like one touchdown felt like it's a close game after all that we had done, you know?" Carroll said. "We need to capitalize and get those touchdowns. You get just one of the two field goal drives. I think we went down the first three times we had the ball, did we not? We looked very clean and very sharp and everything was like we like it."
Then in the fourth quarter, an illegal hands to the face call against Riq Woolen gave the Rams a key first down on a third-and-15 incompletion from Matthew Stafford with 5:46 left to play. The Rams drive ultimately continued and resulted in the game winning field goal from Lucas Havrisik.
"We're trying to make sure that that's not part of our game and shoot, it was the biggest part of the game, I thought," Carroll said.
There was also a pass interference call in the end zone against Devon Witherspoon on a third down incompletion from Stafford that appeared to have been a bad call. Witherspoon didn't seem to interfere with receiver Puka Nacua at all. Instead, Nacua tripped on safety Quandre Diggs as he ran behind the Seattle safety.
"The receiver actually bumped and ran me over and then they called it on 'Spoon," Diggs said. "So I was getting up. I wasn't even able to see it. The guy hit me on my side and knocked me down so I didn't get a good chance to see."
But even if that one penalty was made it error, the rest of the penalties all seemed fairly legitimate. It's one of just five games in team history to have seen at least 12 penalties and 130 penalty yards. Four of those games have come during the Pete Carroll era and (unsurprisingly) all five games were losses.
Dec. 16, 2018 – 26-23 OT loss at San Francisco 49ers (14-148)
Nov. 5, 2017 –17-14 loss vs. Washington Commanders (16-138)
Nov. 15, 2015 – 39-32 loss vs. Arizona Cardinals (14-131)
Nov. 15, 1998 – 20-17 loss at Oakland Raiders (14-141)
– Geno Smith status uncertain after elbow injury, gutty effort to lead team into late field goal range.
Geno Smith was knocked out of the game late in the third quarter as he was blasted by Rams defensive tackle Aaron Donald while throwing a pass. Donald hit Smith as his arm was coming forward, which seemingly wrenched Smith's elbow.
Smith was deemed questionable to return and had to exit the game for about a full quarter of action. He had an ice pack wrapped around his elbow.
Drew Lock replaced Smith for parts of four drives and the Seahawks did practically nothing on offense in Smith's absence. He returned to the field for Seattle's final drive of the game and led the team into scoring position with two big completions to Tyler Lockett and DK Metcalf fueling the push into Rams territory.
"Geno got a bruise kind of on his triceps, back of his elbow, that kind of blew up a little bit but he was able to come back and execute so nice effort by him," Carroll said.
Smith admitted he was pretty sore after the game and his status for Thursday night's matchup with the San Francisco 49ers is uncertain. However, Smith said he managed to deal with the injury enough to return to action late in Sunday's game.
"I really just had to try to do my best to fight through the pain," Smith said. "That was the main thing is pain tolerance, and just try my best to just fight through it and keep going."
Smith said "we'll see" when asked if he can make it back for the 49ers game on Thursday night. Carroll noted the turnaround to a short week game is tough even for players that are "healthy."
"On Thursday games, you're worried about everybody coming back. Every guy on your team. It's hard to do," Carroll said. "This is one of the great challenges in the league, so we'll find our way. We have our way to kind of rejuvenate and get rolling and they got to do the same thing. So it's the battle and hopefully we'll get our guys back and going."
Smith finished the day with 233 yards passing and a touchdown for Seattle with no turnovers. He completed 22-of-34 passes overall and moved the team 38 yards on seven plays on the final drive to set up the final field goal chance.
"He convinced them on the sidelines he could do it," Carroll said. "He threw the ball enough. It just took a little while for the blow to dissipate or whatever. He threw the ball on the sidelines where they thought he could go. So great job by him going in."
That sort of effort earns the respect of the locker room, not that he didn't have it already.
Smith was part of the offensive struggles before he left with the injury as well. 
The Seahawks had a brilliant opening drive that saw them convert three times on third down and go 88 yards on 14 plays as Metcalf scored on an 8-yard touchdown from Smith to give Seattle the 7-0 lead. Seattle would convert their next third down opportunity as well on the second drive, which led to a field goal. However, the team would then fail to convert their next nine third down chances before Smith picked up a final one on Seattle's last drive.
Seattle didn't pick up a single first down in three drives with Lock as quarterback. He finished 2-of-6 for 3 yards and was intercepted by Derion Kendrick on his final pass thrown. Lock's performance wasn't as bad as the numbers seem. He twice missed Jaxon Smith-Njigba on throws that were a little bit off and the interception was a one-on-one shot for Lockett on a third-and-long. But in the end, the offense couldn't do anything when Lock was on the field.
While penalties played some factor in the lack of offensive production through the middle portion of the game, the unit also just fizzled out at times as well. Ken Walker III's absence with an oblique injury was noticeable, too, as rookie Zach Charbonnet had to step into the lead running back role.
But the third down struggles are one of the few constant storylines from the season as a whole and the offense sputtered out yet again after a promising early start.
– Defensive effort was mostly strong throughout the game, but late scoring drives allowed will sting.
The Seahawks defense held their opponent on Sunday to 17 total points, 267 total yards, 82 rushing yards, a sub-200-yard passing day for Matthew Stafford with an interception, and limited the Rams to just 2-of-9 on third down.
Those are really strong numbers that will lead to victories most weekends in the NFL. But it wasn't enough on Sunday afternoon.
"We played really good all day long. We did a really good job and we controlled them. They ran the ball for 60-70 yards or something like that. And really Matthew wasn't able to get a bunch of numbers on this day," Carroll said. "Third down was OK, 2-of-9 I think they were, that's a good output for us. We were pleased with that. It was enough to get us a win. But just on this day with all that happened, that wasn't quite enough."
Before the final drive of the first half for the Rams, the Seahawks offense had run 33 plays in the game while the Rams offense had gained just 19 total yards.
Los Angeles was then able to march 75 yards in nine plays with Nacua scoring on a 4-yard touchdown to get the Rams on the board and cut Seattle's lead to 13-7 at the half.
With Seattle leading 16-7 early in the fourth quarter, Woolen got his second interception of the season on a razzle-dazzle play gone awry for the Rams. An end-around handoff to Tutu Atwell turned into a flea-flicker back to Stafford as he tried to Austin Trammell deep downfield, but Woolen played in perfectly.
The Seahawks were in prime position to close out a win. However, with the offense unable to move the ball with Lock in the game, the defense ultimately cracked too.
Los Angeles were 68 yards on nine plays and 75 yards on 14 plays for the two touchdowns they needed to take the lead. And of the penalties mentioned earlier, the defense was responsible for seven calls for 93 yards worth of infractions with a couple key ones coming on Rams scoring drives.