Takeaways from Seahawks 30-13 loss to Rams in season opener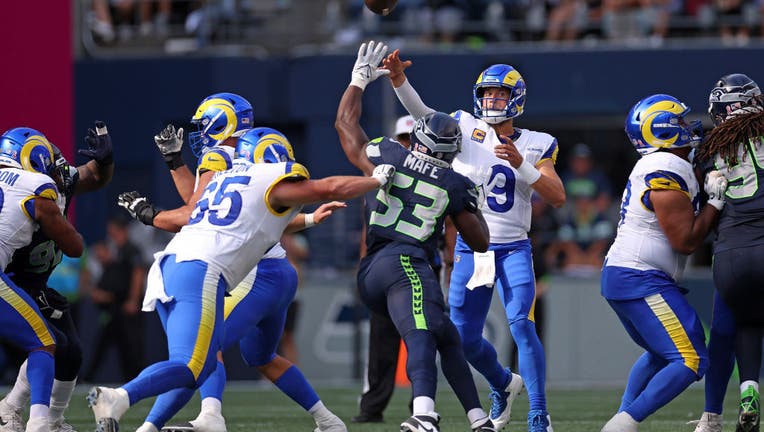 article
SEATTLE - Well that wasn't what the Seattle Seahawks were expecting.
The Seahawks were taken to school by Sean McVay, Matthew Stafford and the Los Angeles Rams on Sunday in a 30-13 loss that has already put the team on its heels after just the first game of the year.
"That was a really frustrating start for us," head coach Pete Carroll said. "The Rams did really well. They took care of the ball and did a nice job. I have a lot of respect for Sean and the job that he does and they did a heck of a job today."
Despite being without star receiver Cooper Kupp, the Rams gashed Seattle with 334 passing yards as they dominated the Seahawks in nearly every aspect over the second half of the contest. The Seahawks managed just 12 yards of offense in the second half and their only first down came via a Rams penalty. Meanwhile, Tutu Atwell and rookie receiver Puka Nacua each racked up 119 yards receiving from Stafford as they marched up and down the field against Seattle's defense.
"First half, we had the ball four times and we got in scoring position," Carroll said. "We didn't get our touchdowns out of the drives, but we missed a field goal and it felt like we were moving and we were in control of that part of it. But the second half we just couldn't get any first downs. We couldn't make the ball go. And it got harder as the game went on. And we didn't do well. 
"The other side of the ball. It was a third down disaster for us, you know, 11 for 17. And it's a great job by Stafford. I mean he's just that good. But we gave him opportunities. We didn't get heat on him at all and we needed to generate it. So I look at a little bit of a misjudgment on my part that we would be able to do things we've been doing and we'd be able to play a good football game and it didn't work out that way. We needed to pressure more and find ways to get the heat on him to cover them up and get off the darn field."
The Seahawks gained 132 yards of offense on their first 24 plays of the game. The first two drives each lasted 12 plays each with a Jason Myers field goal and DK Metcalf touchdown helping Seattle build a 10-7 lead. The final 25 offensive plays of the game managed just 51 yards gained as the offense sputtered to a standstill.
"We just didn't execute at a high enough level to complete or finish the drives out. It was a lot of things and it was just frustrating across the board," center Evan Brown said.
Now the Seahawks will head on the road to face the Detroit Lions as they return home following a big season opening victory over the defending Super Bowl champion Kansas City Chiefs last Thursday night.
"It's a big challenge for us to bounce back," Carroll said. "And look who we're going against, you know, we're gonna go against one of the hottest teams in the world right now coming up in Detroit. We'll see how that goes. But now it's about us and digging back into it."
Here are the takeaways from Seattle's loss to the Rams:
– Rams destroyed Seattle's defense on third down.
The big concern surrounding the Seahawks' defense entering the season was whether they would be able to fix a run defense that was among the league's worst last year.
The run defense held up just fine against the Rams. It was the pass defense and the lack of a pass rush that proved to be Seattle's Achilles heel on Sunday. The Seahawks didn't sack Stafford and only hit him twice in the game. One of the two quarterback hits came on a Coby Bryant cornerback blitz on a Rams flea-flicker attempt in the first half. Jarran Reed picked up the only other hit on Stafford.
"We didn't blitz a lot," Carroll said. "We did some. But he got rid of the football really well. It's all aspects, didn't cover him as tight as we needed to and didn't rush enough to disrupt him. He's a great thrower, and if you give him time he can tear you up, and he did. He had a great day today."
As Carroll mentioned, the Rams converted 11-of-17 chances on third down to keep drives going. Stafford was 7-of-10 for 110 yards on third downs during the game for Los Angeles.
"I think the biggest thing is that we have to get off the field," linebacker Bobby Wagner said. "Like, third downs were really bad. We kept extending the play."
Meanwhile, Seattle managed just two third down conversions on nine attempts. Their inability to convert offensively led to the Rams more than 30 offensive plays more than Seattle. The Rams had 78 offensive snaps to Seattle's 46. While the Seahawks did lose both starting tackles Charles Cross (toe) and Abe Lucas (knee) to injuries, the offensive ineptness had already set in before their departures from the game.
"We came out to go for the win and play good football and be aggressive, but we didn't execute the way that we had counted on," Carroll said. "We didn't finish the way we needed to. It's really obvious. Why that happened, we've got to go back to work and see what we can do to help the guys. I have a big role in this. I've got to make sure I am helping our guys on defense and make sure that the assessments we make on offense, we can count on better than we did. We just didn't execute like we thought we could."
– Missed Jason Myers field goal was turning point in game.
The 39-yard field goal Jason Myers missed late in the second quarter isn't the reason the Seahawks spiraled for the rest of the game. However, it was from that moment on that the Rams seized full command of the contest.
Jarran Reed had blocked a 57-yard Brett Maher field goal try as the Seahawks looked to extend a 13-7 lead heading into halftime. Seattle's offense couldn't the drive and had to settle for a Myers field goal try that would have made it a two-score game.
Instead, Myers' kick hit the right upright and stayed out to keep the lead at just six.
From that point on, the game was all Los Angeles.
"We talk about scoring touchdowns, finishing drives, and that's a big emphasis for our offense," quarterback Geno Smith said. "When we get down there in the strike zone around the 15, 20-yard line, we got to keep moving the chains until we get into the end zone. I feel like we kind of stalled. There are some things we can do better. It's going to be important for us to fix those things moving into the future."
Myers has mostly been a successful kicker for Seattle over the last few seasons. However, he does have a tendency to miss a field goal that he should make a bit more often than you'd like. A 39-yard try on a calm day isn'tn the type of kick you'd expect wouldn't be converted.
Nevertheless, the Seahawks still led at halftime and were in position to win the game. Only the Rams took over instead
– DK Metcalf has to learn to control his emotions better.
Wide reciever DK Metcalf scored the only touchdown of the game for the Seahawks on a beautiful 10-yard score in the second quarter.
Metcalf also picked up a taunting penalty and should have been flagged for unnecessary roughness in the latter stages of the fourth quarter as well.
"I thought we lost our minds a little bit and we'll talk about that," Carroll said. That shows you the frustration and based on the expectations that we were going to be better and not in that situation. And I don't like seeing us look like that. It looks terrible. But we'll talk about that."
For Metcalf, scoring touchdowns – and taking penalties – are both fairly regular occurrences. However, Metcalf has a tendency to play a bit too aggressively or get too mouthy with others that lead to penalties that just should not happen.
Metcalf drilled cornerback Ahkello Witherspoon away from the play and borderline from behind on a play that injured the former Seahawks cornerback. Witherspoon was unhappy with the development and expressed it to Metcalf after he was able to get to his feet. 
"I was blocking, and I guess I blocked him a little too hard and pushed him to the ground," Metcalf said. "He got all mad because he felt like I blocked him in the back. I mean, that's just how I play. I block every play, and when I don't have the ball, I'm never taking a play off or jogging trying to take a play off. So, that's what transpired."
Metcalf then took a taunting penalty in the aftermath as he was shouting at the Rams staff on the sidelines.
"I saw their coaches yelling at me or saying something to me and their players," Metcalf said. "I let that get to me, and I retaliated. You know the second man always gets called, so, just have to be better in that aspect."
Metcalf has regularly found himself in these types of situations. Since the start of the 2021 season, Metcalf has been called for seven different penalties for unsportsmanlike conduct, unnecessary roughness, taunting and disqualification. He was the team's most penalized player in 2021 and second-most penalized player last year.
It's Metcalf's fifth year in the NFL. The penalty certainly didn't do anything to decide the outcome of Sunday's game. But the next one might, and Metcalf has to be more poised on the field.
Injury Updates:
– Left tackle Charles Cross left the game with a sprained big toe on his right foot. Cross was evaluated in the medical tent and was carted back to the locker room. He eventually returned to the sidelines with his helmet in hand but did not return to the game.
"The X-rays didn't look bad, but we'll see," Carroll said.
– Right tackle Abe Lucas was sidelined with a knee injury and did not return to the game. Carroll said Lucas doesn't have an "injury" with his knee, but it experienced soreness that kept him from playing further.
"It's the same knee that we rested during camp," Carroll said. "It just got really sore during the game and he couldn't fire the way he needed to and so we had to get him out of there."
– Wide receiver Tyler Lockett was evaluated for a concussion but was cleared and returned to the game. Outside linebacker Boye Mafe had his knee checked in the medical tent as well but was also cleared to keep playing.