Seattle weather: Lingering mountain snow, scattered lowland rain
SEATTLE - Lingering mountain snow could make driving slightly challenging over the passes today. In the lower elevations, we'll be dodging on-and-off rain. It'll be gusty as well.
There's a Winter Weather Advisory in effect until 4 p.m. today above 3,500 feet in elevation. Gusts to 30-40 mph will lower visibility.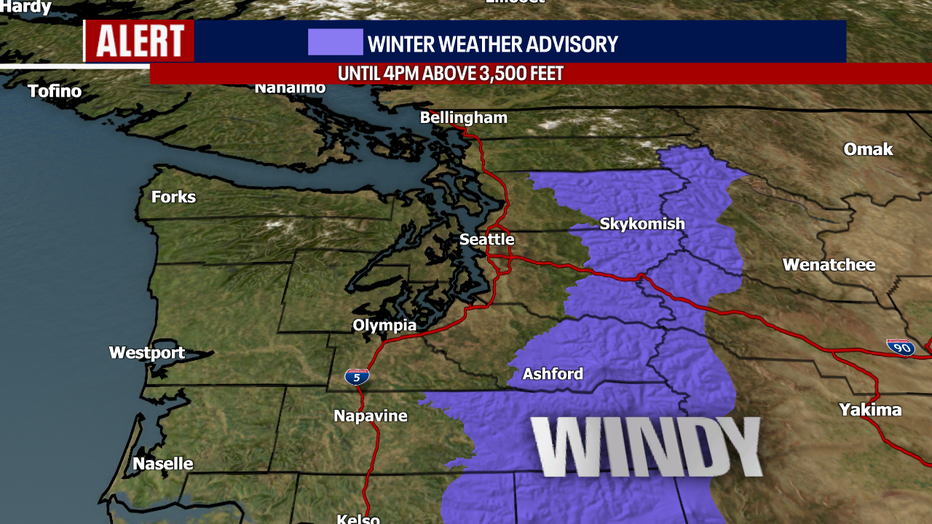 There's a bit of uncertainty regarding how much show could fall over the passes today. Perhaps four to eight could accumulate at Stevens. Between one and five inches could stack up over Snoqualmie Pass. For White Pass today, two to six inches are possible. Right now, I think the totals are more likely to lean on the lower end of these forecast amounts; however, the higher ends are possible where a convergence zone develops today.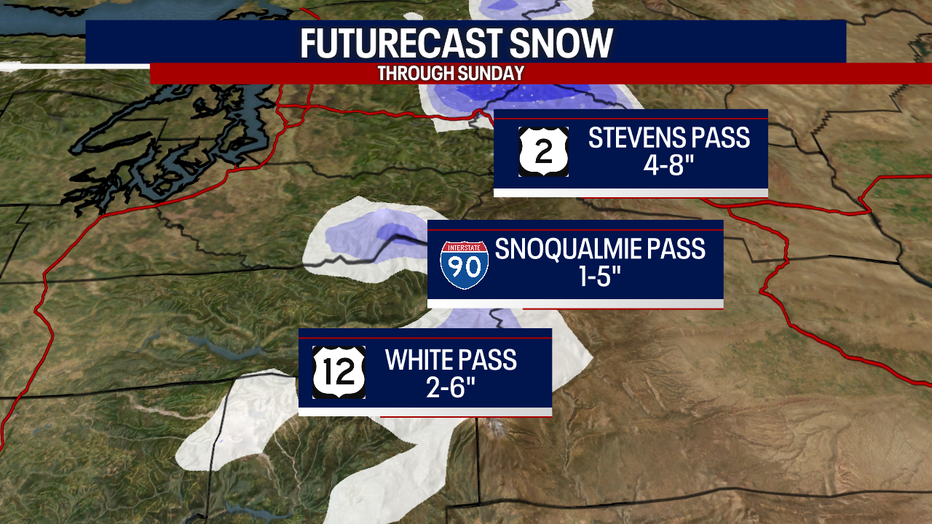 In the lower elevations, we'll alternate between sunbreaks and showers. At times, the rain could be heavy. Winds won't be terribly strong, but gusts of 20-35 mph will make temperatures feel cooler. At most, gusts could reach 40 mph over the mountains and Whidbey Island. The worst of the winds is done for the day.
Highs will reach the upper 40s to low 50s.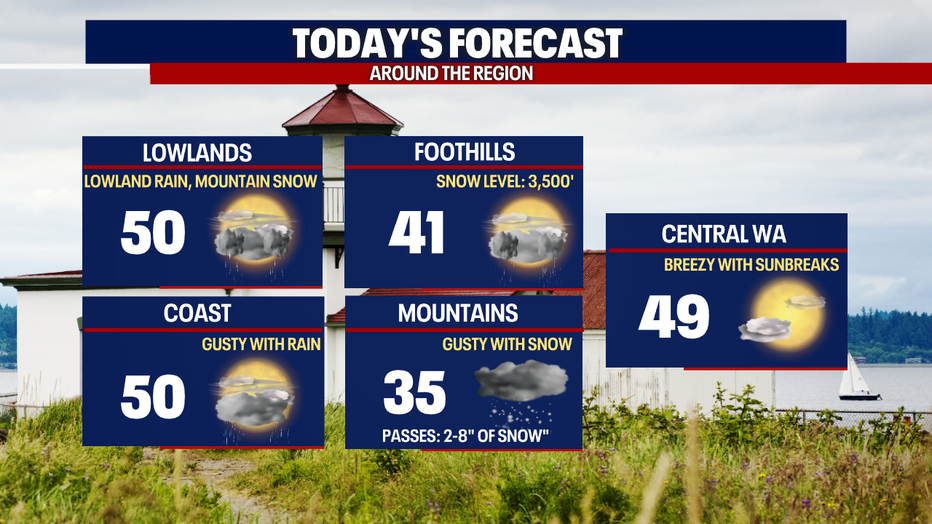 Here's a look at Futurecast: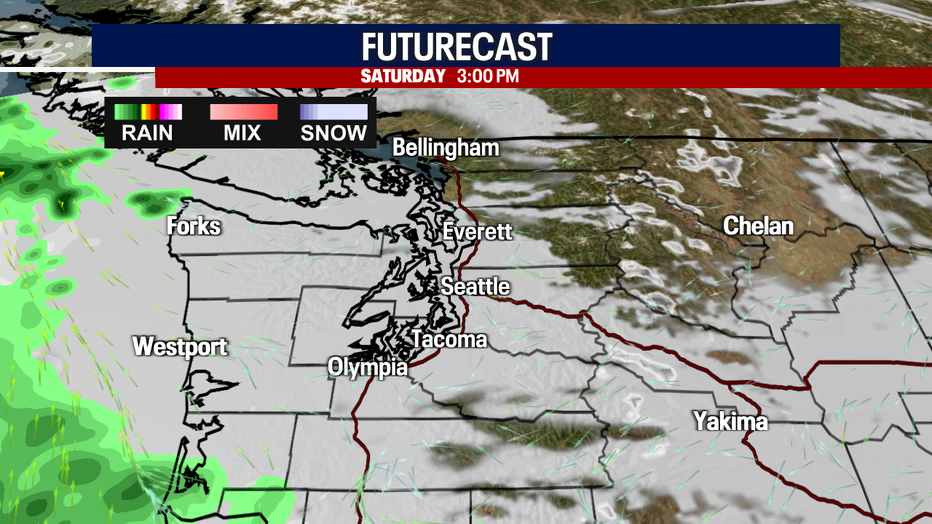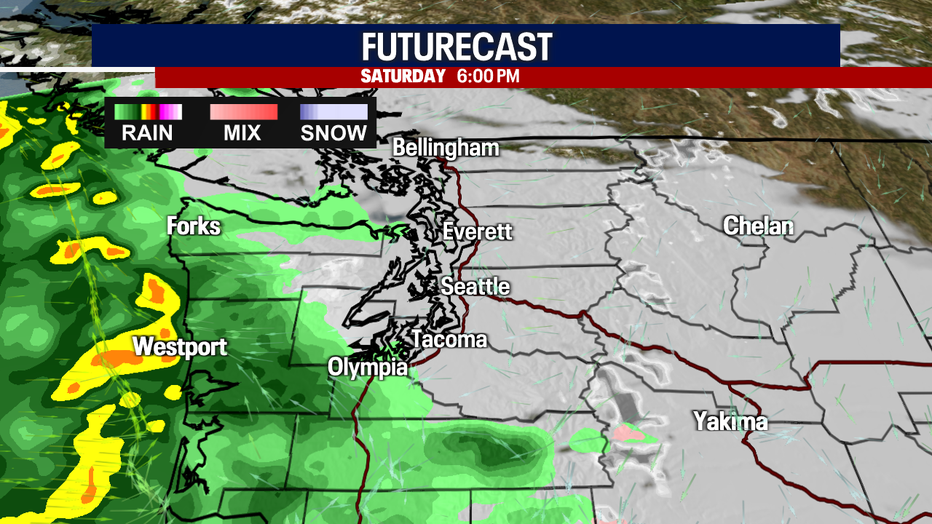 Once we get past today, quieter weather is on tap for the rest of the seven-day forecast. 
Monday morning will start cloudy in places. We can't rule out freezing fog in the South Sound. We'll enjoy breaktaking, beautiful sunshine in the afternoon. 
A weak storm system will be moving to our north Tuesday and Wednesday. This could give Western Washington light showers, but we're not expecting snow for the passes.
The forecast for Thanksgiving and beyond is stunning: morning clouds and fog will give way to glistening afternoon sunshine. We might be battling fog (even freezing fog) at times, particularly Friday and Saturday mornings.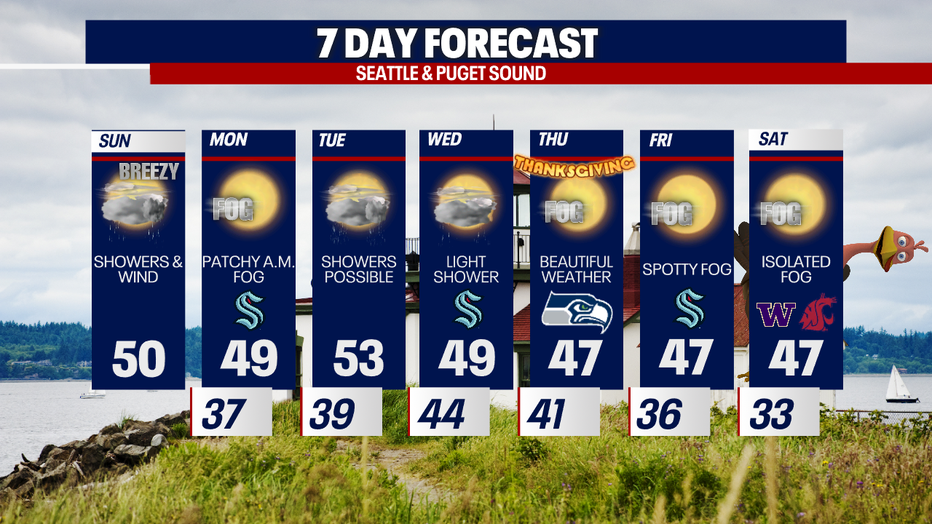 Thanks so much for choosing FOX 13! We appreciate you so much. 
Take care,
Meteorologist Abby Acone
Follow me on X @abbyacone, TikTok @abbyaconetv, Instagram @abbyaconewx and Facebook (Meteorologist Abby Acone)