$490 million Seattle NBA arena deal unveiled, sent to city, county councils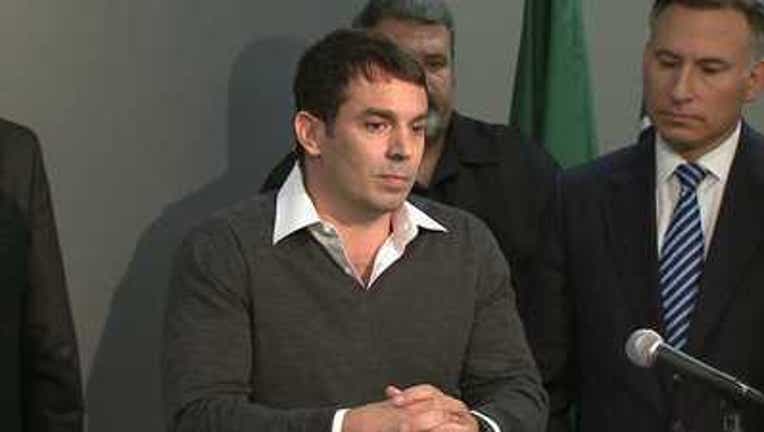 article
Seattle Mayor Mike McGinn and King County Executive Dow Constantine announced Wednesday that a deal with investor Chris Hansen to build a $490 million NBA/NHL arena in the Sodo district is being sent it to the city and council councils for consideration and possible approval.

"We have arrived at another important milestone in the quest to bring back our beloved Sonics," Constantine said at a news conference with McGinn and Hansen.

It`s a deal Constantine called "unprecedented" -- an upfront investment by Hansen of nearly $300 million for an arena and up to $500 million for an NBA team.

"This commitment to invest upwards of $800 million in private capital -- I feel like repeating that, $800 million of private capital -- is one of the largest commitments of private capital ever made for a project like this in North America," McGinn said.

As part of the "memorandum of understanding," the city of Seattle would be asked to provide up to $120 million in bond money and King County up to $80 million if both NBA and NHL teams are secured. The money would be paid back over time from arena taxes and revenue.

If only an NBA team is secured, then the city's obligation would be $115 million and the county's would be $5 million.

And the deal comes with protections. The first public money wouldn`t be used until Hansen had acquired an NBA team and the city and council had received a 30-year non-relocation agreement from any NBA or NHL team. Permits and environmental studies would have to be completed as well.

Hansen's group would also be responsible for all construction costs and overruns, the funding of a reserve account, and money for annual upkeep at the arena.

"It really is what we promised from the outset," Hansen said. "We worked very hard and in a thoughtful way to try to construct a transaction that was good for the city that provided the protection -- you know, it's really an unprecedented level of public protections and protections that the team will stay here for the duration of the lease, but more importantly, hopefully, forever."

But the arena location has faced opposition in recent months from the Port of Seattle, BNSF Railways and the Seattle Mariners, which are all concerned with traffic issues in the area. Hansen is funding a transportation study that's expected to be completed in the next two weeks.

Lee Newgent, executive secretary of America`s Building Trades Union, said: "I understand their concerns. I also understand that the construction industry has had 45 percent unemployment; we need the jobs as well."

McGinn added, "We'll talk with them about how we accomplish maintaining Port (of Seattle) vitality in the coming decades and I think trying to attach it to an arena -- which has nighttime events with a volume of cars that really isn`t that big after all the carpooling and transiting has gone into effect -- is kind of missing the point."

If the deal is approved by both the Seattle City Council and the King County Council in the next month or two, Hansen will have up to five years to try to secure an NBA  team for an arena that would hold up to 19,000 people.

Seattle City Councilman Bruce Harrell said, "I don`t think it`s going to be a tough sell at all. The public has to know we will look at our debt capacity, we`ll look at the impacts on our marine industry and that whole area. But this is a great vision. To turn down this kind of opportunity would actually be ill-advised from a fiscal perspective."