A transportation challenge -- but fans say it was worth it


SEATTLE -- It was quite an adventure for the 12th Man getting in and out of Seattle Wednesday. With 700,000 people packing downtown for the parade, the transportation was chaotic to say the least.

After the parade, thousands upon thousands were lined up for hours trying to get on the ferries and water taxis. The commute was a drag for so many but the 12th Man says it was well worth it.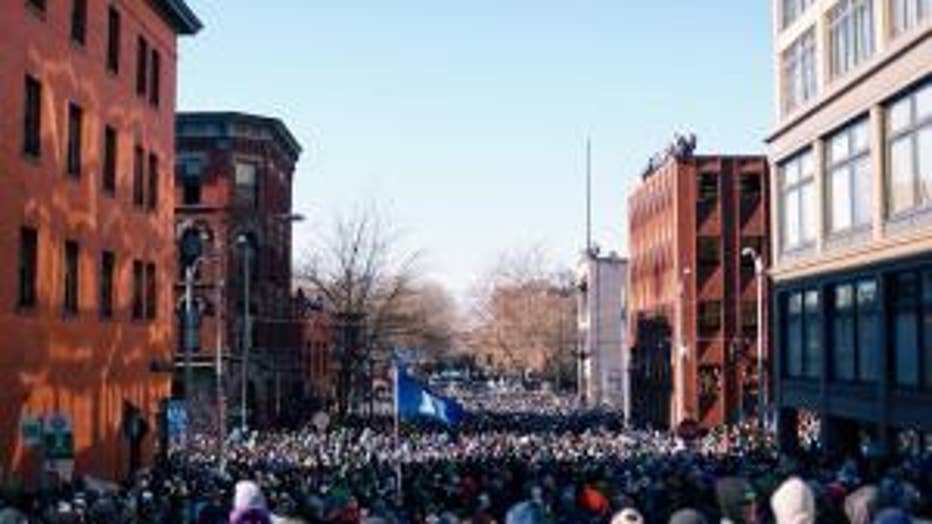 A mass of humanity at the largest celebration Seattle has ever seen. Over 700,000 #Celebrate48 (Photo by @jeffkmarsh)


Leaving the parade, the youngest 12th fan were all smiles.

"It was great; Marshawn Lynch throwing Skittles; seeing all the vehicles and wide receivers," fan Marshall Miller said.

The excitement of it all made the commute more bearable.

"We caught the 8:45 a.m. ferry over, did a lot of walking, standing and waiting," fan Katy O'Keefe said.

The journey back home was even more crowded. Thousands of people packed in like sardines waiting for ferries.

"It's supposed to be sold out until 11:30 tonight," Kyle Howell said.

"This is the largest crowd we have seen in the terminals since I have been here," Washington State Patrol trooper Bill Ashcraft said.

The bus stops were no different.

With every bus packed to the brim, some trying to get home from Westlake Park got frustrated.

"I have to go back to Whidbey Island; it's a two-hour bus ride, it's cold; we've been waiting for hours," Lisa Frost said.

Despite the long delays, most did not complain.

"Anything for the Hawks," Marya Oakley said.

"It was a fun adventure, it was worth it so excited," Shannon Colberg said.

Instead of waiting, many fans continued their celebration at downtown bars and shops.

"To get out of the cold, it,s nice to keep warm," Danielle Spaulding said.

Ye Olde Curiosity Shop on Alaskan Way has never been this busy on a Wednesday evening.

"We were quiet this morning and then, wow, everyone showed up," owner Andy James said.

Overall, it was a memorable day for families, friends and the 12th Man who wanted nothing more to show their love for their city and Seahawks.

By 7 p.m., there were no more long delays on buses and ferries. Most fans said  despite the challenges of getting around they would do it all over again.