Day after violent protests in Charlottesville: Pro-Trump group, counter protesters converge in Seattle


SEATTLE  — Hundreds of demonstrators and counter-protesters converged in downtown Seattle one day after violent clashes in Charlottesville, Virginia.

Seattle police say they arrested three men Sunday and confiscated weapons as dueling demonstrations converged in downtown Seattle.

The rally organized by the conservative pro-Trump group known as Patriot Prayer — and a counter protest aimed at standing against hate — were previously planned for Sunday.




Hundreds of people carrying signs opposing hate and the KKK and showing support for Charlottesville marched to downtown Seattle where Patriot Prayer was gathered for a rally it billed as in support of freedom and free speech.

The pro-Trump group has held similar events throughout the Pacific Northwest and they have been met by counter protests.

A barricade separated the groups of protesters in downtown Seattle. Police officers stood by dressed in black, riot gear.

The Seattle Times reported that officers used pepper spray on some marchers.




A Seattle City Councilman said police officers blocked hundreds of counter protesters from reaching the downtown rally organized by the pro-Trump, conservative group.

Mike O'Brien said he joined Sunday's march to stand in solidarity against the violence and racism in Charlottesville over the weekend.

He walked with other peaceful protesters toward Westlake Park, where the Patriot Prayer group was holding a rally. But officers blocked their route several times.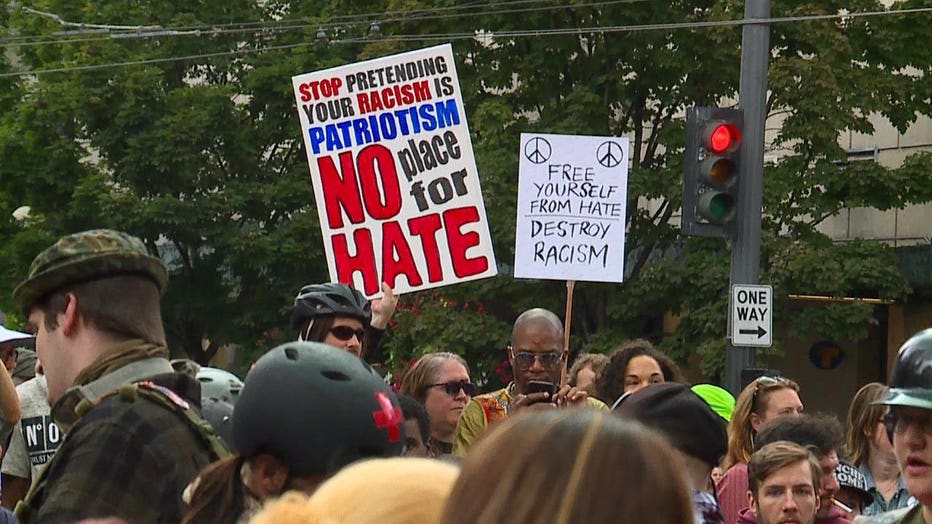 O'Brien said texted Seattle Police Chief Kathleen O'Toole in the middle of the march and she told him demonstrators would not be allowed to proceed to Westlake Park.

Police ordered protesters to disperse at Second Avenue and Pine Street.

O'Brien says he and other counter protesters returned to Denny Park north of downtown.