Donors help Marysville man get new adaptive wheelchair bike following theft
MARYSVILLE, Wash. - A Marysville man is back on the road again thanks to help from his community. Back in early March, we first introduced you to Jesse Gilpatrick, after someone had stolen the adaptive bike that he used to get around town. The motorized bike attachment was taken out of a store while he was inside picking up a prescription.
"I was freaking out," said Gilpatrick.
Now he is ecstatic to once again feel the cool breeze of a Pacific Northwest spring and the feel of the road beneath him as he zips through Marysville with his new adaptive wheelchair bike, made possible with the help of online donors.
"If I could meet them all, I would hug them," he said.
He has paraplegia and has used a wheelchair since he was a child.  Because he doesn't currently drive, his motorized bike attachment allows him to hit up to 12 mph in his wheelchair and he says it's made all the difference in his world when it comes to getting around.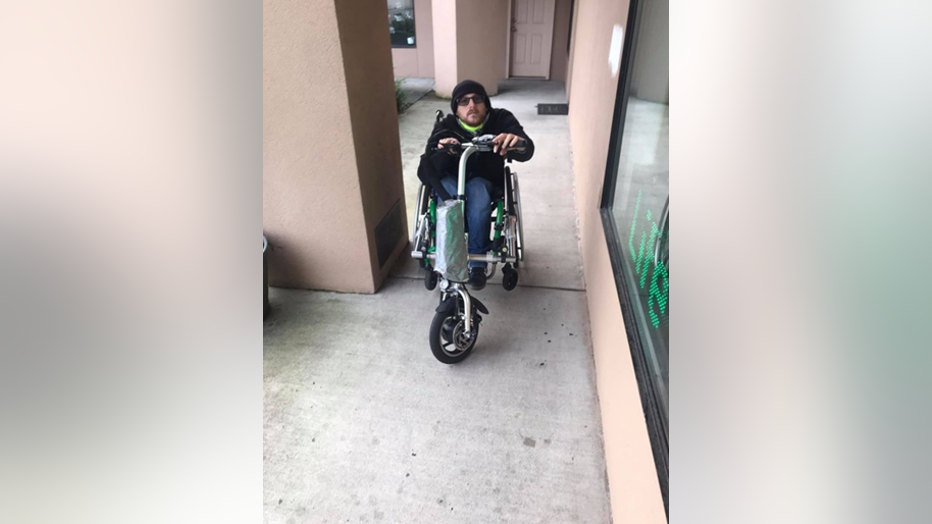 "That one word to explain it is freedom, to go where I need to go," said Gilpatrick.  "I went to Starbucks this morning and they were like, 'You got your bike back!' They were happy to see me."
That freedom was stolen from him a few weeks ago when he went to pick up a prescription at Safeway.  During that time, he stored his bike inside the entry.  When he returned, it was gone.  Store security video later showed a thief picking it up and walking out.
"This is my wheels," he said. "This allowed me to get on the bus, and if I need to go to Seattle I take this with me."
His sister started an online fundraiser for him and the community answered.  It raised more than $5,200 through a GoFundMe page.
"It just makes me know there are a lot of good people out there that want to see me succeed," said Gilpatrick.
Although he sometimes feels the need for speed in his chair, it's more than fun and games.  Most importantly, it helps Gilpatrick do his outreach job with the Center for Independence in Marysville, which focuses on disability awareness.
"I love getting out and about and doing something for the community if I can," he said. "I hate not being useful. I love being useful."
Thanks to his new bike, he's also been able to resume volunteer work with Marysville Emergency Management.
"I volunteer my time with the emergency management, with the city of Marysville.  This allowed me to get to that meeting, which is very important to me," said Gilpatrick.
Gilpatrick says his social life has also picked up speed.  The bike is allowing him to visit friends and go to church again.
"I host game night next week so this will allow me to be there and open up the building and let people in," said Gilpatrick.
He wants to thank those who donated for giving him his mobility back.
"Not too long ago, people with disabilities were shut out from even being part of the community. Now that they see people with disability, being part of the community, part of the workforce, they want to help. They want to support. They want to be part of that success," he said. "I'm so grateful for all the donors."
Gilpatrick says his old bike still hasn't yet been recovered and Marysville Police have not made and arrest.  He says people in the community have told him that they continue to keep their eye out for the previously stolen bike attachment.