Gaga's Born Brave Bus sheds light on mental health issues teens face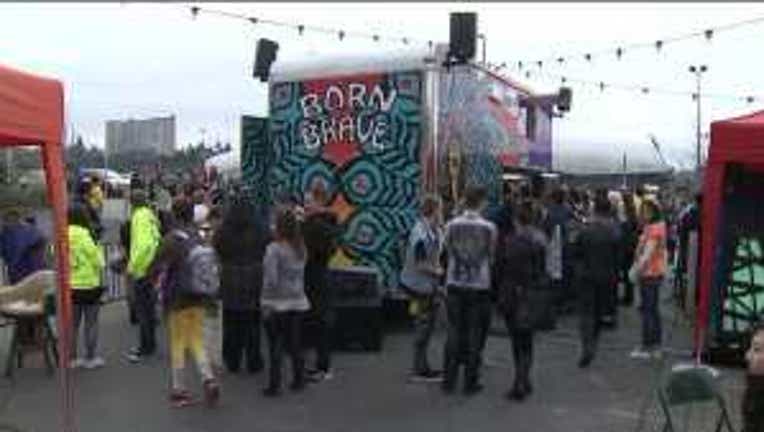 article
By Hana Kim and Kate Burgess

Q13 FOX News reporters

TACOMA -- Tacoma pop superstar Lady Gaga came to Tacoma. And she brought more than her music.

The singer is tackling the topic of bullying on her "Born This Way Ball" world tour that kicked off in Tacoma Monday night. Along with her music, a Born Brave Bus accompanying the tour featured an interactive display with games, arts and crafts  intended to de-stigmatize mental health problems many young adults face.

The idea for this Born Brave Bus tour stems from Gaga's Born this Way Foundation, a nonprofit organization meant to foster an "accepting" society, representatives with Gaga said.

Young adults can use the tour, and the touring bus, as a way to learn more about local resources on anti-bullying, suicide prevention and mental health services in the area.



[trib_ndn vid=24227930]

A ticket was required to see Lady Gaga perform but you didn't need one to benefit from her foundation.

"She has a really amazing message," said fan Elizabeth Rutledge.

The singer known for her unconventional style and lyrics is now reaching youngsters beyond her  music.

Through her foundation, the pop singer provided a team of counselors and psychologists to speak with youngsters at her concert sites about emotional empowerment.

"We've had a couple of private conversations with the kids and gave them resources; I think it's going to make a difference," said school psychologist Hayley Thompson.

Rutledge, 15, is one of those teens who opened up about bullying in her school.

"It's a huge problem and it's not dealt with. I've experienced it at multiple schools," said Rutledge.

Rutledge says counselors lifted her spirits and helped identify her strengths. Parents who initially came along for the music left with a better understanding of their children.

"It's tough, it's a different world than when we were kids there are more pressures," said parent Patrick Rutledge.

Fans say Lady Gaga is more than music to them; she represents courage to be themselves.

"If you want change, change begins with you," Lady Gaga said in a brief statement to fans before the concert.

For those who got to hear that voice up close, the experience was surreal.

"I said I loved her and she said, 'Thank you so much.' She said I looked fabulous, which I don't, but I really appreciated it so much," said fan Clayton Knott.

The singer's foundation says 1 in 5 young people experiences a mental health issue their goal is to connect kids with local resources that will help them combat things like depression and bullying. The interactive event included lasted from 3 to 7 pm.

Susan Swearer, chair of the Born This Way Foundation's Research Advisory Board, said one-in-five young people experience some type of mental health issue during adolescence. Swearer hopes the bus helps reach kids struggling with mental health problems.

"Being Brave is recognizing your strengths," Swearer said. "It's about recognizing your limitations or things that you need to work on, knowing where to get help, helping others, bravery really encompasses not only your own self development, but being brave in terms of helping others who may need some support."

Omar Lopez drove hours from Eastern Washington to make it to the concert. He said Gaga's acceptance, and drive to help others, is part of what makes her a great pop star.

"That's why I'm a big fan of hers," Lopez said. "You're born this way. This is who you are. So why not be who you are?"

Organizations like the Trevor Project, Campus Pride and the National Association of School Psychologists are taking party in the event. For a list of where to find mental health services in Tacoma and the rest of the Puget Sound, head here.