Idaho murders: Roommate saw masked man night of killings; cops used DNA, cell phone records to crack case
MOSCOW, Idaho - Newly obtained court documents reveal how authorities used DNA and cell phone records to link suspect Bryan Christopher Kohberger to the brutal killings of four University of Idaho students.
According to documents released Thursday morning, authorities began suspecting Kohberger for the murders less than two weeks after the Nov. 13 slayings.
Kohbergers's DNA was found on a knife sheath at the scene of the murders, the King Roads home in Moscow, Idaho. According to documents, authorities searched through trash at the family's house and found the father's DNA which was enough to match the DNA taken from the sheath and link Bryan.
The sheath had a U.S. Marine Corps insignia on it, though there's no record of Kohberger having served in the military.
According to the documents, one of the other residents of the Moscow home said she saw a man about 5' 10" tall wearing black clothing and a mask. She told police that he walked right past her and left the house as she stood in a "frozen shock phase."
She also described him as not very muscular but athletically built and with bushy eyebrows.
Police obtained a driver's license photo of Kohberger that showed him with bushy eyebrows and listed him at 6' tall and 185 pounds.
According to documents, detectives found a latent shoe print at the scene. It showed a diamond-shaped pattern outside the door of one of the surviving roommate's bedroom, which was consistent with the roommate's statement regarding Kohberger's path of travel.
RELATED: Idaho murders: What comes next as suspect is back in Idaho
Police said they searched for videos all around the murder scene and found several videos showing a White Elantra making three passes by the house before stopping at 4:04 a.m. One surveillance video showed the car leaving at a high rate of speed at 4:20 a.m.
On Dec. 23, officers were granted a search warrant for Kohberger's cell site location information from June 23,2022 to current in an effort to determine if he stalked any of the victims.
RELATED: Idaho murders: FBI directed Indiana police to pull over Bryan Kohberger, seeking video images of his hands
They said his phone left his home in Pullman, Washington at 2:47 a.m. the morning of the murder which showed him traveling through the college town.
Later, records show that his phone stopped reporting until 5:30 a.m. when the phone began heading back toward his home. Investigators believe that Kohberger deliberately disable his phone so that he couldn't be traced.
Records further show that he had been near the King Roads home at least a dozen times since June 22, typically late at night or early in the morning.
RELATED: Idaho murder suspect Bryan Kohberger arrives in Moscow for trial: Everything we know so far
Investigators have said they were still searching for a motive and the weapon used in the attack.
What is still missing is any possible connection between the suspect and victims. That information could come from probable cause documents. 
Latah County prosecutors have said they believe Kohberger broke into the victims' home intending to commit murder.
Kohberger appeared in a Latah County, Idaho courtroom on Jan 5. A judge asked him if he understood the charges against him, four counts of first-degree murder and one count of burglary for entering the home, and he replied that he did.
A status hearing was set for Jan. 12 at 10 a.m. He remains held without bond. No contact issues were also ordered for the surviving roommates and family members of the victims.
The attorney for the family of one of the victims, Kaylee Goncalves, spoke to FOX 13 Seattle after Bryan Kohberger made his first Idaho court appearance.  He said, "It's an emotional time."
Kohberger, a 28-year-old doctoral student and teaching assistant at Washington State University, was arrested by state police at his parents' home in eastern Pennsylvania last Friday. He waived extradition Tuesday afternoon, after which he was flown to Moscow on Jan. 4.
Sketch shows Bryan Kohberger in a Monroe County, Pennsylvania courtroom on Jan. 3, 2023. (Handout/William Hennessy, Jr.)
Documents also show that Kohberger applied for an internship with the Pullman Police Department in the Fall of 2022.
While driving through Indiana, Kohberger was pulled over twice on the same day, first by a Hancock County Sheriff's deputy and a few minutes later by an Indiana state trooper.
Read the newly unsealed court documents
The Unviersity of Idaho shared an image with hearts on social media on Jan. 5 that read "We are Vandals. We are #VandalStrong."
'Look at the pattern': Former FBI special agent details how officials identified Kohberger
Retired Supervisory Special Agent of the FBI Scott Duffey joined Good Day Philadelphia to discuss the case and how investigators pinpointed Kohberger.
Duffey says while little information has come from police as the investigation continues, people with knowledge of the case signal that forensic evidence helped investigators find a suspect.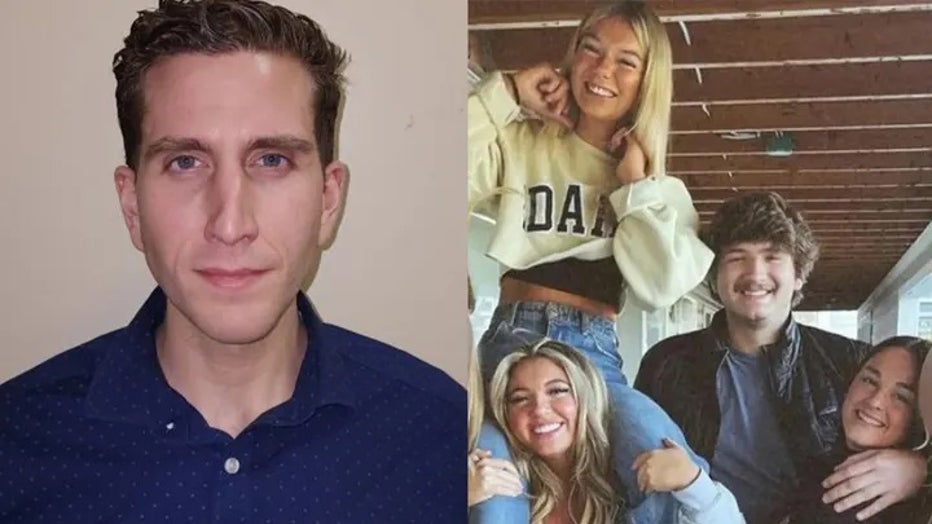 Bryan Christopher Kohberger was arrested the morning of Dec. 30, 2022, in connection to the murders of four University of Idaho students, a source told Fox News Digital. (Washington State University/Instagram)
The Associated Press reported through a source that Kohberger's arrest came after DNA matched genetic material found at the crime scene. 
"That means if we have enough data, we have enough cousins, enough matches, we can eventually narrow it down to just one family and often just one individual," Genetic Genealogist Cece Moore told FOX 29's Chris O'Connell.
RELATED: Moscow murders: Police chief believes suspect Bryan Kohberger acted alone
Who is Bryan Kohberger?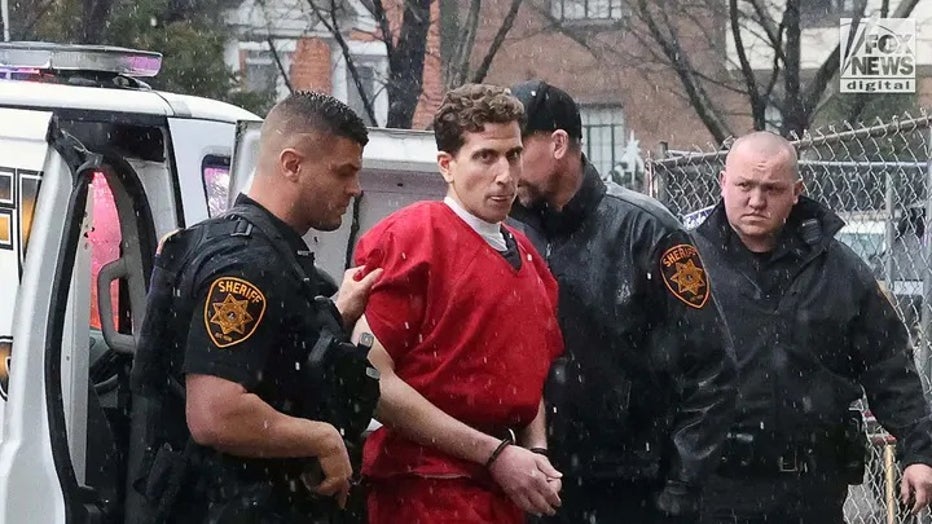 Bryan Christopher Kohberger arrives at the Monroe County Courthouse for an extradition hearing on Jan. 3. (The Image Direct for Fox News Digital)
Kohberger is a Ph.D. student at Washington State University's Department of Criminal Justice and Criminology in Pullman, Washington. Pullman is about a 15-minute drive from the rental home where the four students were stabbed to death.
Ben Roberts, a graduate student in the criminology and criminal justice department at WSU, described Kohberger as confident and outgoing, but said it seemed like "he was always looking for a way to fit in."
RELATED: 'Not a hint of stress'; WSU students react to arrest in Idaho murder case
"It's pretty out of left field," he said of the news Friday. "I had honestly just pegged him as being super awkward."
"One thing he would always do, almost without fail, was find the most complicated way to explain something," Roberts said. "He had to make sure you knew that he knew it."
Kohlberger has two sisters and graduated from Northampton Community College in Pennsylvania with an associate of arts degree in psychology in 2018, said college spokesperson Mia Rossi-Marino. 
He graduated from DeSales University in Allentown, Pennsylvania, with a bachelor's degree in 2020 and a master's degree in criminal justice in 2022.
RELATED: Idaho murders suspect Bryan Kohberger studied under expert on serial killer BTK; daughter 'sick' at news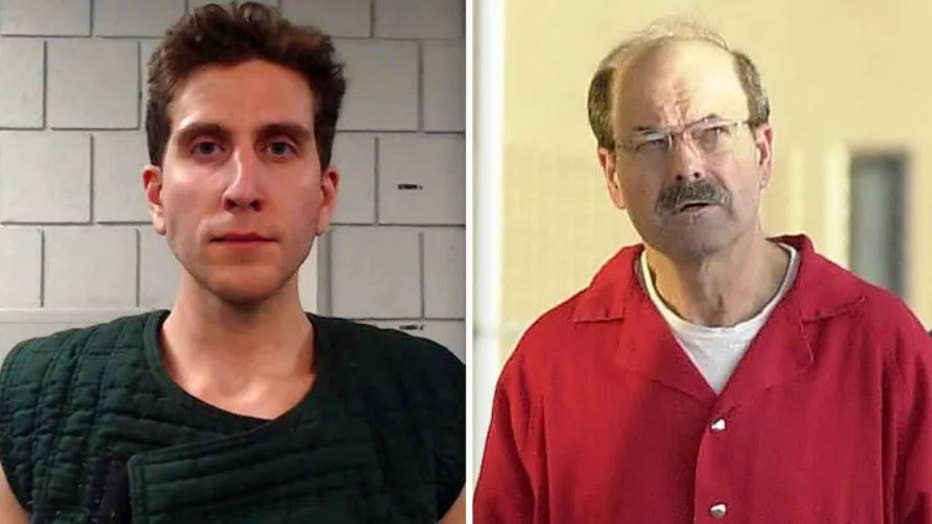 Left: Bryan Kohberger in an anti-suicide smock after his arrest in Pennsylvania Friday, Dec. 30, 2021. Right: Dennis L. Rader, the man known as the BTK serial killer, is escorted into the El Dorado Correctional Facility on Aug. 19, 2005 in El Dorado,
As part of his prior studies at DeSales University, Kohberger worked under the tutelage of BTK expert Dr. Katherine Ramsland, a fact that shocked the infamous serial killer's daughter after news of Kohberger's arrest broke Friday.
Kohlberger registered as a Libertarian in Albrightsville, Pennsylvania in 2013, public records show. He does not appear to have a criminal record, according to FOX News Digital.
Moscow, Idaho college murders: What happened?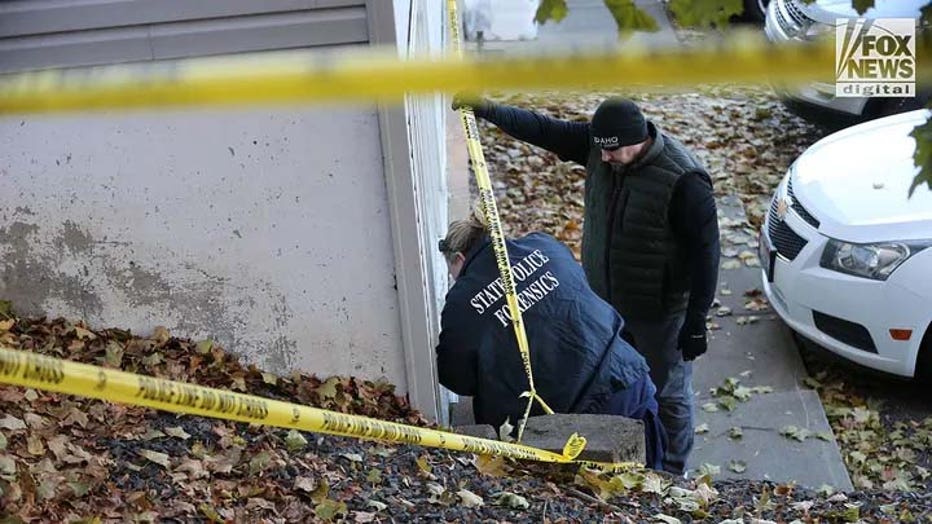 State police forensics look for clues in Moscow, Idaho on Monday, Nov. 21, 2022. (Derek Shook for Fox News Digital)
Kaylee Goncalves, Maddie Mogen, Xana Kernodle, and Ethan Chapin were stabbed to death at an off-campus home sometime in the early morning hours of Nov. 13. The slayings initially mystified law enforcement, with investigators unable to name a suspect or locate a murder weapon for weeks.
But the case broke open after law enforcement asked the public for help finding a white sedan seen near the home around the time of the killings. The Moscow Police Department made the request on Dec. 7, and by the next day had to direct tips to a special FBI call center because so many were coming in.
Goncalves, 21, of Rathdrum, Idaho; Mogen, 21, of Coeur d'Alene, Idaho; Kernodle, 20, of Post Falls, Idaho; and Chapin, 20, of Mount Vernon, Washington, were members of the university's Greek system and close friends. Mogen, Goncalves and Kernodle lived in the three-story rental home with two other roommates. Kernodle and Chapin were dating, and he was visiting the house that night.
Autopsies showed all four were likely asleep when they were attacked. Some had defensive wounds and each was stabbed multiple times. There was no sign of sexual assault, police said.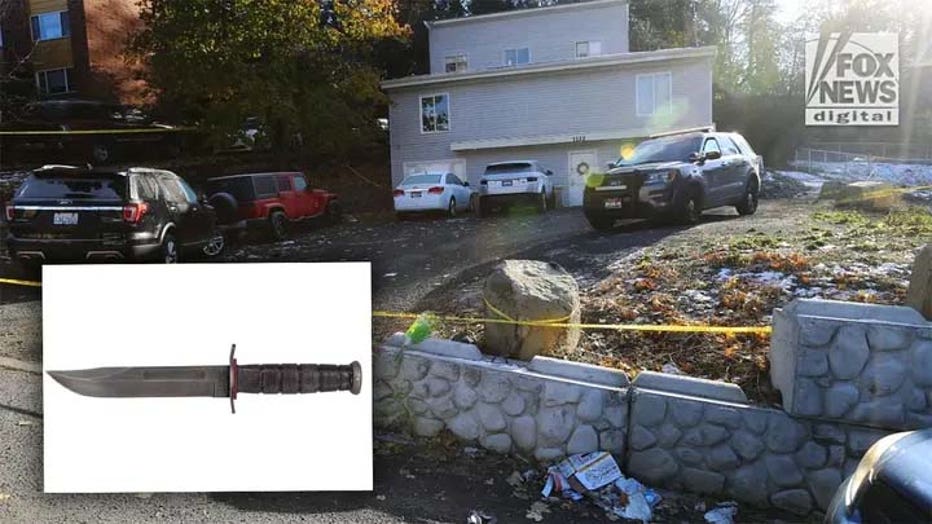 Police suspect a KaBar knife may have been used in slayings of four University Idaho students, inset. Caution tape surrounds the house near campus where the students were slaughtered. (Credit: Ka-Bar / Derek Shook for Fox News Digital)
The stabbing deaths shook the small town of Moscow, Idaho, a farming community of about 25,000 people — including roughly 11,000 students — tucked in the rolling hills of northern Idaho's Palouse region.
RELATED: Students: Idaho murders suspect continued to serve as teacher's assistant after alleged crime
The case also enticed online sleuths who speculated about potential suspects and motives. In the early days of the investigation, police released relatively few details publicly.
Fears of a repeat attack prompted nearly half of the University of Idaho students to switch to online classes for the remainder of the semester, abandoning dorms and apartments in the normally bucolic town for the perceived safety of their hometowns. Safety concerns also had the university hiring an additional security firm to escort students across campus and the Idaho State Police sending troopers to help patrol the city's streets.
The Associated Press and FOX News Digital contributed to this story.