iOS 17 releasing Monday: What it includes and who can get it
Apple is set to release iOS 17 this week, the latest operating system from the tech giant that promises to "enhance the things you do every day."
From the release date to the much anticipated new Journals app, here's everything you need to know before downloading iOS 17. 
When is iOS 17 available?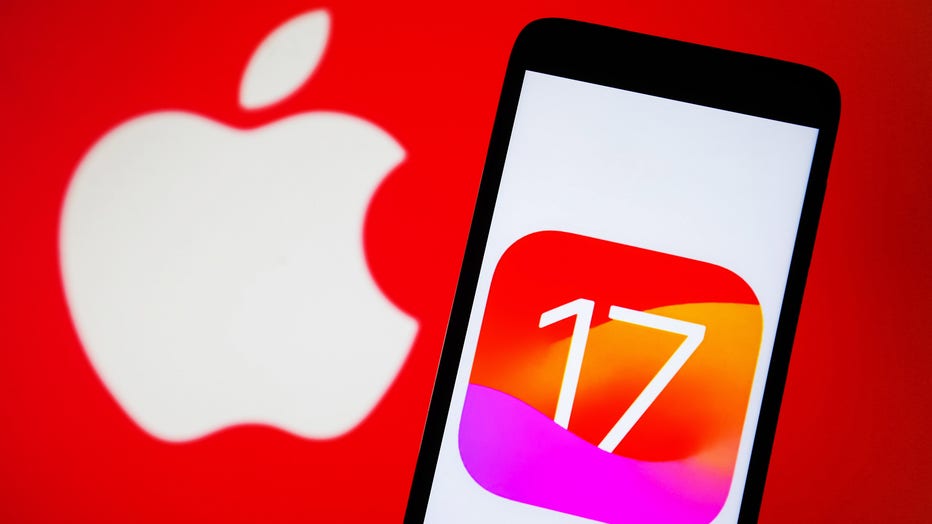 In this photo illustration, iOS 17 logo is seen on a smartphone and Apple logo on a pc screen. (Photo Illustration by Pavlo Gonchar/SOPA Images/LightRocket via Getty Images)
Apple will make iOS 17 available Monday, Sept. 18 for both the iPhone and the iPad. 
What phones can download iOS 17?
According to Apple, iOS 17 won't be available to every iPhone user. iOS 17 is only available for some iPhone Xes and up. 
iPhone 15, iPhone 15 Plus, iPhone 15 Pro, iPhone 15 Pro Max
iPhone 14, iPhone 14 Plus, iPhone 14 Pro, iPhone 14 Pro Max
iPhone 13, iPhone 13 mini, iPhone 13 Pro, iPhone 13 Pro Max
iPhone 12, iPhone 12 mini, iPhone 12 Pro, iPhone 12 Pro Max
iPhone 11, iPhone 11 Pro, iPhone 11 ProMax
iPhone Xs, iPhone Xs Max, iPhone XR
iPhone SE (2nd generation or later)
READ MORE: Apple's new iPhones feature faster chips, better cameras and new charging ports
What features are on iOS 17?
Apple is including dozens of new features in this release for the iPhone, on everything from the phone to messages to FaceTime to the way you can type. 
Here are some of the key features:
Phone: Customize what people see when you call, called Contact Posters; live voicemail
Messages: Catch-up arrow; automatic destination or time duration check-ins
FaceTime: Leave a video or audio message
Music: Shareplay; playlist collaboration
Keyboard: More accurate autocorrect; predictions as you type
Safari and Passwords: Profile creation
New "StandBy" mode, which activates by turning your phone on its side while charging to show various full-screen experiences
Interactive widgets
Journal (more on that below)
Many of these features are available in the iPad's release as well, which also includes lock screen personalization.
RELATED: Apple's iPhone 15 reportedly set for release in September
Apple journal app
Perhaps one of the most talked about features of iOS 17 is a new app called Journals. 
It's a built-in way to "appreciate life's moments and preserve your memories," as Apple puts it.
The app will take info from your phone – such as new pics, locations, music, or workouts – to create personalized suggestions of moments for you to remember and write about. Each suggestion comes with a writing prompt, such as "What was the highlight of your trip?" or "What's the story behind these photos?" 
You can save, bookmark, filter and lock your entries, which Apple says will all be encrypted. 
But for those ready to start reflecting on their days, the wait will be a little longer. The Journals app isn't included in the Sept. 18 release.
Apple says it's coming in an update later this year. 
This story was reported from Detroit.