Macklemore apologizes to 'anybody I may have offended' with costume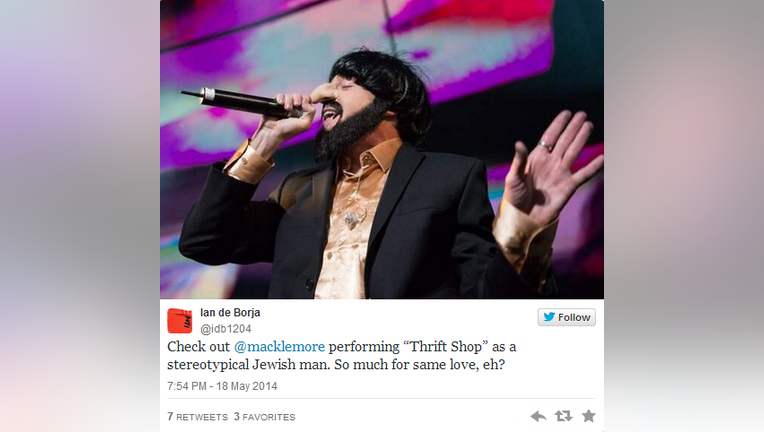 article


SEATTLE -- Seattle-area rapper Macklemore said Monday he was surprised and disappointed that a costume he wore onstage was "sensationalized" and led to assertions it was anti-Semitic, but he added: "I truly apologize to anybody that I may have offended."

Macklemore's outfit during a surprise concert Friday at Seattle's Experience Music Project led to the controversy.

Macklemore took the stage Friday in Seattle wearing a black beard, a black wig and a notably long prosthetic nose as her performed his hit single "Thrift Shop." Many felt the costume mocked Judaism, and was a thinly veiled Jewish caricature.




Popular websites like the Daily Dot, the Slog and Buzzfeed criticized Macklemore for his outfit. Macklemore never addressed the costume while on stage, but took to Twitter after critique of his outfit began to surface Friday night. He defended his choice, calling it a "random costume."




He later issued this apology on his website here:

"Family, friends and fans alike who know me well, know that I'm absolutely not the person described in certain headlines today. There is no worse feeling than being misunderstood, especially when people are hurt or offended.

"On Friday night we had a surprise show at the EMP Museum in Seattle.  Earlier in the day I thought it would be fun to dress up in a disguise and go incognito to the event, so that I could walk around unnoticed and surprise the crowd with a short performance.  I picked up a bunch of fake mustaches and beards and grabbed a left over wig from our recent trip to Japan.

"As it turns out the fake noses they sell at the costume store are usually big (my nose didn't fit most of them).  So I ended up with a big witch nose.  I went with a black beard, because that's the furthest color from my natural hair.  Disguise was the intention.  I personally thought I looked very ambiguous in terms of any "type" of person.  Some people there thought I looked like Ringo, some Abe Lincoln. If anything I thought I looked like Humpty Hump with a bowl cut.

"We showed up to the event, I hit the stage in the outfit, rocked two songs, took pictures and went home.  We had a great time and it was fun to be a surprise guest in a costume.  I've always loved dressing up and have been doing so my entire career. The character I dressed up as on Friday had no intended cultural identity or background.  I wasn't attempting to mimic any culture, nor resemble one.  A "Jewish stereotype" never crossed my mind.

"My intention was to dress up and surprise the people at the show with a random costume and nothing more. Thus, it was surprising and disappointing that the images of a disguise were sensationalized leading to the immediate assertion that my costume was anti-Semetic. I acknowledge how the costume could, within a context of stereotyping, be ascribed to a Jewish caricature. I am here to say that it was absolutely not my intention, and unfortunately at the time I did not foresee the costume to be viewed in such regard. I'm saddened that this story, or any of my choices, would lead to any form of negativity.

"I will let my body of work and the causes for which I've supported speak for themselves. I hope that anyone who may question my intent take a few moments to discover the human and artist that I strive to be. I respect all cultures and all people.  I would never intentionally put down anybody for the fabric that makes them who they are. I love human beings, love originality, and… happen to love a weird outfit from time to time.

"I truly apologize to anybody that I may have offended. I hope this better explains the situation and my point of view.

With love,

Ben

PS - Out of a negative can come a positive. Through this situation I've got hip to some incredible groups like the ADL and I encourage people to check the great work they, and others like them, do: http://www.adl.org"