Major storm could mean power outages, lowland snow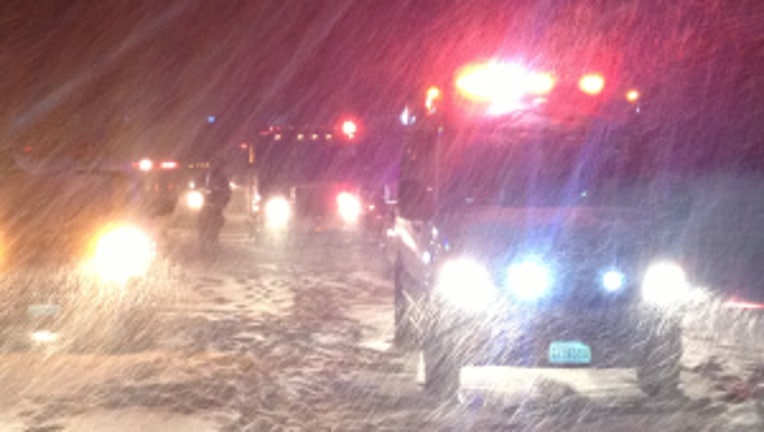 article
SEATTLE-- Get out the blankets and the candles.

A major winter storm is headed to the Puget Sound, with high winds, mountain snowfall and a snow level around 500 feet forecasted through Monday morning. Tidal overflows are also a possibility.

The full force of the storm is expected to hit Sunday evening through Monday morning. The National Weather Service issued a high wind warning for the central coast from 12 a.m. Monday through 10 a.m. Monday. Gusts for the coasts will be around 70 mph. Wind in Seattle and Tacoma could be as fast as 60 MPH.

Puget Sound Energy has geared up in preparation of the incoming storm, and extra power crews are on standby, officials said. Energy officials encouraged residents to prep for a major storm by keeping emergency kits handy, unplugging sensitive electronic equipment and knowing what natural gas appliances will continue to operate during a power outage.

Seattle City Light encouraged its customers to plan ahead for power outages.

"Strong winds are predicted to blow through the Puget Sound area late Sunday night and into Monday morning, which could cause power outages," officials said. "Seattle City Light encourages its customers to prepare for this possibility. Have flashlights with fresh batteries available, charge cell phones and have extra layers of warm clothing or blankets handy."

High wind also has officials worried about vital transportation infrastructure in the area. Winds over Lake Washington are projected to be between 25 and 35 MPH, with gusts as high as 50 MPH.

"While every state highway is important, in Puget Sound, this particular wind storm has us paying special attention to the State Route 520 floating bridge," said Dave McCormick, assistant regional administrator for maintenance and operation.

The National Weather Service also issued a Winter Storm Warning for the Cascades. Heavy snow is expected above 1000 feet. The warning was effective from 6 p.m. Sunday through 6 p.m. Monday, and included possible blizzard conditions, with heavy snow and gusts of wind up to 70 MPH. The mountain passes are expected to receive one to three feet of snow by Monday evening. Hazardous winter driving conditions were already present early Sunday afternoon. Chains were required over Snoqualmie Pass for all vehicles that weren't four-wheel drive at 5 p.m. Sunday. The pass closed eastbound at Milepost 47 at 5:30 p.m., due to multiple accidents and cars slipping out on the snow.

Drivers are encouraged to check the Washington State Department of Transportation's winter weather page before heading over the passes.

With snow levels around 500 feet, places such as Hood Canal, Lake Stevens, Enumclaw and others near the Puget Sound Convergence Zone could see spotty areas of lowland snow. Areas like Shelton reported wet snow Sunday afternoon.

Temperatures in Seattle should hover in the upper 30s, and snow is not expected to stick. Still, a slick commute Monday morning is possible, with areas of standing water slowing down drivers all over the Puget Sound.