Wildfires continue to burn in Eastern Washington
WASHINGTON - Wildfire officials say Washington is experiencing its worst fire activity of 2022, as crews work to get multiple wildfires under control on the eastern side of the state.
The fires have burned tens of thousands of acres.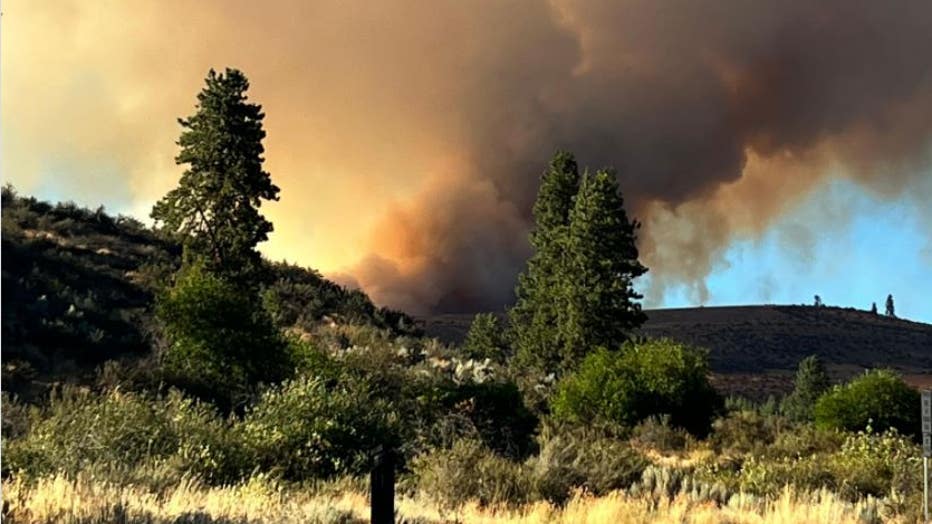 Cow Canyon at Malloy Road 
Cow Canyon Fire
On Aug. 3, crews with the Washington State Department of Natural Resources responded to a wildfire near Ellensburg. 
As of Friday evening, the fire had burned nearly 6,000 acres and is about 90% contained. 
Riparia/Central Ferry Fire
The fire that was burning in South Central Whitman County last week is 100% contained.
The fire was first reported at about 4:30 p.m. on Aug. 4, and it had spread along the breaks of the Snake River and made its way to the Central Ferry area. 
It had burned 5,600 acres. 
Williams Lake Fire
A fire near Cheney, in Spokane County, and near Williams Lake is about 80% contained, as of Tuesday.  
The Williams Lake Fire has burned nearly 2,000 acres. 
More than 200 personnel have responded to the incident. 
Vantage Highway Fire
A fire that has been burning since Aug. 1 in Vantage is 90% contained, fire officials said. 
As of Monday, the fire had burned more than 30,00 acres. 
Four structures have been lost in the fire, according to officials. 
The cause of the fire is still unknown. 
Lind Fire
On Thursday afternoon, the entire town of Lind, in Adams County, was ordered to evacuate because of a fast-moving wildfire. 
The fire burned about 2,000 acres and about 10 homes were destroyed. 
Evacuation orders were lifted and people were cleared to return to their homes. 
Fire Evacuation Levels
When wildfires start, officials and authorities will begin issuing evacuation orders.
Below are Washington's three evacuation levels:
Level 1: Residents are informed that danger is in the area and evacuations are voluntary.
Level 2: There is significant danger in the area and residents should be prepared to evacuate.
Level 3: Residents are under "go now" evacuation orders and should leave immediately.