Oakley Carlson case: Reward increases to $25,000 for missing 5-year-old girl
GRAYS HARBOR COUNTY, Wash. - Five-year-old Oakley Carlson has been missing for more than a year. Now, the reward is up to more than $25,000 for information that will bring her home.
Oakley was reported missing in December 2021, but she was last seen ten months earlier.
Her biological parents Jordan Bowers and Andrew Carlson are both in jail on unrelated charges.
Bowers was sentenced to 20 months in jail after pleading guilty to withholding necessary medication from another child. Andrew Carlson, was sentenced to 12 months in prison for charges involving the same child.
Related stories: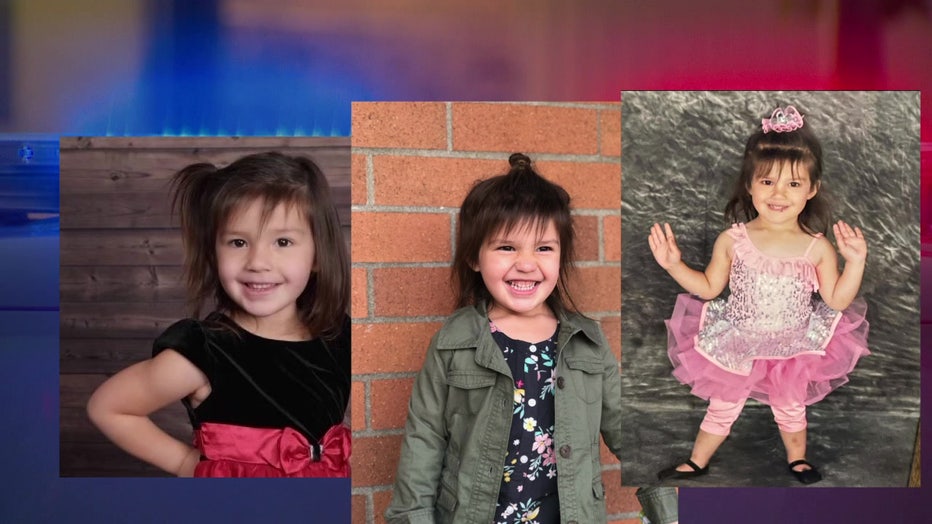 Posters still line the streets of Elma in Grays Harbor County, calling for "Justice for Oakley." The community and her former foster mom, Jamie Jo Hiles, hope that the increased reward of $50,000 leads to new information in the case.
"I really am hopeful that more people will kind of hear about it and look into it and realize money does talk," said Hiles. "If people know something, but they've been afraid to tell someone about it, it's worth talking to someone about."
Pictures of Oakley still fill the shelves and walls at the Hiles family home.  
"We have photos everywhere of Oakley throughout our house," said Hiles.  
The little girl who came to live with them when she was around 8 to 9 months old became part of the family right away. She stayed with the couple for almost three years – most of her life–  before going back to her biological parents. Then, she disappeared.
"I still hope that she's alive. That's my hope," said Hiles.  
She has been outspoken in her concerns about what happened to Oakley and started selling T-shirts and holding fundraisers to increase the reward money for any information leading to an arrest or the location of Oakley.
"I am so grateful. It kind of started in March. It's all been grassroots. It's private. I've been working with a really great advocacy group called Light the Way and since then, it's grown," said Hiles. "We've had people that have donated and donated."
The Hiles family has also expressed concerns about how Washington's Department of Children Youth and Families handled Oakley's child welfare case and the decision to return the child to her biological parents.
"I write Governor Inslee every single week. Every single week," said Hiles.  
Anyone with information is asked to contact the Grays Harbor Sheriff's Office at 360-533-8765. You can also send a tip to Crime Stoppers by calling 1-800-222-TIPS (8477) or use the P3 Tips app on your smartphone.