OKC airport evacuated; Huskies World Series softball game canceled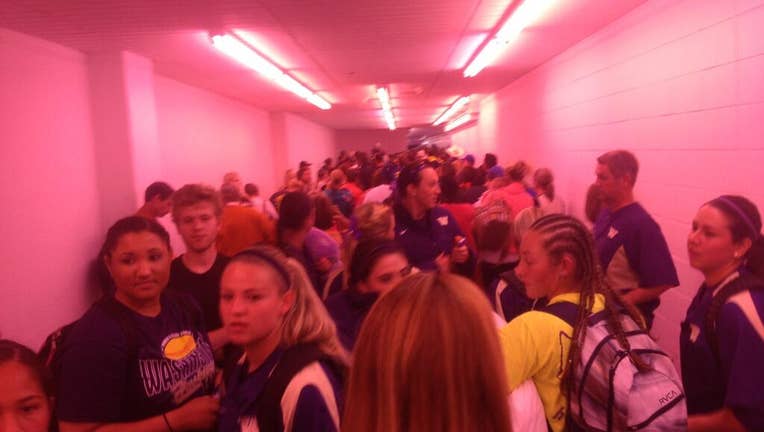 article


(CNN) -- 

A new tornado has been reported just east of Will Rogers World Airport, the National Weather Service tweeted on Friday night.

CNN has confirmed a National Weather Service sensor at the airport recorded a 71 mph wind gust.

The University of Washington Huskies softball team, in Oklahoma City for the Women's College World Series, had to postpone their game. The game with Tennessee is part of the country's largest World Series softball tournament and thousands of people were expected to attend.



[trib_ndn vid=24854036 freewheel=91045 site_section=dash]



Tornado emergency issued for Oklahoma City, twister-ravaged Moore

Thousands of people in the Oklahoma City metropolitan area, including the twister-ravaged community of Moore, were scrambling for shelter on Friday after the National Weather Service issued a tornado emergency for the area.

At least two tornadoes reportedly touched down, one southwest of the suburb of Bethany and another north of Union City, according to the National Weather Service's Norman, Oklahoma, office.

Parts of Interstate 35, which cuts through Oklahoma City and Moore, were "a parking lot," the weather service said, warning that those caught in the heavy rush hour traffic "are in danger."

"Please try to get to a building or safe shelter!" the weather service tweeted.

Police and firefighters were responding to reports of damage in El Reno, just outside Union City, but it was not immediately known how bad the damage was, Mayor Matt White said.

The tornado emergency declaration means a large, destructive tornado is moving into a densely populated area where widespread damage and fatalities could occur.

The weather service issued the tornado emergency for Oklahoma City as well as its suburbs of Moore, Yukon and Bethany.

Authorities were urging people in the path of the tornado to take immediate cover, and Oklahoma Gov. Mary Fallin was urging residents not to take any risks.

Oklahoma City's Will Rogers World Airport was evacuated over the threat from the approaching tornado, which the National Weather Service said was moving at 40 mph.

The storm was so fierce that the Weather Channel's Mike Bettes, known for his on-the-ground severe weather reports, said his Tornado Hunt vehicle was thrown about 200 yards.

"Airbags deployed. All are safe," Bettes said in a post on Twitter.

About 12,000 customers were without power by early Friday evening in the Oklahoma City area because of severe weather, the Oklahoma Gas and Electric Co. said.

More than half the city of Mustang, 17 miles south of Oklahoma City, was without power, Mustang Fire Chief Roy Widmann said.