Oregon murder suspect found hiding under blanket in closet after escaping courthouse
HILLSBORO, Ore. - Police in Oregon say a murder suspect who escaped a courthouse during the jury selection process for his trial has been found hiding in a closet at a stranger's apartment.
Edi Villalobos was located inside a residence in Hillsboro Monday after multiple law enforcement agencies "searched extensively" for him for hours, using canines and drones, according to the Washington County Sheriff's Office.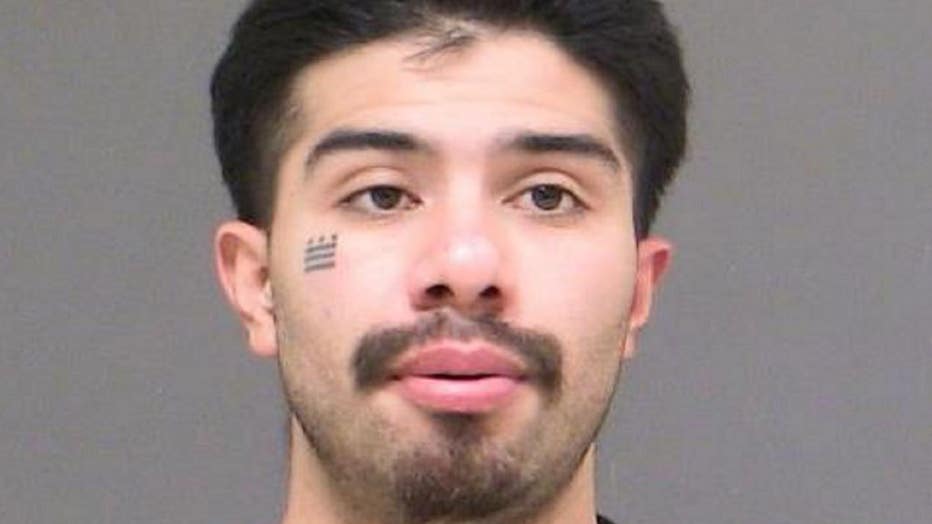 Edi Villalobos, shown here in 2021, attempted to elude authorities after escaping the Washington County Courthouse in Hillsboro, Oregon, on Monday, police say. (Washington County Sheriff's Office)
"Deputies entered the apartment and located Villalobos hiding in a closet underneath a blanket," it said in a statement. "Villalobos was taken into custody without incident and transferred back to the Washington County Jail."
The 28-year-old was summoned to the Washington County Courthouse in Hillsboro Monday morning for a scheduled trial. Villalobos – whom police say faces charges including second-degree murder and unlawful use of a weapon – is accused of stabbing a Cornelius man to death in 2021 and wounding another man in a knife attack in Clackamas County, KPTV reports.
RELATED: Stunning video shows Coast Guard rescue man wanted in bizarre 'Goonies' fish incident
On Monday, authorities said two deputies were assigned to stay with Villalobos during the trial. 
"Per Oregon law, the deputies removed all restraints from Villalobos during the jury selection process. At around 11 a.m., the court took a break, and restraints were placed back on Villalobos," the Washington County Sheriff's Office said. "When the break ended, deputies again removed all restraints from Villalobos, as directed by Oregon Law." 
But at that moment, "Villalobos ran out of the courtroom and the courthouse," police said, sparking a foot chase.
Police say they found the location Villalobos was hiding in after being contacted by a community member who reported that someone was trying to break into an apartment directly underneath theirs.
RELATED: Oregon suspect accused of torturing women is using dating apps to lure victims, evade capture: police
"Deputies and officers contacted the owner of [that] apartment and were told no one should be inside," the sheriff's office said.
Villalobos is now facing two counts of burglary in the first degree and one count of escape in the second degree for the escape attempt Monday.
The murder trial, meanwhile, has been canceled and will be rescheduled for a later date.