Police investigate fourth suspected arson this week in West Seattle; reward offered for information


SEATTLE (AP) — A Wednesday morning fire in a residential recycling bin is the fourth suspected arson in West Seattle this week.

Fire officials said the blaze in a garbage can was started early this morning outside a home in the 6500 block of 40th Avenue SW. The fire was less than a mile away from the three other fires that officials believe were intentionally set.

All the fires have occurred between 2 and 3:30 a.m. near the High Point neighborhood.

On Sunday, neighbors awoke to two cars engulfed in flames coming from vehicles parked in the 2700 block of SW Sylvan Heights in West Seattle. Residents were able to quickly put out the fires, which appeared to be intentionally set, Seattle fire officials said.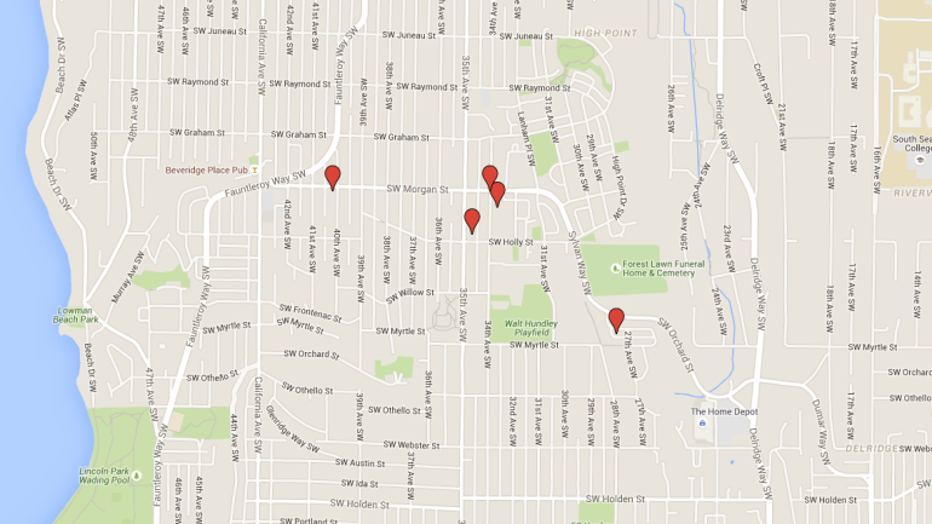 No one was injured.

Then on Monday morning, fire crews responded to a fire at a Seattle Housing Authority building near the intersection of 35th Avenue SW and SW Holly Street. Crews put out the fire quickly, officials said, and no one was injured.

Police say that fire also appeared to be set on purpose. Neighbors are worried the building may have been targeted because the upper half serves as a neighborhood mosque.

All investigations have been turned over to the Seattle Police Department, officials said. They are offering a $10,000 reward for any information leading to the arrest of a suspected serial arsonist.

The Seattle Police Department has added emphasis patrols in the area as Arson detectives investigate these cases.