Reward offered for ID of aggressive armed robber who terrified victims at Parkland Auto Licensing


PARKLAND, WASH -- Pierce County Sheriff's detectives need your help to identify the suspect responsible for an armed robbery.  "Suspect was really aggressive and abrasive and one of the things about guys like this, they've probably done this before and they're going to do it again," said Det. Ed Troyer.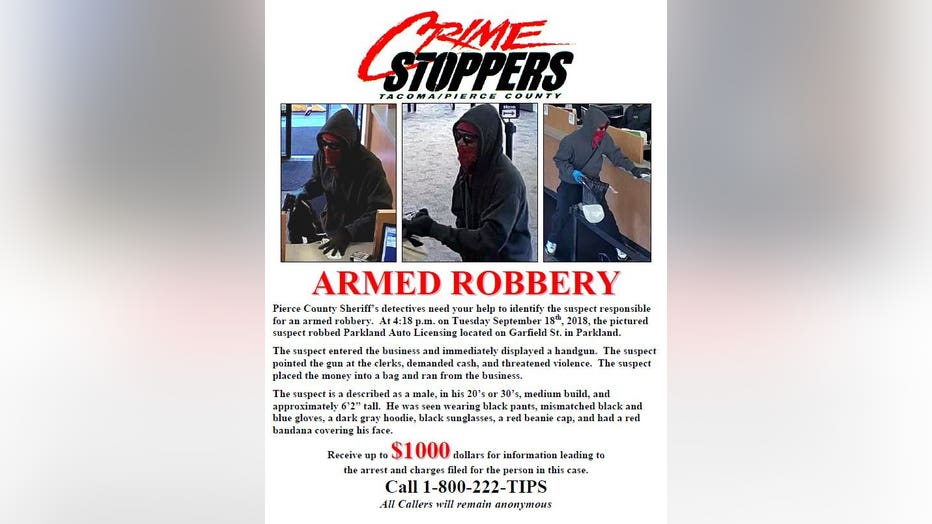 At 4:18 p.m. on Tuesday September 18th, 2018,  the gunman ran into Parkland Auto Licensing located on Garfield St.  "He came inside with the glasses and the gun already out, had a bag with him for the money, pointed the gun at whoever was behind the counter, threatened them with violence, took the cash and ran out," said Det. Troyer.

Deputies described the suspect as a male,in his 20's or 30's, medium build, and approximately 6'2" tall.  He was seen wearing black pants, mismatched black and blue gloves, a dark gray hoodie, black sunglasses, a red beanie cap, and had a red bandana covering his face.

"So, what's going to happen is he's going to go through that cash and when it's gone, he's going to do another robbery, so we really want to get this guy taken off the streets," said Det. Troyer.

Crime Stoppers of Tacoma/Pierce County is offering a cash reward of up to $1,000 for tips that lead to an arrest in the case.  If you know who was involved or have any other information, call the hot line anonymously at 1-800-222-TIPS (8477) or use the P3 Tips App that you can download to your cell phone for free.