Seattle Public Utilities asks its 1.5 million customers to 'voluntarily' reduce water use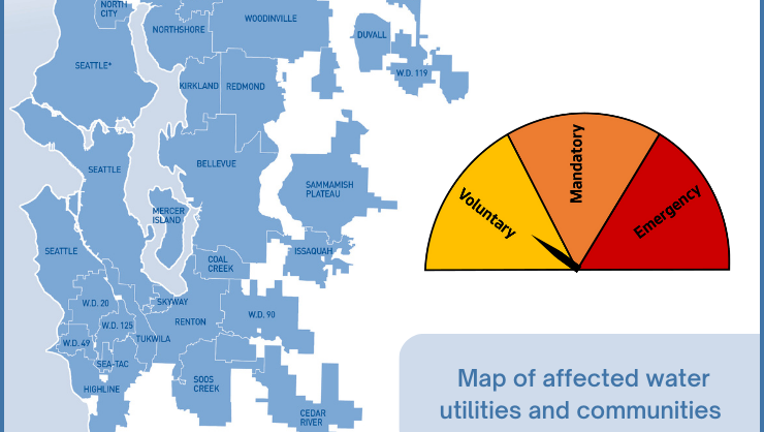 article
SEATTLE - 1.5 million people are being asked to reduce their water use as Seattle Public Utilities' reservoirs are dwindling.
While SPU services Seattle, they're also linked to 25 other area utilities that deliver water around the region. The call to conserve comes as four reservoirs, which typically run low this time of year, are at 80-percent of their historical average.
"Stream flows are lower than they've ever been for this time of year," said Nick Bond, the state's climatologist.
"We'll be going into this winter season with dry soils, low stream flows and low reservoir values. So, if the winter is a rough one from a water supply point, next year could be really concerning."
The area is currently in an El Nino, which is typically associated with a subpar snow pack. Bond told FOX 13 that could be the second part of an ugly one, two punch.
In the short-term, there are also concerns about fish that require cold temperatures to survive in local streams. Less water in local rivers, means warmer temperatures – every bit counts this time of year.
Kelly O'Rourke, a water conservation manager at SPU, said that they're required through federal, state and tribal agreements to account for stream flow conditions for wildlife. The current request is meant to help people, and fish.
"If everyone pulls back a little bit, collectively that will make a difference," said O'Rourke.
SPU has only requested people reduce water use six other times. The last took place in 2015.
The region saw less than half of it's historical precipitation this summer, affecting both the Cedar River and the South Fork Tolt River where the region's water comes from. O'Rourke noted that SPU held more water than typically at the beginning of the season, but that in recent weeks the situation deteriorated.
Mandatory restrictions are not in place, though if the water picture worsened that would be the next step.
If there is a silver lining, it's that SPU has reduced the total consumption of water in the past few decades despite a population boom of 1 million, to 1.5 million that relied on their water system.
They previously launched an initiative, along with 19 local water utilities, to reduce water consumption called the Saving Water Partnership.
There are easy ways to reduce water use including:
Shorter, or fewer, showers
Take a shower instead of a bath
Wash only full loads of laundry/dishes
Turn off the tap while brushing teeth/shaving
Stop watering lawns
Delay non-essential washing outdoors
Check/fix leaks especially on running toilets
If you'd like additional water saving tips, SPU has a flyer with helpful information here.