Sources: 49ers bench Colin Kaepernick, Blaine Gabbert to start Sunday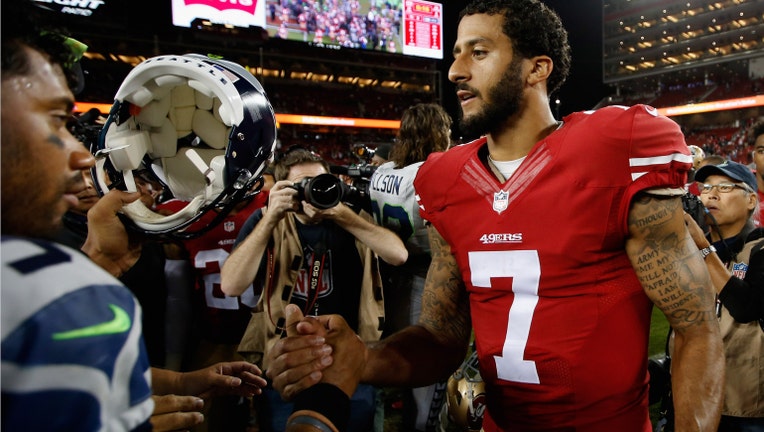 article


SANTA CLARA, Calif. -- Quarterback Colin Kaepernick has been told he will not start this Sunday for the San Francisco 49ers and will be replaced by backup Blaine Gabbert, a person with knowledge of the decision told the Associated Press.

The person spoke on condition of anonymity to The Associated Press because the decision wasn't to be discussed publicly.

An NFL Network Insider also reported that Kaepernick was being benched.




The team had not made a formal announcement, though coach Jim Tomsula offered a pretty good hint earlier in the day "we're evaluating everyone," on the heels of a 27-6 loss at St. Louis and a second straight game without a touchdown and third in five.

Kaepernick has passed for just 286 yards the last two games for the 49ers (2-6).

He has been benched for his birthday, as he turns 28 on Tuesday.

In a strange twist, it was three years ago in November 2012 when Kaepernick was promoted to replace Alex Smith and he wound up leading San Francisco back to the Super Bowl and a three-point loss to Baltimore. Kaepernick made his first career start on Nov. 19, 2012, for former coach Jim Harbaugh.

Former first-round pick Gabbert completed 23 of 28 passes in the preseason — for an 82.1 completion percentage — for 203 yards, one touchdown and no interceptions and a 108.8 passer rating. He has stood by locker mate and friend Kaepernick, and they have regularly eaten lunch together, especially last week when a report said Kaepernick was alone "on an island" in the locker room.

Tomsula had always said Kaepernick was his quarterback and made that commitment almost weekly during San Francisco's struggles this season — until Monday.

The 49ers coach said every player is being evaluated and he didn't name his starting quarterback for a home game Sunday against Atlanta.

"We're evaluating everything right now, we're in the middle of it right now. I don't have any comments on any position on our field right now," Tomsula said. "We're evaluating everyone. I'm not going to have any further comment, I'm just telling you we're evaluating everyone."