Seattle Police officer placed on leave amid investigation of racist and sexist comments
SEATTLE - The Seattle Police Department (SPD) placed one of its officers on leave Friday while it investigates allegations of racist and sexist comments said to one of his neighbors last year.
On Friday, The Stranger released an article containing audio of SPD Officer Burton Hill allegedly calling his Chinese-American neighbor slurs during an argument in their condominium. Officer Hill was off duty during the incident.
Hours after the article was published, Seattle City Councilmember Tammy Morales sent out a press release demanding a plan of action from the SPD.
In Morales' announcement, she points out how Hill and his wife allegedly harassed their neighbor at her home, and tried to interfere with her employment at Seattle Public Schools where she works as a bus driver.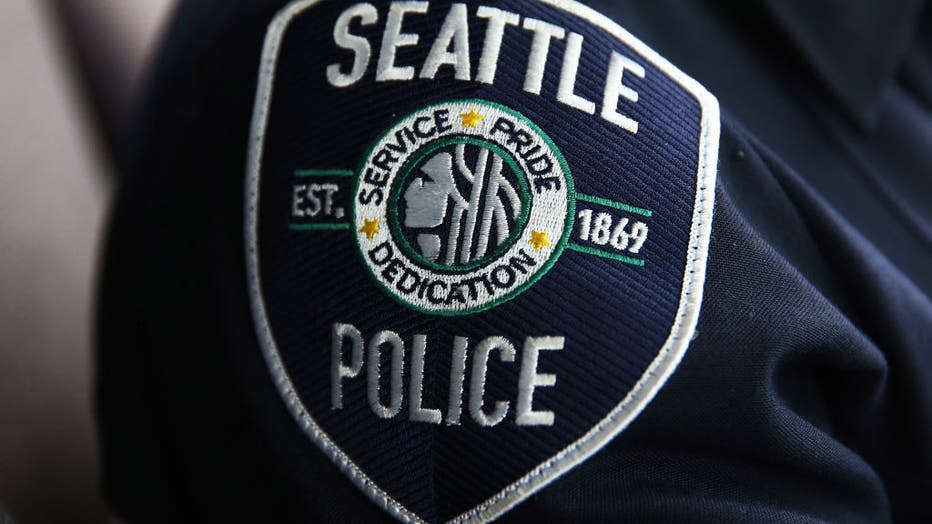 Seattle police department, SPD ((Photo by GENNA MARTIN/San Francisco Chronicle via Getty Images))
Morales also addresses how this would impact the relationship between the SPD and the public they serve:
How can SPD expect the public to trust them while it remains silent as these incidents happen? What does SPD leadership plan to do to regain control of the department, address its toxic culture, and rebuild this complete breaking of trust? 
Councilmember Lisa Herbold of District 1 also released a statement on Saturday in response to the audio recording:
"This act of anti-Asian hate from a Seattle officer is disgusting and undermines the Seattle Police Department's ability to provide basic public safety.
How can our APIDA communities feel safe calling the police? How can they depend on SPD to respond to anti-Asian hate crime or home invasion robberies targeting Asian elders when an SPD officer has engaged in vile anti-Asian hate himself?"
Herbold went on showing her support for her colleague's call for SPD Chief Diaz to develop a plan to address the issues of racism in the department, and discuss concerns over SPD culture.
The Stranger also reported that Hill has faced four additional allegations of biased policing since 2016, but he has never been found guilty or placed on leave for a thorough investigation.
SPD Police Chief Adrian Diaz released a statement saying that his department has taken immediate steps to place Officer Hill on leave and investigate the bias/hate complaint filed with the Office of Police Accountability (OPA).
"Although I will ultimately defer, as I am required, to the outcome of OPA's investigation, racist language is completely unacceptable and is inconsistent with the high standards the department sets for its employees. While I'm grateful the complaint was filed with OPA, not knowing about this for one year causes me concern. For this reason, I have instructed my staff to review this officer's arrest and investigation history.
"As I have said from the beginning of my tenure as Chief of Police, racist comments and behavior by department employees will not be tolerated.
"I and the entire police department deeply apologize to the person who was subjected to these offensive remarks, as well as to the community. We clearly have more work to do to build trust between the department and the people we serve."
This comes just days after shocking body camera video showed how another SPD employee, Officer Auderer, laughed following to the death of a woman hit and killed by a patrol car during an emergency response.
Councilmember Herbold is also calling for the SPD to release more information about why they terminated their contract with Truleo, a technology that can flag unprofessional comments made on police body camera. She responded to other reports which allege the SPD was pressured by the Seattle Police Officer's Guild to stop using Truleo days after Officer Auderer's comments.