Special needs baseball squad making waves in the South Sound
SEATTLE - The crack of the bat, the sound of feet rushing across the field – it's a reminder that baseball is back in the South Sound.
On a Tuesday night, the Diamond Sports 15U Saints were facing off against an unfamiliar foe: the South Sound Titans, an alternative baseball team for teens and adults with autism and other disabilities.
"There's a joy that comes with this," said Elizabeth Gerdler, the mother of Irina – one of the Titan's pitchers. "As a parent, these kids impress us. To see what they can accomplish is amazing."
It's hard to put into words the feeling you get watching the Titans play.
As parents tell it, they've advanced a lot in a short amount of time. The team was just getting started when the pandemic hit, which put a pause on development. 
When things started to open back up, the original coach had moved away.
Stacey Gifford, the team manager, stepped up. She helped gather players, coaches, and even threw in her own money to pay for the insurance needed to play.
Gifford had a personal reason for wanting to get involved. Her son, Zach, fell in love with baseball and not some modified version of it. He wanted overhand pitch, just like the pros.
"Most of our kids had never played baseball," said Gifford. "Never played, never put a mitt on their hand, never even touched a baseball in their lives."
It's a wild statement to hear if you've watched the team play. Composed of athletes ages 15-and-up, the squad runs like a well-oiled machine. Coaches certainly give guidance during the game, but most appear to hit, throw and field like they've played little league their entire lives.
"It's fun," said Jason Seeley, one of the team's two catchers. "It's fun getting the guys going, cheering them on and everything."
"Any team can be fun, it just needs a good environment," said Kyle Bunker, one of the team's regular catchers.
As the game against the Saints unfolded, some of the Titans shocked the players – pitching is one of the team's strengths, and it's not unusual to see a shocked face when a fastball flies right by an unsuspecting hitter.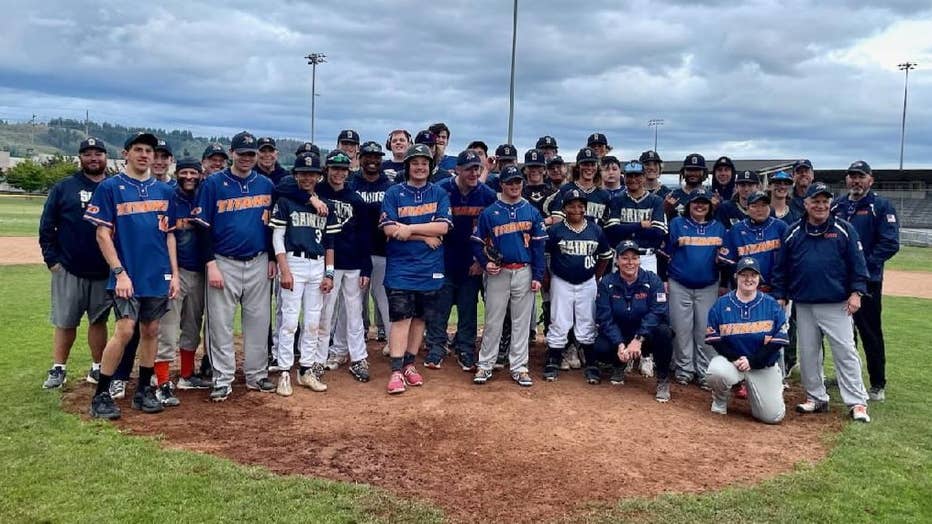 A post-game picture of the South Sound Titans with their opponents, the Diamond Sports 16U Saints. The team has volunteered themselves as a semi-regular opponent since the Titans are the only ABO team in Washington state.
"I just figured there wasn't an option for him," said Michelle Haig, mother of Josh Haig.
There's often little in terms of athletic opportunities for teens and adults with special needs, baseball isn't even offered by groups like Special Olympics. They miss out on a lot of chances to meet people, have friendships and the camaraderie that comes with athletics.
Inside the Titans dugouts you see high-fives and hear the players yelling to one another "Good job!" 
Gifford told FOX 13 that life for many special needs adults feels a lot like COVID-19 shutdowns felt for everyone else.
"I've had parents come up to me and say, 'You have completely changed my son's life,'" said Gifford. "They now know that they're a team together. They go home and they belong to something. They belong to this special thing – they love it, that's why I know that I'm doing what I'm supposed to be doing."
Of course, the Titans' story doesn't come without some downside. While they were facing off against the Saints on this particular night, they often struggle to find opponents. They are the only Alternative Baseball team in Washington state.
In fact, the closest teams are located in Arizona. They're currently raising money in hopes of playing in a tournament against those teams in the future.
In the meantime, they're also working to create excitement – or momentum – for more local teams to form.
Gifford notes, they have extra balls and bats – they have even worked out a deal with the Mariners Training Center for a free, weekly dedicated training time for the Titans. The group, formerly known as EL1 Sports, are willing to offer any future ABO teams a similar deal to help grow the sport. There's hope that that will incentivize volunteers and players since Mariners Training Center has locations in Puyallup, Redmond, Seattle, Tacoma and Woodinville. You can contact Gifford through the South Sound Titans Facebook page to find out more details.
The real need is for a few additional players, and volunteers willing to get involved. They don't have to be parents, either.
One of the Titans coaches, John Thoennes, loved baseball and always wanted to coach. He reached out to Giffords and is now a mainstay with the team.
Thoeness told FOX 13 it's impossible to not cheer on the players, adding: he's made a real connection with them through baseball.
"You see how out on the field they have the energy, enthusiasm and desire," he said. "It's not about skill, they're playing just as hard and just as passionately as anyone else that plays the game. I only see the desire and love to play baseball out here."
Haig said, watching that kind of commitment has been powerful. She said her son struggled for a year, admitting she herself cried at every practice – over time she watched him learn to hit, throw, have fun and ultimately show up smiling every single day.
"To watch these people invest in my son, it's just so awesome," said Haig.
It's unclear whether the Titans will be on the road playing Arizona ABO teams anytime soon. However, as Irena told us: she really just wants to be a good teammate and have fun.
"I just want everyone to find a team like mine, and get together," said Irena.
If you'd like to help the South Sound Titans raise money for their Arizona trip, you can donate directly to the team through their Facebook page. You can also donate to their GoFundMe, though they note it does take fees off the top.