STORM: One dead, several injured from falling trees; thousands lost power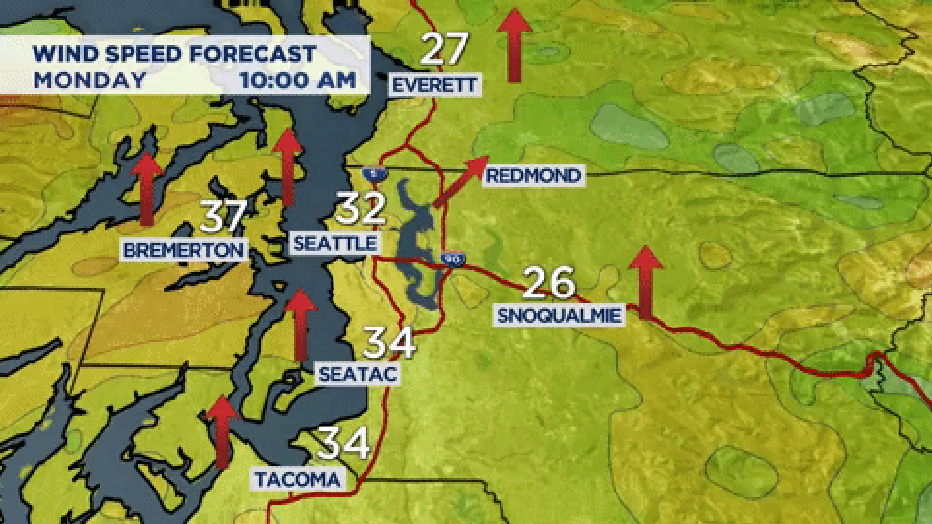 A model of sustained winds on Monday, Nov. 13 through Tuesday, Nov. 14. Gusts will be even higher.


SEATTLE -- One person died, a 15-year-old girl was hospitalized and more than 170,000 people were without power at one point on Monday night after a heavy windstorm battered Western Washington.

Meteorologists on Monday issued a high wind warning for much of Western Washington -- from Lewis County north through Snohomish County. Wind gusts reached more than 60 MPH in places.

At about 6:20 p.m., one person died and another was injured when their car was hit with a tree on 158th Pl. SE in Renton.

A 15-year-old girl was seriously injured in Port Orchard after a tree hit a home at around 5 p.m., and  was sent to the hospital.




Shortly before 6 p.m., there were more than 150,000 customers without power in the Puget Sound Energy, Tacoma Power, Snohomish County PUD and Seattle City Light service areas. At 10:35 p.m. Monday, the number of customers without power in the Puget Sound region was still over 100,000, although it had dropped from the highest levels.

Shortly after 3 p.m., the National Weather Service said "winds considerably increasing, a report of a 63 MPH gust has been received from West Seattle. Please be extremely careful the next couple of hours."

Get the free Q13 News Weather app for life-saving severe weather alerts wherever you go

Winds that high can be dangerous, so remember to be aware of your surroundings.

"High winds can topple trees onto roads, vehicles and rooftops. Falling trees or large branches have been known to cause fatalities during windstorms. Downed power lines can cause power outages lasting a couple of hours or longer. Secure loose outdoor objects or light-weight furniture before the potentially damaging winds arrive."

Winds won't be quite as strong on Tuesday, but we're expecting even more rain.