Student reports indecent exposure incident in Des Moines
DES MOINES, Wash. -- A student reported that a man pulled up to the bus stop where she was waiting and exposed himself from his pickup truck on Wednesday, the Highline School District reported Thursday.

The incident occurred at S. 242nd Street and 14th Avenue South.

The man was described as having tan skin, a mustache, about 30-40 years old, medium build, blue jeans, white shirt. The pickup truck was described as old and plan, with two doors and tinted windows. It had a teal green front fender on the driver's side and the rest of the vehicle was gray primer.

The school district said the Des Moines Police Department is investigating.

The district said it was the third such report since Jan. 1.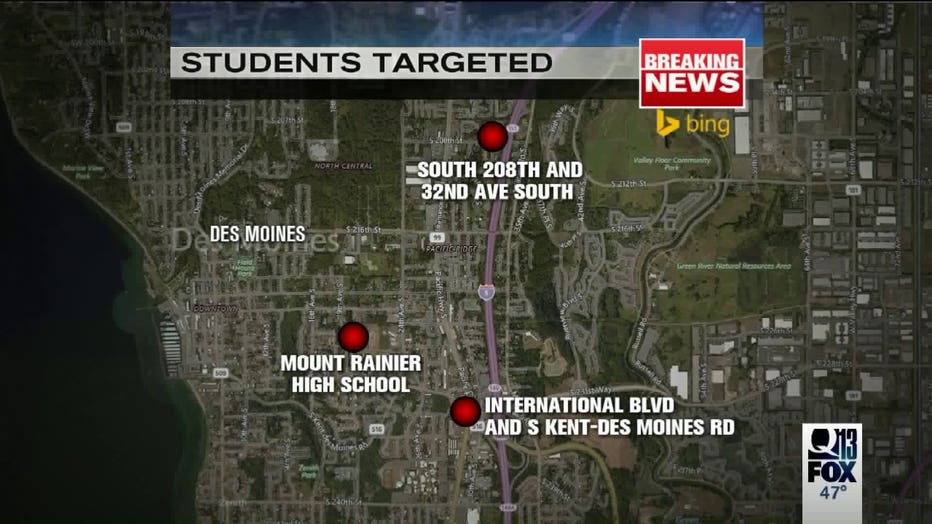 On Jan. 21, a Mount Rainier High School student was walking to school at International Boulevard and South Kent-Des Moines Road at about 9 a.m. when she was approached by a white man in a vehicle who asked if he could give her a rid. She said no and kept walking. She said the man drove back and forth several times, asking her twice more if she wanted a ride.

The suspect was described as a heavyset white man, 30-35 years old, red shirt, gray coat, clean shaven with greasy blonde hair. The vehicle was a tan, four-door sedan.

On Jan. 6, a Mount Rainier student was walking to school near South 208th and 32nd Avenue South when a man came up behind her and grabbed her hand, saying, "Follow me." The student was  able to get away. The suspect was described as a black man, about 5-foot-10, wearing a black jacket with white tennis shoes.