T-Mobile Park food: Seattle Mariners reveal new menu items for 2023 season
SEATTLE - We're a week away from Opening Day and the Seattle Mariners unveiled new food items for the 2023 season ahead of their home opener at T-Mobile Park.
Some of the new menu items includes West Seattle's Moto Pizza's signature pies, a new ice cream flavor at Salt & Straw that's a T-Mobile Park exclusive, loaded baked potato at Holy Smoke BBQ, a new chicken option, plus more. 
"Our team is constantly working year-round to ensure we provide the best dining experience for Mariners fans each season, through exciting new menu creations, bold new local partnerships and creative concepts," said Sodexo Live! General Manager Meagan Murray. "This year, we're thrilled to bring in a new local favorite, Moto Pizza, as well as new and expanded menu options all throughout the ballpark. We're also offering expanded points of sale and more frictionless payment locations this season, so fans will be able to get back to their seats quicker to watch the game!"
Here's what you can find this season:
Ballard Pizza
Locally renowned chef Ethan Stowell's Ballard Pizza is located at the ballpark's 'Pen and Terrace Club (section 241). New for this season is the Cal-Raleigh-inspired dish called the "Cal Zone."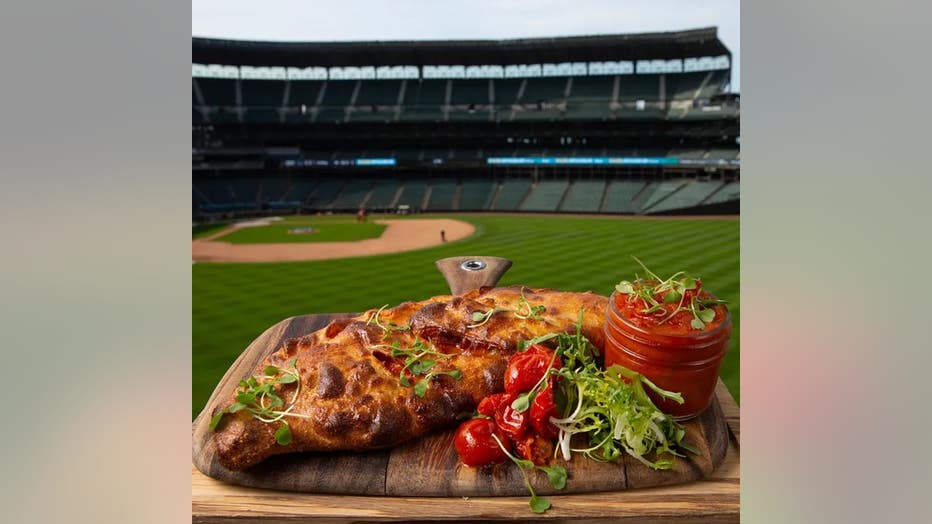 Ballard Pizza, located at the 'Pen and Terrace Club, by locally renowned Chef Ethan Stowell offers the Cal Raleigh-inspired dish, the "Cal Zone." (Seattle Mariners)
Big League Burger
Located in sections 218 and 240, Big League Burger outpost has a new burger – the new Big League Burger.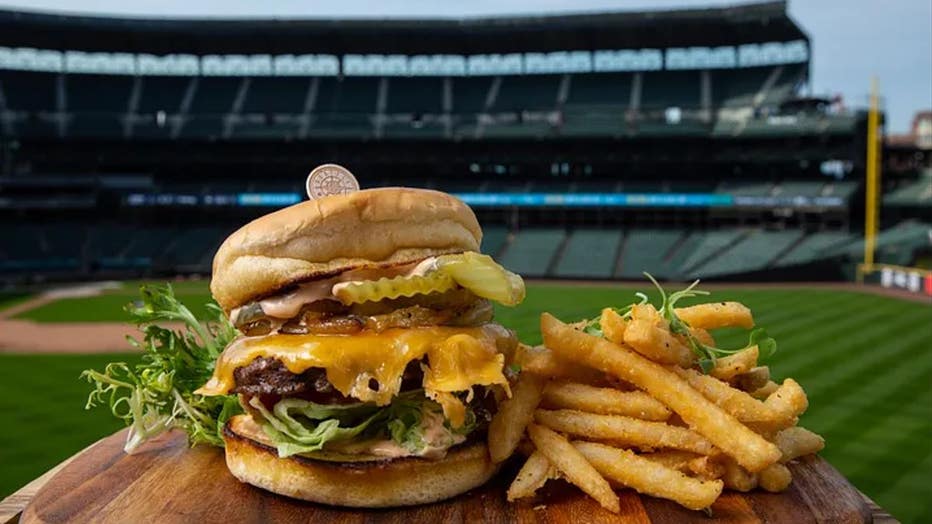 The Big League Burger can be found at section 218 and 340's outpost. The burger created by T-Mobile Park Executive Chef Javier Rosa features features ¼ pound fresh American Wagyu patty, chargrilled onions, lettuce, tomato, pickles, American cheese, a (Seattle Mariners)
It was created by T-Mobile Park Executive Chef Javier Rosa and it has ¼ pound fresh American Wagyu patty, chargrilled onions, lettuce, tomato, pickles, American cheese, and chef's secret housemade sauce. There is an Impossible meatless option also. 
Chick Chick Boom
There's a new chicken concept located in Right Field.  Chick Chick Boom will have chicken tenders, waffle fries, chicken sandwich and a garlic waffle fries.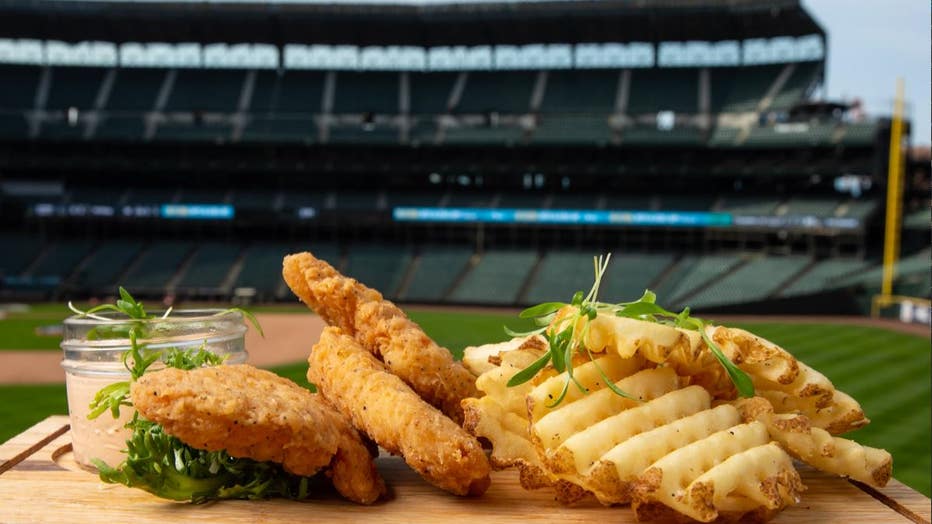 T-Mobile Park's new offerings include a chicken concept in Right Field -- (in emojis) Chick Chick Boom.  (Seattle Mariners)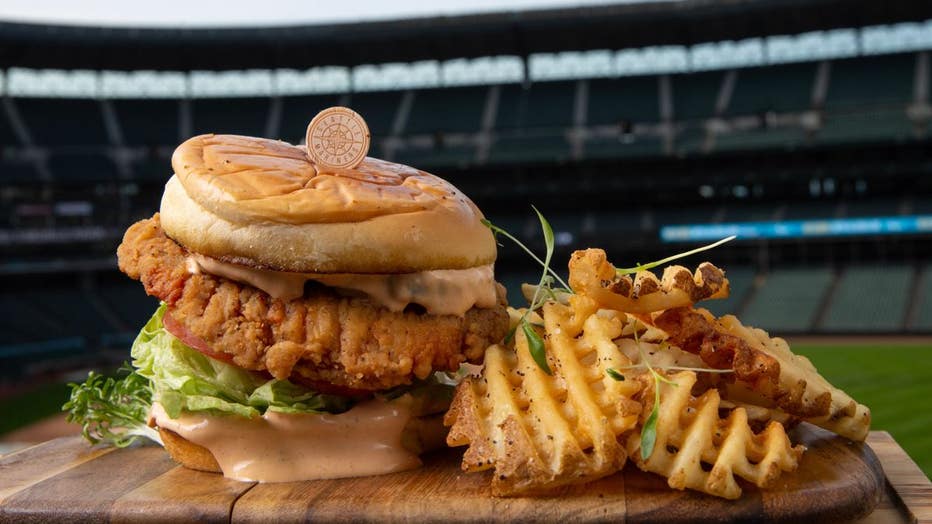 T-Mobile Park's new offerings include a chicken concept in Right Field -- (in emojis) Chick Chick Boom.  (Seattle Mariners)
Sodexo Live!'s Executive Chef Javier Rosa will also debut a special "Mind Blown Sauce" on Opening Day.
Din Tai Fung
There will now be two locations at the ballpark – in section 132 and in The 'Pen. 
Edgar's Cantina
Edgar's will have all the fan favorites, but its new menu items for this season are crispy fish taquitos and shrimp quesadillas.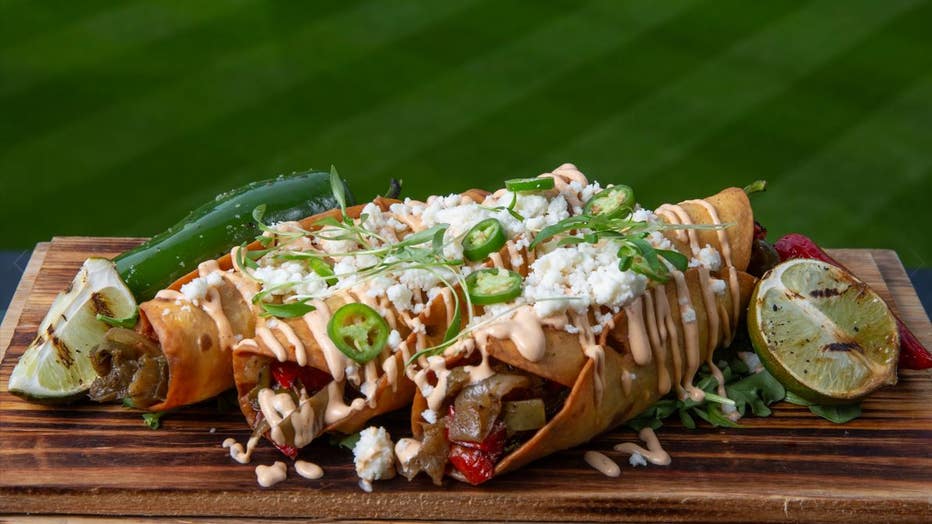 Crispy fish taquitos can be found at Edgar's Cantina in the 'Pen.  (Seattle Mariners)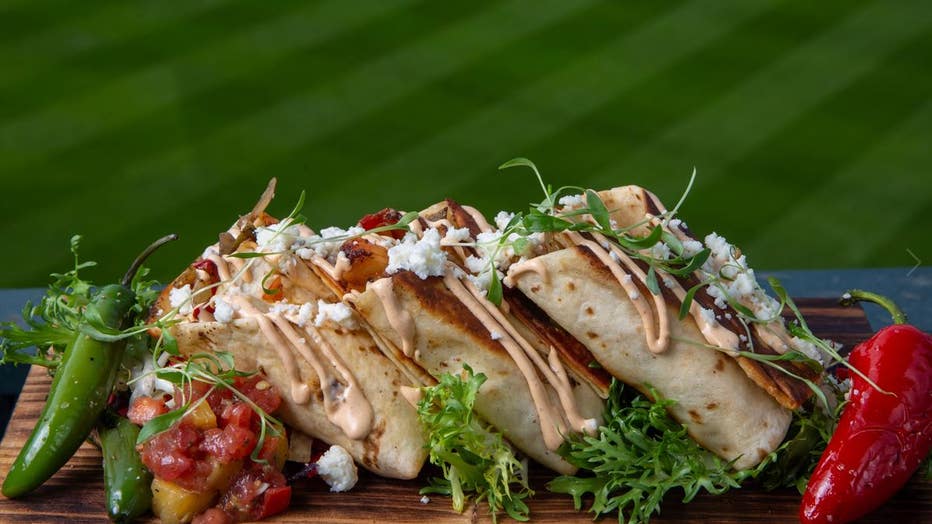 Shrimp quesadillas are new offerings in 2023 at Edgar's Cantina.  (Seattle Mariners)
Edgar's menu has been update but it'll include fan favorites such as tacos del barrioas served with a grilled pineapple pico de gallo in a crisp flour tortilla, shrimp tostada, and cantina nachos smothered in shredded chicken, braised pork or sweet potato with choice of toppings will be available. 
Holy Smoke BBQ
With locations near Section 105 on the Main Level and Section 313 on the View Level, Holy Smoke BBQ will have house-smoked meats and sides. 
The 2023 season's new items include a brisket sandwich featuring the signature dry BBQ beef rib, sticky smoked wings, which are tossed in the signature sticky honey BBQ sauce and the Holy Moly Loaded Baked Potato with pulled pork, jalapeno cheese sauce drizzled crema and green onions.
Marination
Marination will have a new luau plate lunch option, a sweet ginger miso chicken, alongside returning options of Kalua pork and "sexy tofu" with Hawaiian-style macaroni salad, signature slaw and rice. 
It's located near Section 119 on the main level. 
Moto Pizza
The popular West Seattle-based Moto Pizza will be at the ballpark this season, bringing unique and deep dish-style pies. 
Fans can choose from four of Moto's popular offerings including Mr. Pig, a nod to Chef Lee's heritage and mother.It's topped with pork belly from Carlton Farms prepared Filipino "Lechon" style with spicy sausage, a bright tomato sauce, Lee's mango cilantro chimichurri and garlic banana ketchup.
Their famous Root Pizza will be available with assorted Northwest mushrooms harvested from PNW company, Wild Foragers. It's topped with tomato sauce, olives and reduced balsamic vinegar.
Salt & Straw
The Portland-based ice cream company offers handmade ice cream with local ingredients. This season's new flavor is  Beecher's flagship cheese with apple pie cinnamon rolls, which is also a T-Mobile exclusive. 
Value Menu
The Value Menu is back but it has expanded.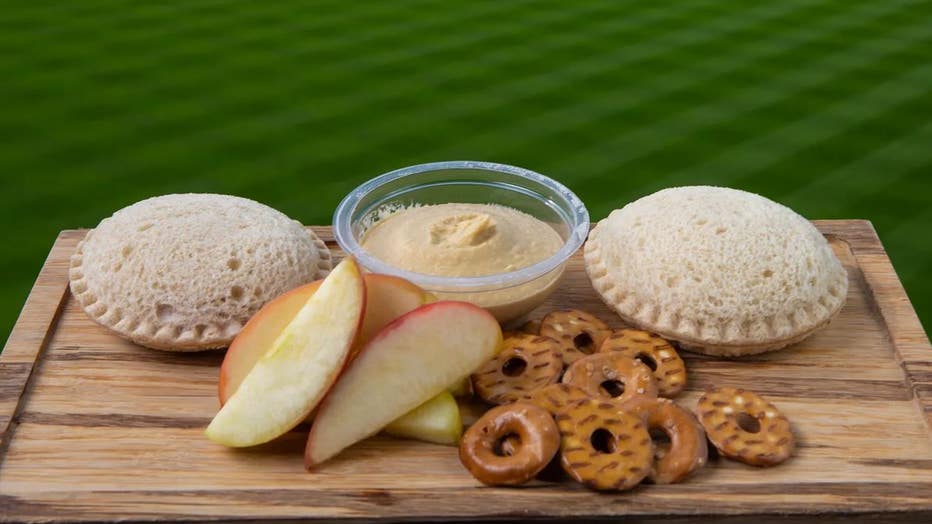 The Value Menu returns and some of the new items are Uncrustables, apple slices, hummus and pretzels. (Seattle Mariners)
Uncrustables, apple slices, carrots and ranch, hummus and pretzels, pepperoni sticks and ice cream sandwiches, to go along with returning favorites such as hot dogs, Coca-Cola fountain soft drinks, popcorn, nachos, and more. 
The Walk-Off Market
There are three new locations this season. 
There will be one in sections 141, 185 and 341, in addition to the flagship location at section 126. 
In sections 141 and 126, fans can find value menu items and stadium favorites, premium entrees, healthy, local Evergreens salads and wraps, and local partners Just Poke and Din Tai Fung, as well as other snacks and beverages. A new menu item is the Ham Swaggerty sandwich, named after the player and fan favorite Sam Haggerty. The sandwich has smoked cured ham, wild baby arugula, spicy giardiniera, caramelized onions, aged Havarti cheese and dijonaise on rustic bread.
In sections 185 and 341, fans who are 21 and older can order and get back to their seats quicker by using the new Walk-Off Brews which will feature grab-and-go snacks and a wide variety of non-alcoholic and alcoholic beverages with brands such as Lagunitas and Schilling Cider.
To find more food options at T-Mobile Park, click here.
Beverages at the ballpark
Coca-Cola products will be back at the ballpark and 11 new items include three new flavors of BODYARMOR, two new flavors of VitaminWater and Coca-Cola Creations.
Seattle-based Scotty's Juice will be available with new batch-favored cocktails, including spiked strawberry lemonade, Paloma's with fresh grapefruit juice and spiked raspberry lemonade. The cocktails are at Tito's in The 'Pen, 338 Box Score Bar and 349 Trident Deck.
T-Mobile Park has a large selection of local craft beers and popular classics. Here's a guide for the ballpark's beer, cider and seltzer selections, and where you can find them.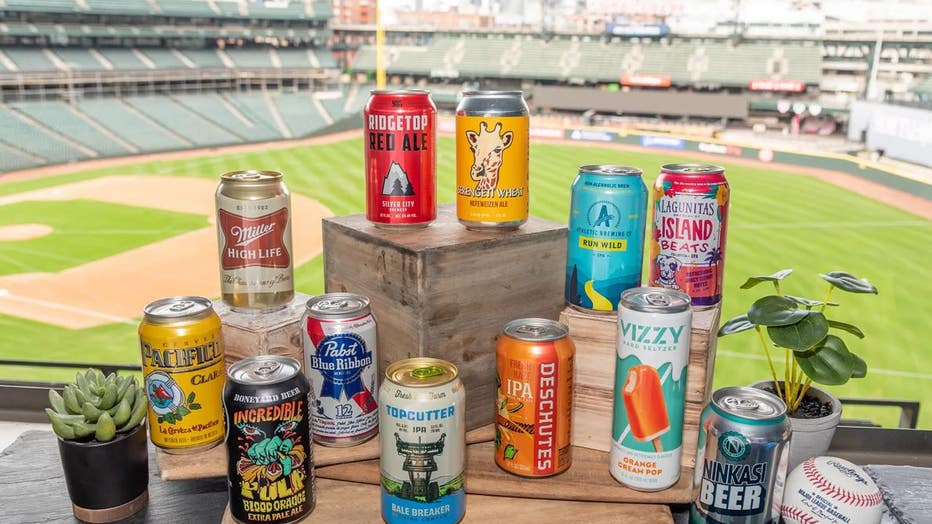 T-Moobile Park's Value Beers program is back and will feature 12 beers available at various locations for $5 and $6 for 12 oz. cans.  (Seattle Mariners)
Twelve beers will be available at different locations and priced at $5 or $6 for 12 oz. cans. 
For the wine fans, wines from Ste. Michelle Wine Estates are available throughout the ballpark. Located near Section 126 on the Main Level, the Chateau by Chateau Ste. Michelle wine bar has more than 40 varieties from Washington, Oregon and around the word. Some of the local wines include new Drumheller and H3, as well as favorites Chateau Ste. Michelle and Borne of Fire.
The Mariners also have a Designated Driver Program for fans to enjoy the game and get home safe. Fans are encouraged to sign up at any of the ballpark's Guest Service Centers behind sections 128 and 329.