Tornado rips through Battle Ground, damaging 36 homes, 2 businesses


BATTLE GROUND, Wash. -- The National Weather Service in Portland said Thursday its damage assessment team has confirmed that it was a tornado -- and not just strong winds -- that caused extensive damage in Battle Ground earlier in the day.

The NWS said an EF1 tornado, with winds up to 104 mph, touched down southwest of Battle Ground at about 11:15 a.m.

"There were at last 2 touchdown points along a 2 mile path," the agency said. "No injuries or fatalities were reported. Around 36 homes and 2 businesses sustained damage. ... Dozens of trees with a diameter of 1 to 3 feet were uprooted and blown down. Around half a dozen 1 to 2 foot diameter trees snapped."

City officials said 36 homes and two commercial buildings were damaged.

Here is a graphic produced by the National Weather Service in Portland: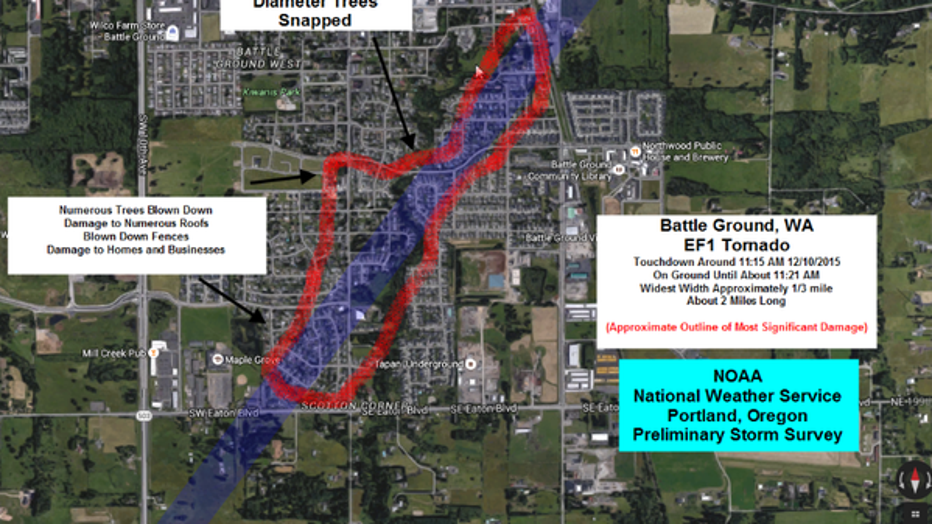 Video posted on Twitter showed the scene in a Battle Ground neighborhood around 11:30 a.m.




Hydrologist Andy Bryant in Portland, Oregon, said the area that includes southwest Washington and northwest Oregon typically sees about one tornado a year. The tornados tend to be short-lived and relatively weak compared to tornados in other parts of the country.




There have been reports of possible damage to a building but no injuries have been reported yet. There were power outages in the area as well.




Our sister-station FOX 12 Oregon is covering the story as well and posted this video.




December storms continue

Rain again hit storm-ravaged western Oregon but the National Weather Service says it wasn't strong enough to cause river levels to rise.

Meteorologist Jon Bonk said Thursday that cities from Portland to the coast got two-tenths to a half-inch of rain overnight, and river levels should remain flat or recede.

A parade of storms this week caused flooding, landslides and power outages.

Showers are in the forecast through the weekend, but Bonk says the region is out of the woods because the major storm has shifted south into California.

One concern, however, is the possibility of thunderstorms accompanied by wind gusts and perhaps hail. That could cause problems for those trying to restore power and cleanup flood damage.