WATCH: DUI driver leads Pierce Co. deputies on pursuit that ends in painful sticker bushes
PIERCE COUNTY, Wash. - Deputies released new body camera video showing a DUI arrest from February, where the suspect lead officers on a pursuit that ended in a batch of painful sticker bushes.
According to the Pierce County Sheriff's Office (PCSO), on Feb. 17, a patrol deputy spotted a pickup truck swerving in the area of C St. S and Military Rd. S in the Spanaway-Parkland area. The deputy then pursued the driver under suspicion of driving while intoxicated. 
The pursuit then went north towards Tacoma, with speeds exceeding 60 mph. When the driver approached 72nd St. S and S Hosmer St., a Lakewood officer deployed stop sticks. 
The suspect vehicle ran over the stop sticks, bringing his speeds down to 10 mph. The PCSO deputy then performed a pit maneuver to complete the stop.
The suspect then jumped out of the truck, and ran down a hillside that was covered in sticker bushes.
Authorities had the area surrounded, but the suspect refused to give up – trudging through the shrubs.
RELATED: Police: 16-year-old boy killed in Tacoma identified as Foss High School student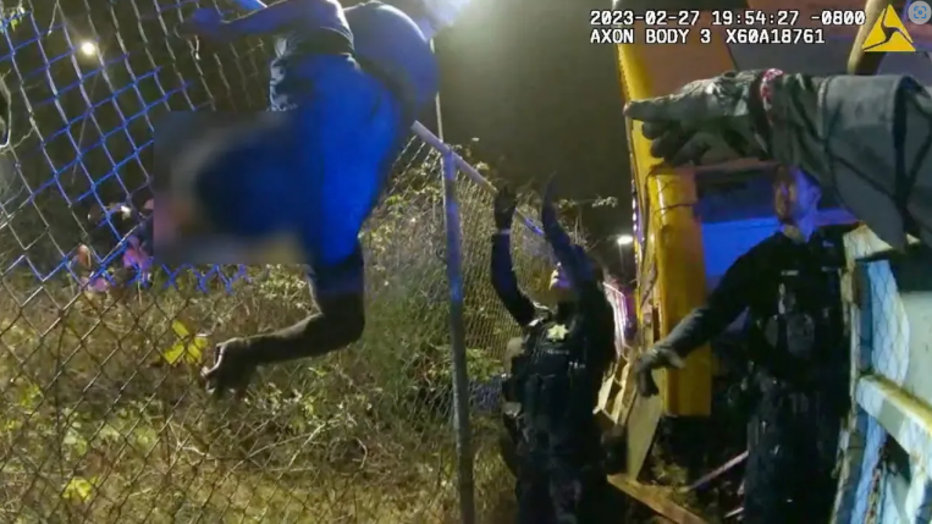 Pierce County Sheriff's Office
According to PCSO Sgt. Darren Moss, it was painful for deputies to see the suspect harm himself by walking through the sticker bushes.
Officers gave the suspect two options, either he surrender peacefully, or they release a K9 officer to force him to surrender. 
The suspect then gave up.
RELATED: Washington woman recovering from coma after 'dental tourism' trip to Costa Rica
According to the PCSO, records revealed that the pickup truck had been reported stolen. The suspect was taken into custody, and booked into jail for DUI, eluding, possession of a stolen vehicle and resisting arrest.