Whew! Chicago Bears reportedly hire Trestman, not Seahawks' Bevell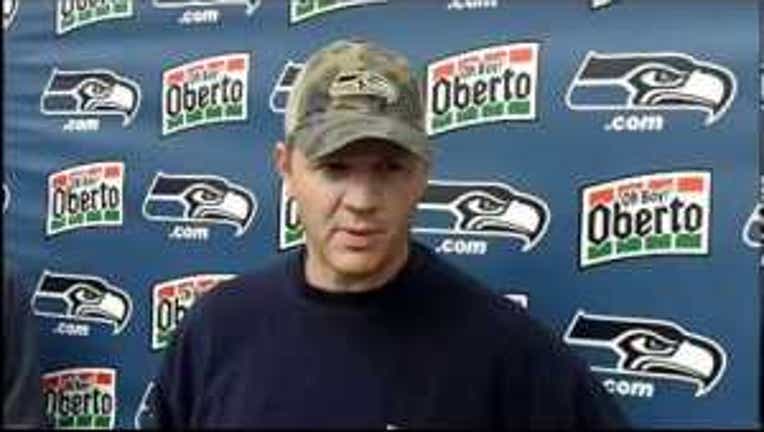 article


CHICAGO -- Apparently Seahawks offensive coordinator Darrell Bevell is still with the Seahawks -- at least for another day.

According to the Chicago Tribune sports writer Dan Pompei, an NFL source said late Tuesday night that the Chicago Bears, who had Bevell in for a second interview on Tuesday afternoon, decided to hire as their head coach Marc Trestman, current coach of the Montreal Alouettes in the Canadian Football League.

Meanwhile, Seahawks defensive coordinator Gus Bradley had a second interview Tuesday with the Philadelphia Eagles for their head coaching position. The Philadelphia Inquirer on its philly.com website said the interview lasted at least seven hours. Despite reports late Monday night that said Bradley was just a few minor details and a signature away from becoming the next Eagles head coach, a source close to the situation told the Inquirer Tuesday morning that a deal was not imminent.

Other teams, however, are believed to be interested in Bradley and Bevell for their head coaching positions, so the Seahawks aren't out of the woods yet.

Bevell, 43, has been an offensive coordinator since 2006 with the Minnesota Vikings and he moved to the Seahawks last season, replacing Bears quarterbacks coach Jeremy Bates, who held the role for one season. Bevell is credited for his work with rookie quarterback Russell Wilson this season and he got high marks for work with Brett Favre previously as a quarterbacks coach in Green Bay and then again in Minnesota.

"I think it improved me as a coach and as an offensive coordinator in terms we had to figure out what is best for our players," Bevell said Sunday when asked about the process of working with a rookie quarterback. "We had to understand his skill set, what his strengths are, what his weaknesses are, how much we can put on his plate, what we can expect him to do and still be successful.

"You grow in all kinds of ways. You grow in what you're looking for. Obviously, Russell kind of broke the mold in terms of what everyone thinks a quarterback can be and should be. So, you kind of say, 'OK, let's just not count it out because of that number (height).' So, you learn lots of things in that situation."

Bevell cannot be sure if his time is coming. His father Jim was a prep coach in Arizona for decades and he's always aspired to become a head coach.

"The important thing for me is really, I know it sounds cliché, I always want to do my job well, the job that I have," Bevell said. "That is one thing my dad taught me. I haven't been one of those guys always looking over the horizon, finding a better place to go, finding a better situation. Coach (Pete) Carroll, going back to Coach (Brad) Childress, going back to Coach (Mike) Sherman. They all entrusted me with a job and I just want to do that one.

"When you do it well, just as our team played well, everyone gets credit for it and all of a sudden you have All-Pro players, Pro Bowl players. It's the same deal. The success of those guys has helped me just doing what I am supposed to be doing," Bevell said.