WSDOT pushes back the Pilchuck River to save highway, homes


SNOHOMISH COUNTY, Wash. -- Caroline Petosa looks from her backyard down below on dozens of Washington State Department of Transportation contractors actively moving the Pilchuck River.

Her backyard has been shrinking nearly every year as winter rains and spring runoff cause the powerful Pilchuck to eat away at her river bank.

"All of this down here would be flooded," she said as she points to the grassy bank about 15 feet below the grade of the rest of her backyard. "All of it would be underwater."

WSDOT says they've been tracking the erosion along the Pilchuck River as it winds along State Route 92 between Granite Falls and Lake Stevens for many years.

WSDOT says the river is roughly consuming about 40 feet of river bank a year and now it's only 40 feet from the road.

Petosa is glad the state highway department is taking action.

"There's so many men out there working, I think it's just great."

A massive black water tube as wide as a freeway lane and about just as high called an Aqua Dam is being inflated with river water. It's diverting the Pilchuck's main channel away from the most rapidly eroding bank.

"There is no margin for error anymore," says Kris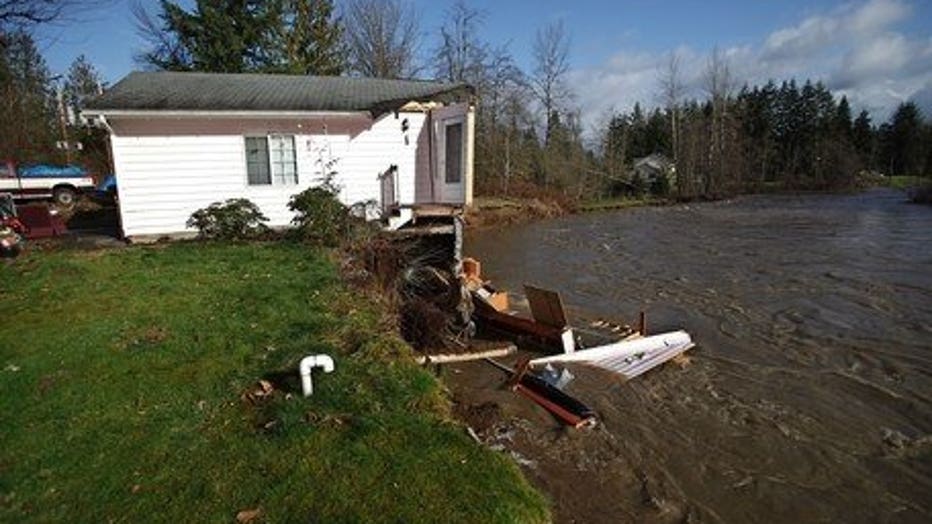 The Bess home was swallowed by the Pilchuck River in 2012.


Olsen with WSDOT. Olsen says the highway department didn't have jurisdiction back in 2012 to save the home that was washed away. Now, the river is within their right of way and they're not wasting any time fixing the problem.

She says these crews will bury large boulders with eye hooks in them deep in the river bank. Natural materials like 30-foot logs and giant root wads will be tethered to together to slow the Pilchuck's fast winter flow -- a flow that's already swallowed one home along this part of SR 92 in 2012.

" comes around this bend, " says Olsen, "and it hits this corner and it hits it hard. It hits it with a lot of force. That's the reason we've lost so much river bank in the last decade."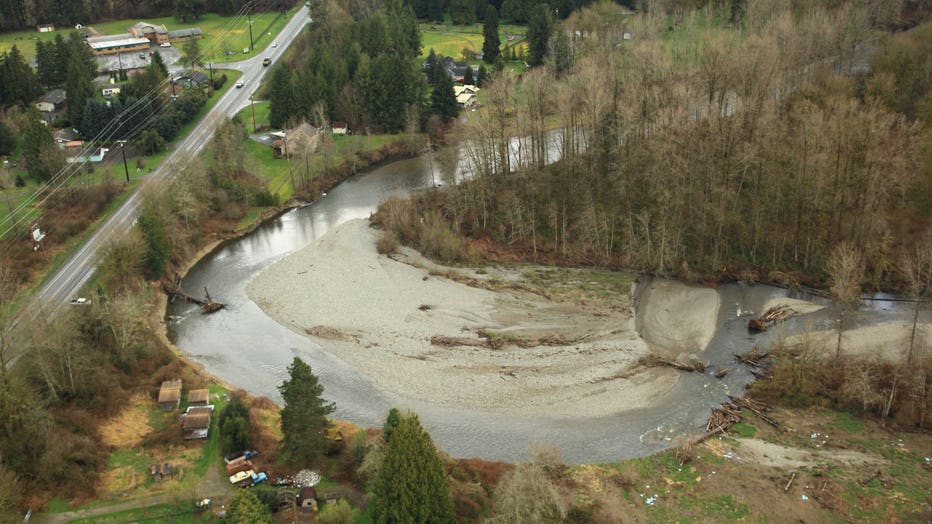 The Pilchuck River in winter moves fast and carries a lot of debris. Courtesy: WSDOT


This project is costing $3.2 million, which WSDOT officials say is a drop in the bucket compared to replacing this stretch of road if it washed away.

"We're going to take the punch out of the Pilchuck."

For homeowner Petosa, seeing this project that's been on the drawing board for three years finally get underway is a great relief.

"I'm happy to see this date and finally do something."

Once the riverbank is shored up, the river will allowed to return to its natural course. This project is expected to be completed by late September, just before the return of the rainy season.