Arrivals of West Coast schools could cause Big Ten to depart from its traditional smashmouth style
MADISON, Wis. - The Big Ten's westward expansion could challenge the league's reputation for smashmouth football.
No Power Five conference has tended to rely more on defense and the running game than the Big Ten. The arrival of Southern California, UCLA, Oregon and Washington next year just might change that.
"It'll be a fun mix of leagues," said new Purdue offensive coordinator Graham Harrell, who held the same position at USC from 2019-21.
Perhaps the mix will help balance a conference whose strength has come on one side of the ball lately.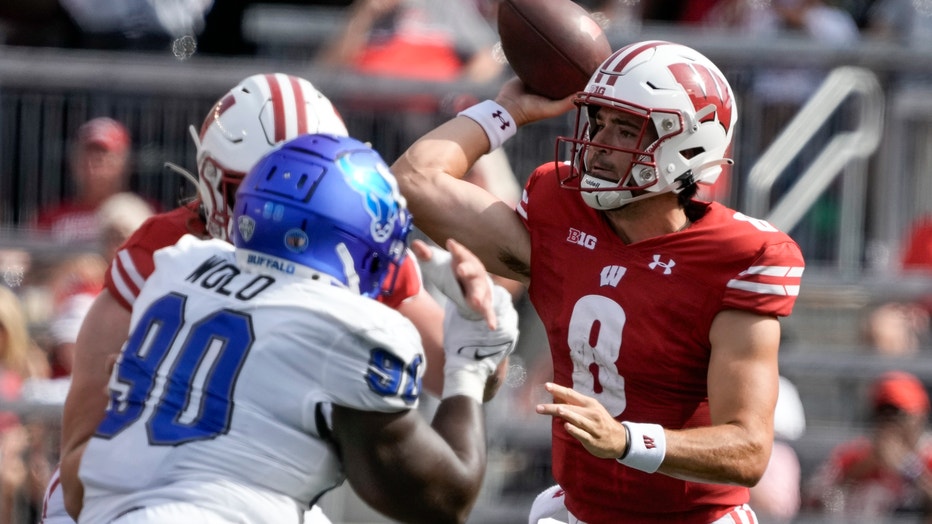 Wisconsin quarterback Tanner Mordecai (8) throws during the first half of an NCAA college football game against Buffalo Saturday, Sept. 2, 2023, in Madison, Wis. (AP Photo/Morry Gash)
The list of the 14 Bowl Subdivision programs to allow the fewest yards per game last season included six Big Ten schools: Iowa (2nd), Illinois (3rd), Michigan (6th), Minnesota (9th), Wisconsin (11th) and Ohio State (14th). That marked the 10th straight season in which at least two Big Ten teams ranked in the top 10 in total defense.
Each of the last five years, Ohio State has been the only Big Ten program to finish among the nation's top 20 teams in total offense. The last time the Big Ten had two teams rank in the top 15 in total offense was 2014.
"I do think there's a nature of playing really sound in the Big Ten," said new Wisconsin coach Luke Fickell, who previously spent about two decades in the conference as a defensive tackle, assistant coach and interim head coach at Ohio State. "There's a nature of playing really physical in the Big Ten, not that they don't do it in other conferences. If that means maybe there's better defenses or less offensive firepower in the Big Ten, so be it."
That offensive firepower is coming soon.
Washington ranked second, USC third, UCLA fourth and Oregon sixth nationally in total offense just last season. All four teams averaged at least 500 yards per game, something no Big Ten program other than Ohio State has done since Indiana in 2015.
Granted, most of the schools leaving the Pac-12 will have different quarterbacks by the time they enter the Big Ten. Yet these schools still should provide a change of pace from typical Big Ten football because their styles are more in line with nationwide trends prioritizing offense.
"I think defensively in general we haven't been as good throughout the country of keeping up with the offenses," Fickell said. "I think defensive guys have been set in their ways a little bit. But I think what you're starting to see is an evolution and change on both sides of the ball. Will it affect the Big Ten? Yes. I don't know exactly how."
That uncertainty carries over to the players with experience in both the Pac-12 and Big Ten.
Nebraska center Ben Scott transferred from Arizona State and Wisconsin wide receiver CJ Williams began his college career at USC. Both predict slight changes in the Big Ten's style of play with the arrival of the Pac-12 schools, but they don't expect a major transformation.
Scott noted the four schools making the move also might have to adapt to the more run-oriented Big Ten, for years the league known for "three yards and a cloud of dust" on offense.
"I guess they would have to get more physical and bring in bigger safeties and bigger linebackers instead of coverage linebackers and safeties," Scott said.
Harrell doesn't expect many schools to alter their approaches solely because of conference realignment.
"I don't think any West Coast team coming in is going to change what they do or change what anyone over here does," Harrell said. "I think these guys are going play their style of football. Whatever that looks like, it looks like."
He still can't wait to discover just what kind of long-term impact this shift will have.
"Bringing in the West Coast teams and even some of the hires they've made in the Big Ten already, it'll be interesting to see what the league looks like," Harrell said.
Harrell can consider himself among these new attention-getting hires. Harrell set a since-broken Bowl Subdivision record by throwing 134 touchdown passes while operating the late Mike Leach's Air Raid attack at Texas Tech from 2005-08.
His move to the Big Ten coincides with Wisconsin's hiring of offensive coordinator Phil Longo, an Air Raid disciple who previously held the same position at North Carolina. Longo's two starting quarterbacks at North Carolina were current Washington Commanders starter Sam Howell and projected first-round draft pick Drake Maye.
Ohio State was the only Big Ten program to rank among the nation's top 21 teams last season in yards passing per game. The arrivals of Harrell and Longo suggest Big Ten teams might start throwing the ball more often. Minnesota already has shown signs of backing off from its traditional run-oriented approach; Athan Kaliakmanis' 44 pass attempts in a 13-10 season-opening victory over Nebraska were the most by any Gophers quarterback since 2010.
"Throwing it 44 times was probably shocking to a lot of people, but that's what was required to win that particular game," Minnesota coach P.J. Fleck said.
Longo said repeatedly during the offseason that Wisconsin would continue to emphasize the ground attack that has been synonymous with Badgers football since former coach Barry Alvarez's arrival in the early 1990s. Wisconsin's 38-17 season-opening triumph over Buffalo bore that out.
SMU transfer Tanner Mordecai's 24 pass completions were the most by any Wisconsin quarterback in a debut performance since at least 1968, but the Badgers' 312-yard rushing output represented their highest single-game total since Oct. 9, 2021.
That balance could reflect the way the Big Ten looks after the four Pac-12 schools have arrived.
"I definitely think football as a whole has kind of shifted to that spread offense, West Coast offense-type of deal from Coach Leach," Williams said. "I think you'll see a lot more of it in the Big Ten as well, but I think there's always room for that hard-nosed smash running the football."
___
AP College Football Writer Eric Olson and AP Sports Writers Dave Campbell and Michael Marot contributed to this report.