Big Ten presidents' council votes to admit Oregon, Washington in August 2024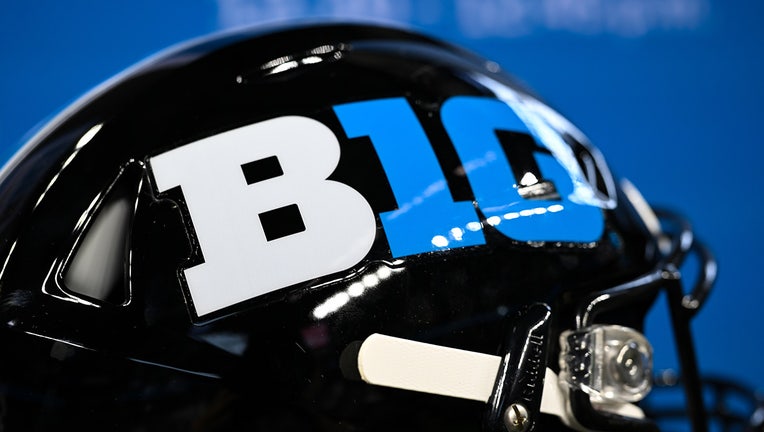 article
Dealing another crushing blow to the Pac-12, the Big Ten announced Friday it will accept Oregon and Washington as new members next August.
The Big Ten earlier in the day cleared the way for the Pacific Northwest rivals to join the league next year and the Ducks were first to make it official with a brief video call that ended in a unanimous vote by its 13 trustees. The Big Ten a short time later said its presidents' council had voted to accept the Ducks along with Washington.
"Our student-athletes will participate at the highest level of collegiate athletic competition, and our alumni, friends, and fans will be able to carry the spirit of Oregon across the country," Oregon President John Karl Scholz said.
LAST YEAR: UCLA, USC departing Pac-12 for Big Ten
The Big Ten's latest raid of its Rose Bowl partner conference comes a little more than a year after it landed Southern California and UCLA. The moves give the sprawling Big Ten 18 member schools, including four on the West Coast. The Big Ten will be the largest conference in major college sports, spanning 15 states from New Jersey to Washington.
"The Big Ten is a thriving conference with strong athletic and academic traditions, and we are excited and confident about competing at the highest level on a national stage," Washington President Ana Mari Cauce said.
Former Big Ten Commissioner Kevin Warren had encouraged member schools to consider adding Oregon and Washington after the conference landed the two Los Angeles schools last summer, the blow that has sent the Pac-12 reeling for more than a year. Just last week , Colorado announced it would leave for the Big 12 next year and that league is posied to raid the Pac-12 again.
It has all left the storied West Coast conference that dates back more than a century on the brink of extinction.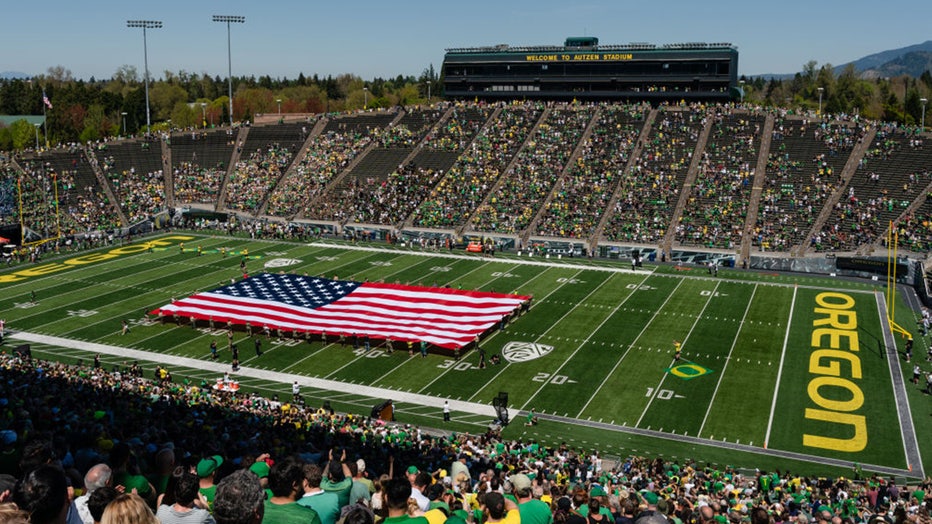 FILE - Fans gather for the annual Oregon Ducks Spring Football Game at Autzen Stadium on April 29, 2023 in Eugene, Oregon.  (Ali Gradischer/Getty Images)
Pac-12 leaders met early Friday to determine if its remaining schools, which at the time included Oregon and Washington, would accept the potential media rights deal with Apple that Commissioner George Kilavkoff presented earlier this week, according to a person familiar with that meeting who spoke with The Associated Press on condition of anonymity because the details are private.
Another person familiar with knowledge of the discussion between the Big Ten and Oregon said the Ducks were leaning toward staying in the Pac-12 late Thursday, boosting the possibility that others would follow. Instead, Oregon officials notified the Pac-12 on Friday they were still uncomfortable with the Apple deal and the school would be re-engaging with the Big Ten.
The Pac-12 and Kliavkoff have made no public statements since Colorado's announcement last week.
"We are disappointed with the recent decisions by some of our Pac-12 peers," Washington State President Kirk Schulz and athletic director Pat Chun said Friday before its Apple Cup rival announced it was leaving, "While we had hoped that our membership would remain together, this outcome was always a possibility, and we have been working diligently to determine what is next for Washington State athletics. We've prepared for numerous scenarios, including our current situation."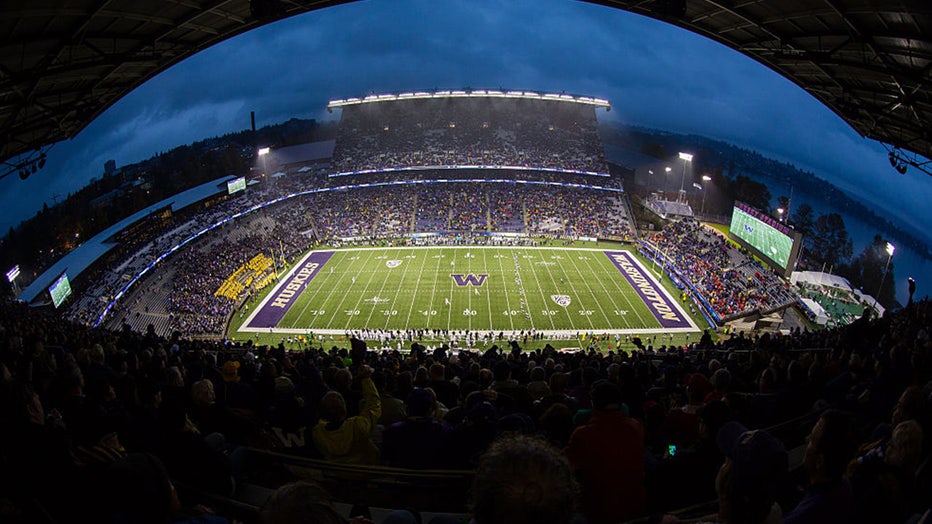 FILE - Opening kickoff at Husky Stadium between the Washington Huskies and the Utah Utes in Seattle, WA. (Christopher Mast/Icon Sportswire/Corbis/Icon Sportswire via Getty Images)
Less than two weeks ago, Big Ten Commissioner Tony Petitti said his presidents and chancellors wanted to him to focus on USC and UCLA's transition to the Big Ten and not more expansion. Now, the Pac-12's two biggest remaining brands and perennial football powers are heading for a new home. Their closest conference neighbor, the University of Nebraska, will be more than a 1,600-mile drive away.
Oregon and Washington will receive a reduced payout, Scholz confirmed, compared to current Big Ten members and to USC and UCLA, which are projected to receive more than $60 million each in media rights revenue from the league starting next year. A person familiar with the negotiations said the Ducks and Huskies would receive about $30 million per year, with annual escalators.
Washington was a charter member of the Pacific Coast Conference in 1916, the organization that eventually became the Pac-8, then 10, then 12. Oregon joined what was then the Athletic Association of Western Universities in 1964. USC's history in the league dates to 1922, UCLA's to 1928.
The Pac-12 is in danger of soon being down to four members: Stanford, California, Oregon State and Washington State.
Arizona has been in talks to leave for the Big 12 and join Colorado. It was unclear if in-state rival Arizona State will join the Wildcats. The Arizona Board of Regents met Thursday night to try to get the schools on the same page.
The Big 12 also has been targeting Utah, which might have no choice but to join. The Big 12 is trying to get to 16 teams for next season in a conference that could also extend through 10 states and all four domestic time zones.
While the USC and UCLA decisions to leave started the Pac-12's demise, last fall's move by the Big 12 to get an early extension of its media rights deals with ESPN and Fox was key. That left a thin market for Kliavkoff and the Pac-12, which ended up with the streaming-heavy proposal with Apple that would have left its schools lagging behind other Power Five conferences in revenue.