Cal Raleigh implores Mariners to get better, show commitment to winning after missing out on playoffs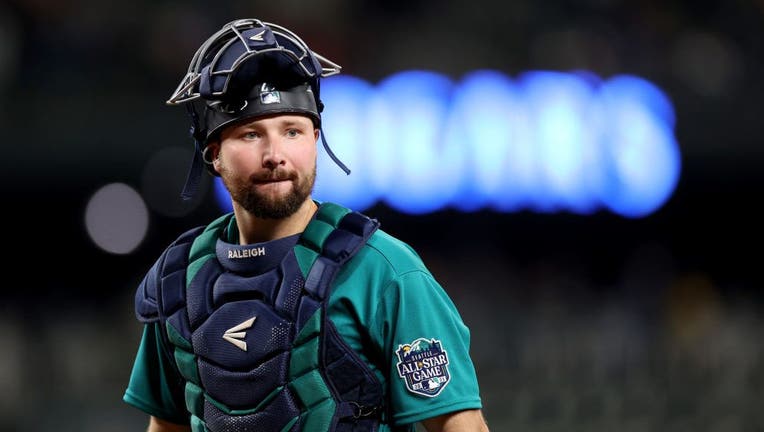 article
SEATTLE - With the reality of missing the postseason still extremely fresh in the minds of the players in the Seattle Mariners clubhouse just minutes after a Houston Astros victory officially ended their playoff hopes, catcher Cal Raleigh was frustrated on multiple levels by the team coming up short of a return trip to the playoffs.
"We have to become a better team. Straight up," Raleigh said. "We've been right at this 90 game mark for a few years now. We've just got to become better. Something's got to change. I don't think by any means we're a bad team this year, but it's not where we want to be. We want to be getting to the World Series. We want to be making the playoffs every single year and in order to do that some things have to change and it starts with the players here in the clubhouse."
Those playoff hopes ended in two-punch combination roughly 30 minutes apart on Saturday night. The Mariners were beat 6-1 by the Texas Rangers in Luis Castillo's shortest start at as a Mariner to put the team on the precipice. Houston's 1-0 win over the Arizona Diamondbacks just after 8 p.m. served as the final blow that officially ended Seattle's hopes of playing beyond Sunday.
But while many players on the Mariners made their exits from the clubhouse, Raleigh stuck it out to lament the disappointment of the season with assembled reporters. Raleigh lamented the trade of closer Paul Sewald to the Diamondbacks before the trade deadline in July and implored the team to add some significant help to the team's roster moving forward.
"I thought we were [better than this]. I really did," Raleigh said. "I thought we were going to have a lot better year. I thought adding some bats was going to help, but losing Paul at the trade deadline definitely hurt. And that was a big spot in our season.
"I don't know if it August or whenever it was, we lost a few close games later in the game. Could have used him. But that's in the past. That's not here nor there right now, but that definitely took a toll on us for sure."
The Mariners were 55-51 at the trade deadline on August 1. The team essentially stood pat at the deadline with the lone Major League deal being the swap of Sewald to Arizona in exchange for infielder Josh Rojas and outfielder Dominic Canzone. Seattle was five games back in the division race and 3.5 games out of a Wild Card spot at the deadline and their moves reflected a team that was stuck in purgatory: too good to sell, too uncertain to go for it.
But then a standout 21-6 month of August propelled the team right to the top of the American League West standings as they became the hottest team in all of baseball. The surge subsided as the calendar turned to September. Seattle is just 11-17 in the month and saw their postseason hopes go away with it.
"There's things that you can't really quantify," Raleigh said. "I know you guys hear a lot about the numbers, all about the analytics, but there's a lot of things that you can't quantify and I think that we have to get better in that area for sure."
Meanwhile, the Rangers – who have spent significant money in free agency to add pieces such as Marcus Semien and Corey Seager the last two years – are heading to the playoffs instead.
Raleigh is fully aware of that point and said that being willing to spend to add to a roster is necessary avenue for serious teams to utilize in building a competitor.
"You look over at the other locker room right there, and they've added more [in free agency] than anybody else, and you saw where it got them this year," Raleigh said. "There's more than one way to skin a cat, that's for sure, but going out and getting those big names — people who have done it; people have been there; people who are leaders; people who have shown time and time again that they can be successful in this league — is definitely going to help this clubhouse and help this team."
That's one thing the Mariners did not do last offseason. Seattle essentially swapped out Teoscar Hernández for Mitch Haniger, A trade for Kolten Wong (that was also admittedly a dumping of Jesse Winker) went bust, budget friendly free agent signings of Tommy La Stella and A.J. Pollock did as well. Cooper Hummel – acquired in a trade with Arizona for outfielder Kyle Lewis – was optioned to Triple-A Tacoma by mid-April and never returned to the majors.
Even with those moves, the Mariners offense seemed to be missing at least one significant piece.
A quartet of shortstops – Xander Bogaerts, Trea Turner, Dansby Swanson and Carlos Correa –  were big-ticket items that could have been targets for Seattle last offseason. However, the Mariners reportedly never got close with any of the four for a variety of reasons.
Raleigh's voice carries weight. He's a 26-year-old switch-hitting catcher that's hit 30 home runs with 75 RBI this season, has caught parts of 127 games behind the plate this season, and has managed the team's pitching staff wonderfully. He also leads the league in throwing out baserunners with 24 runners caught stealing this season.
Seattle has a good team. It's competitive with a very good pitching staff. They're a team that's close to being real contenders.
Raleigh wants the team to commit to chasing that goal.
"We've got to commit to winning," Raleigh said. "We have to commit to going and getting those players you see other teams going out, going for and getting big-time pitchers, getting big-time hitters. We have to do that to keep up. I think we've done a great job of growing some players here within the farm system, but sometimes you have to go out and you have to buy. That's just the name of the game. We'll see what happens this offseason. Hopefully we can add some players and become a better team."