Kraken announce partnership with Muckleshoot Tribe for jersey sponsorship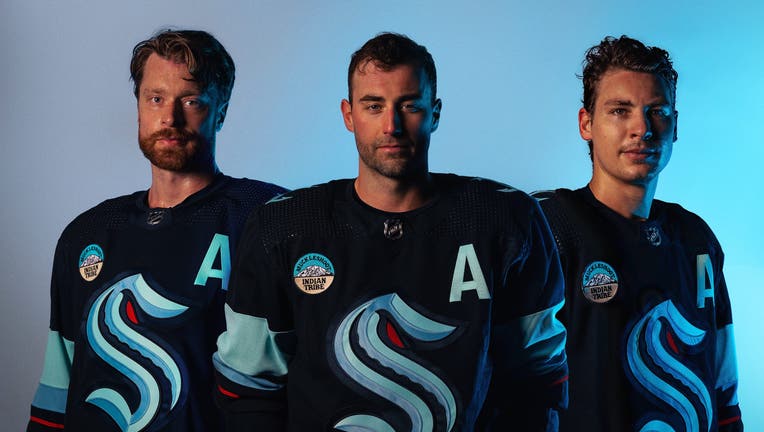 article
SEATTLE - The Seattle Kraken and Climate Pledge Arena announced a multi-year partnership with the Muckleshoot Indian Tribe to serve as the team's first jersey sponsor.
The Muckleshoot tribe will become the first Indian Tribe to partner with an NHL team on a jersey sponsorship. The patch will become part of the Kraken's jerseys beginning with the 2023-24 season.
"We launched our franchise with an eye to the future as well as an acknowledgment of the past. This partnership manifests our gratitude and respect for the Muckleshoot People, past and present, who are the ancestral keepers of the land upon which Climate Pledge Arena sits and we play," Kraken CEO Tod Leiweke said in a statement. "We strive to amplify the voices of our Native Community and we are honored and humbled to uplift the Muckleshoot Tribe, their mission and their legacy through this extraordinary partnership."
In addition to the jersey patch, additional artwork celebrating native heritage will be added at Climate Pledge Arena. A community multi-sport court will be installed on the Muckleshoot Reservation, and the Kraken will create programs for indigenous youths part of their access initiatives.
"The Muckleshoot Indian Tribe is proud to begin this first-of-its-kind partnership with the Kraken, who worked with us from day one to acknowledge that Climate Pledge Arena is located on our ancestral homeland and to honor our enduring place in the cultural fabric of this region," Muckleshoot Tribal Chairman Jaison Elkins said in a statement. "This joyful day brings with it a sense of hope that our young people will see themselves represented by the team in the heart of Seattle and around the country with our Tribe's logo on the front of every Kraken jersey."
The tribe has been a partner with the team since the first puck drop of their inaugural season. They've been the title sponsor of the "Muckleshoot Power Play" during games when the Kraken have a man advantage. Additionally, the Kraken have aired a message prior to games acknowledge they play on lands of the Coast Salish people, which encompasses dozens of tribes from the Pacific Northwest.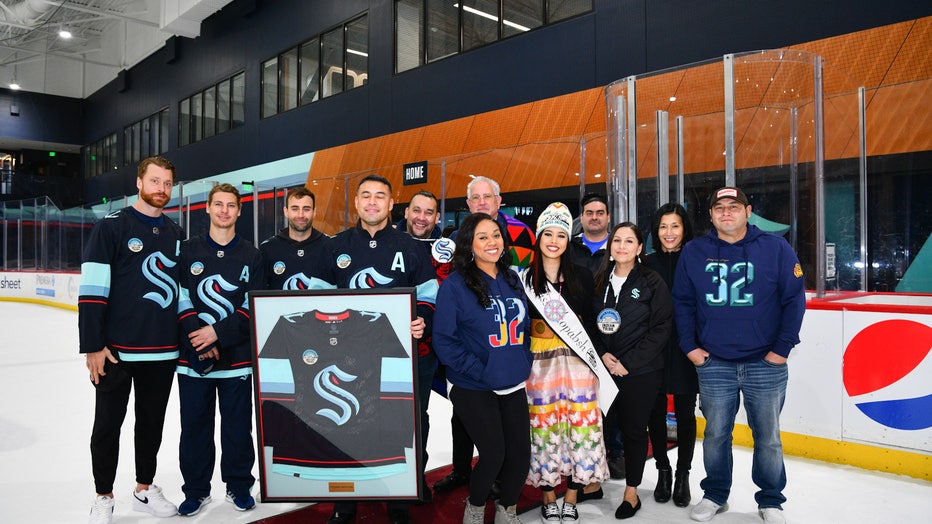 (courtesy of Seattle Kraken)