Rangers take on the Mariners on home winning streak
The Texas Rangers, on a three-game home winning streak, host the Seattle Mariners on Saturday.
Texas is 48-31 in home games and 85-68 overall. The Rangers rank fourth in the AL with 217 total home runs, averaging 1.4 per game. Seattle has an 84-69 record overall and a 43-36 record on the road. The Mariners have the eighth-ranked team slugging percentage in the AL at .416.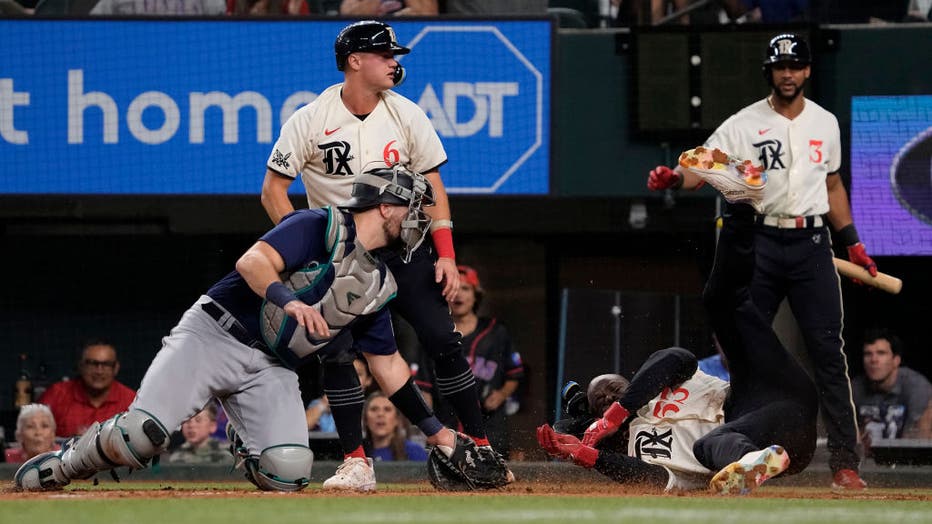 ARLINGTON, TEXAS - SEPTEMBER 22: Adolis Garcia #53 of the Texas Rangers slides into home plate to score a run on the single of Mitch Garver (not pictured) #18 of the Texas Rangers during the fifth inning against the Seattle Mariners at Globe Life Fie
The teams play Saturday for the eighth time this season. The Rangers are up 6-1 in the season series.
PITCHING PROBABLES
Mariners: Logan Gilbert (13-6, 3.77 ERA, 1.08 WHIP, 182 strikeouts)
Rangers: Jordan Montgomery (9-11, 3.38 ERA, 1.20 WHIP, 155 strikeouts)
TOP PERFORMERS
Adolis Garcia leads Texas with 35 home runs while slugging .493. Jonah Heim is 10-for-36 with three home runs and 14 RBI over the last 10 games.
Julio Rodriguez leads the Mariners with a .283 batting average, and has 35 doubles, two triples, 31 home runs, 44 walks and 100 RBI. J.P. Crawford is 12-for-44 with a home run and seven RBI over the last 10 games.
LAST 10 GAMES
Rangers: 6-4, .260 batting average, 4.66 ERA, outscored opponents by 16 runs
Mariners: 5-5, .244 batting average, 3.39 ERA, outscored opponents by four runs
INJURIES
Rangers: Ian Kennedy: 60-Day IL (shoulder), Max Scherzer: 15-Day IL (triceps ), Brad Miller: 60-Day IL (hamstring), Josh Sborz: 15-Day IL (hamstring), Jacob deGrom: 60-Day IL (elbow), Jake Odorizzi: 60-Day IL (shoulder), Brett Martin: 60-Day IL (shoulder)
Mariners: Emerson Hancock: 60-Day IL (shoulder), Tom Murphy: 10-Day IL (thumb), Marco Gonzales: 60-Day IL (forearm), Penn Murfee: 60-Day IL (elbow), Robbie Ray: 60-Day IL (flexor), Easton McGee: 60-Day IL (forearm), Evan White: 60-Day IL (adductor)
Seattle Mariners (84-69, third in the AL West) vs. Texas Rangers (85-68, first in the AL West)
Arlington, Texas; Saturday, 4:05 p.m. PT