Seattle Mariners manager Scott Servais, bench coach Manny Acta test positive for COVID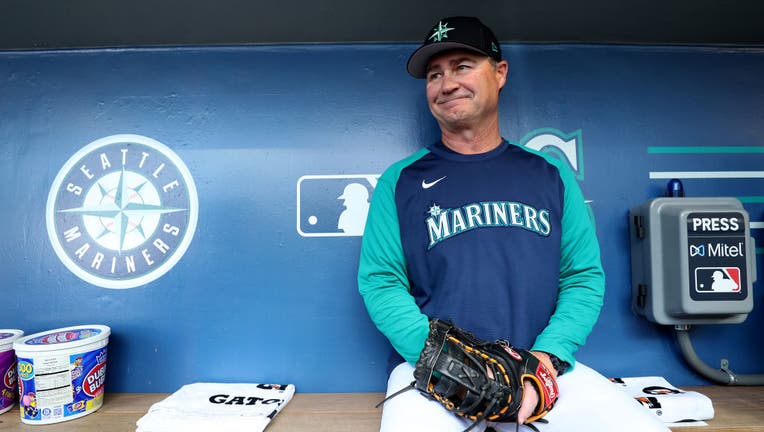 article
SEATTLE - Seattle Mariners manager Scott Servais and bench coach Manny Acta have both tested positive for COVID-19.
First base coach Kristopher Negrón will serve as the team's acting manager in their absence. Negrón had served as manager of the Tacoma Rainiers, the team's Triple-A affiliate, last season.
Additionally, Rainiers coach Zach Vincej, hitting coordinator C.J. Gillman and special assignment coordinator Dan Wilson will be brought in to assist the team with Servais and Acta out.
Negrón said that both Servais and Acta were involved remotely via Zoom in the team's meetings for the day ahead of tonight's game against the Texas Rangers.
"We've been in meetings all morning talking with Skip, talking with Manny, talking with everybody," Negrón said. "Just kind of game planning how we're going to draw up the whole day. It's been a lot of fun so far. And like I said, we've been in constant communication with the entire group." 
Negrón, 36, spent parts of six seasons in the major leagues as a player with the Cincinnati Reds, Arizona Diamondbacks, Mariners, and Los Angeles Dodgers. Negrón quickly transitioned into coaching and run the Mariners' alternate training site during the COVID-affected 2020 season that limited the major league schedule to 60 games and canceled the minor league season. 
"It's always gonna be a little nerve wracking, but it's exciting at the same time," Negrón said of the opportunity to manage the team. "Anytime an opportunity like this (comes along), you just got to try and take advantage as much as you can.I've been talking with Skip non-stop in spring training. We wrote games together every day. I was in his office every day. So we have a great relationship. I'm as prepared as I can be right now."
The Mariners are dealing with multiple COVID issues currently. Outfielder Mitch Haniger was placed on the COVID-IL on Saturday. Catcher Luis Torrens was placed on the list ahead of Tuesday's series opener with the Texas Rangers. Reliever Paul Sewald was then added to the list on Wednesday with right-handed pitcher Penn Murfee being called up from Tacoma.
Other members of the coaching staff and support staff are also out currently as well.
Servais missed two games of the 2019 season as he attended the college graduation of one of his daughters. Acta served as the acting manager during that absence. But now Acta is out as well with Negrón getting the nod.
Negrón said the experience last year in Tacoma helped prepare him for a situation like this.
"It's all just the little things," he said. "When you're playing the game, you just worried about playing. You know what I mean? And when you're kind of in this seat, kind of just have to have a bird's eye view, a bigger perspective of anything that will come up. It definitely prepared me for all types of situations."
Murfee, 27, was a 33rd round selection of the Mariners in 2018. In five games with the Rainiers this season, Murfee has posted a 2-0 record with two saves and hasn't allowed a run. In eight innings pitched, he's allowed just one hit with two walks and 10 stirkeouts. Murfee will make his major league debut when he appears in a game.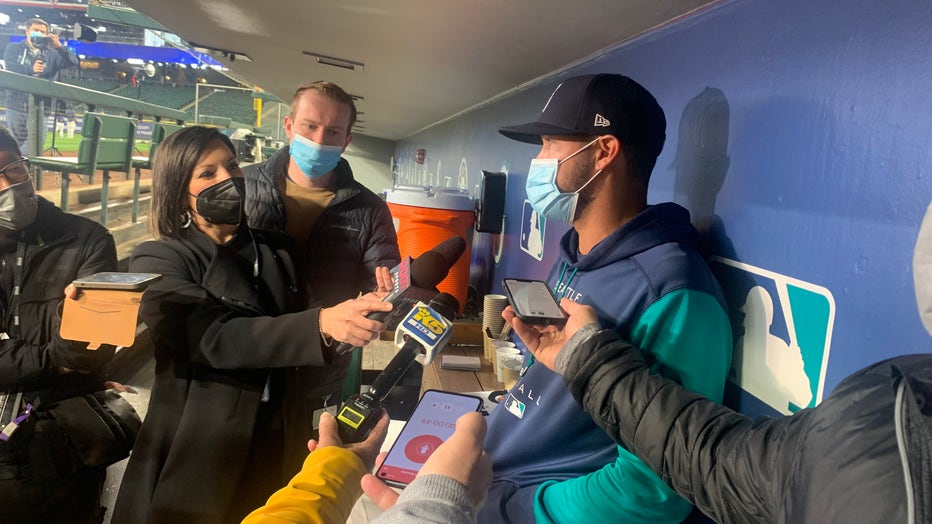 Kristopher Negron meets with reporters ahead of the Mariners game with the Texas Rangers on April 20, 2022. Negron will serve as acting manager for the team as manager Scott Servais and bench coach Manny Acta are out after testing positive for COVID- (photo by Curtis Crabtree / FOX 13 Seattle)
MORE FROM FOX 13 SPORTS: 
WATCH: Sports Commentary from Aaron Levine
FOLLOW: Aaron Levine, Alyssa Charlston, Ian Furness & Curtis Crabtree
HOME OF THE SEAHAWKS
SEATTLE SOUNDERS FC
SEATTLE STORM
SEATTLE MARINERS
SEATTLE KRAKEN
OL REIGN
WASHINGTON HUSKIES
WASHINGTON STATE COUGARS