Seattle Metro Pickleball Classic returns for 5th year with record-breaking participation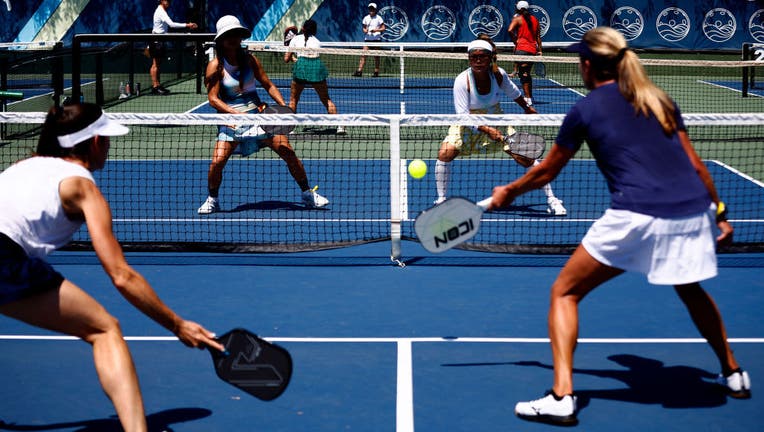 article
SHORELINE, Wash - Washington State's largest pickleball tournament, the Humana Seattle Metro Pickleball Classic is making it way back to center stage.
Celebrating its fifth year in existence, this year's tournament will bring in its largest number of participants ever. A record 870 players have registered for the tournament, many of whom are not residents of Washington, coming from 16 different states and three different countries. One player is traveling from Kaohsiung, Taiwan to participate. The field is loaded.
The tournament will last five days, July 19 - July 23 at Shoreview Park in Shoreline, Washington with matches beginning at 8am and ending at 6pm.
Pickleball was created on Bainbridge Island in 1965, is the state sport of Washington and has become one of the fastest growing sports in America – boasting a 650% increase in players over the last six years.
This year's tournament will feature the first ever 'border battle' between teams Oregon and Washington, led by captains and legendary players Wesley Gabrielsen and Brian Ashworth respectively.
This MLP-style event has bragging rights and a cash prize on the line. It is set to start at 4:30pm on the Championship court at Shoreview Park on Thursday, July 20th.
The Seattle Metro Pickleball Association's hope is to use the festivities to improve and increase pickleball facilities in the greater Seattle metro area, increase the overall pickleball player base and allow for people of all ages and abilities to enjoy a sport in a welcoming and healthy environment.
The Seattle Metro Pickleball Association also released its own fact list and scheduling for those who would like to spectate:
Key Tournament and Venue Facts
"The Metro Classic" features professional pickleball players competing for more than $12,000 in cash and prizes.
The first Seattle Metro Classic was held in 2018 over a single day with no more than 40 players, it has grown into a 5-day event attracting top players from across the country and Canada.
The 6 tennis courts at Shoreview Park will once again be transformed into 18 pickleball courts creating the largest outdoor pickleball venue in the area.
Shoreview Park is located at 700 NW Innis Arden Way, Shoreline, WA 98177
Event Schedule: Matches played from 8am – 6pm each day
Wednesday, July 19th – Sr. Women's Doubles
Open division: 8:30am start
Thursday, July 20th – Sr. Mixed Doubles
Open division: 8:30am start
Border Battle: Oregon vs Washington: 4:30pm start
Friday, July 21st – Women's Doubles/Sr. Men's Doubles
Men's Open play-in tournament: 8:30am start
Women's Open division: 10:00am start
Saturday, July 22nd – Mixed Doubles
Open division: 8:30am start
Sunday, July 23rd – Men's Doubles, Sr. Men's Doubles
Men's Open division: 8:30am start
Sr. Men's Open Division: 11am start