Takeaways from Seahawks 37-27 victory over Panthers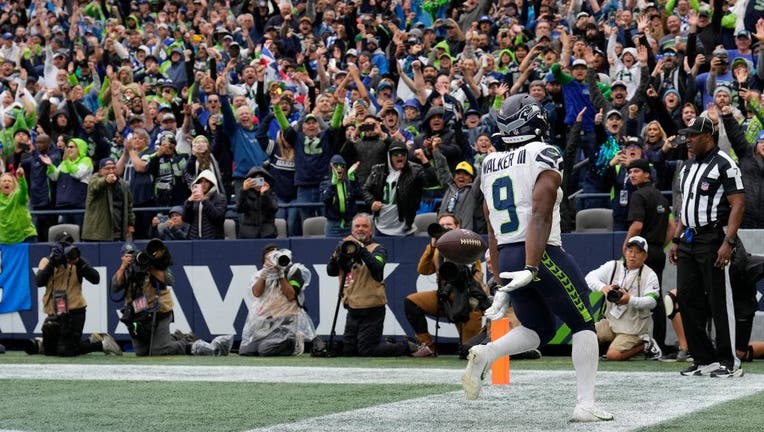 article
SEATTLE - The Seattle Seahawks scored 24 points in the second half behind two touchdown runs from Ken Walker III to pull away from a stubborn Carolina Panthers squad for a 37-27 victory on Sunday afternoon.
Walker's two scores combined with Jake Bobo's first career NFL touchdown and five field goals from Jason Myers that carried Seattle to their first home victory of the season with many members of the 2013 Super Bowl championship team in attendance.
Jarran Reed had a big day on the defensive line with 1.5 sacks and eight total tackles. Boye Mafe recorded his first sack of the season as well as Seattle's defense combined for 11 quarterback hits overall. Rookie cornerback Devon Witherspoon had a solid home debut with a team-high 11 tackles, two passes defended and a near interception.
The game wasn't without its warts, however.
Andy Dalton threw for 361 yards and two touchdowns for Carolina in a spot start in place of an injured rookie Bryce Young. Adam Thielen caught 11 passes for 145 yards and a touchdown as well as the Panthers converted on 10-of-19 third down opportunities in the game.
Meanwhile, Seattle's offense was just 3-of-13 on third down and had five drives inside the Panthers' 25-yard line that stalled without reaching the end zone.
"We were lousy on third down and we were lousy in the red zone scoring," head coach Pete Carroll said.
But with numerous key players out due to injury – or playing through one – getting a victory no matter how it looked was the only real requirement from Sunday's effort against the Panthers.
Here are the takeaways from the victory over Carolina:
– Running game finds some success behind Ken Walker III, Zach Charbonnet.
After last week's win over the Detroit Lions, head coach Pete Carroll expressed a desire to get the running game going more consistently moving forward.
Walker and Charbonnet delivered on Sunday.
Behind a patchwork offensive line, the Seahawks managed to rush for 146 yards overall with Walker leading the effort with 97 yards and two touchdowns on 18 carries. Charbonnet chipped in with nine carries for 46 yards, which included a thunderous run over Panthers safety Sam Franklin Jr. in the fourth quarter.
"We didn't run the ball real well at times early. It looked like we might be struggling. But, really, Kenny and Zach, they were really on it," Carroll said. "They're so different and so uniquely different, I loved seeing Zach show himself today and show you how tough he is and how explosive he can be. It's a great asset for us and so that was a really good part of our day."
Seattle manged just 85 and 82 yards, respectively, in their first two games of the season against the Los Angeles Rams and Detroit Lions. While Walker scored twice last week against the Lions as well, it came on just 43 yards rushing on 17 carries.
Sunday's effort against the Panthers was far more productive.
"First off, it starts off with the O-line," Walker said of his day. "They did a great job, and made my and Zach's job easier. Also, I want to give credit to Zach because he had a lot of physical runs and he made a lot of plays. I feel good about the way we ran the ball tonight."
Speaking of that offensive line…
– Backup offensive linemen rise to the occasion again to allow offense to function.
When Damien Lewis left the game early in the second quarter due to a hand injury, center Evan Brown was left as the only member of the team's starting offensive line from Week 1 to still be playing for the Seahawks.
Stone Forsythe and Jake Curhan have played the two tackles spots the last two weeks with Charles Cross (toe) and Abe Lucas (knee) out with injuries. Phil Haynes was inactive for the game against the Panthers as rookie Anthony Bradford saw his first start at right guard in Haynes' place. Then with Lewis sidelined, Seattle had to turn to Ben Brown to play left guard.
"All those guys stepped up. Next man up mentality and they all stepped up and just did their job. I'm proud of those guys," Charbonnet said.
Despite the absences on the offensive line, quarterback Geno Smith has been sacked just three times over the last two weeks, and the lone sack last week in Detroit was Smith's fault. It's not easy to adjust on the offensive line when players go down and the Seahawks have managed to handle the absences about as well as could be expected.
"I think it's just guys being locked into their role and ready for the moment of their time comes," Brown said of the group. "Making sure the communication is there when you got a new guy in, over-communicating the calls, making sure he's on the same page and, you know, once you start rolling you kind of get into the flow of the game and you're good to go." 
Notable performances:
– The Panthers had eight false starts in the game with left tackle Ikem Ekwonu responsible for four of them, and right tackle Taylor Moton called for two more.
Carroll credited the fans for the effort.
"One of the most obvious things that happened today was feeling the 12s," he said. "God, what a great impact they had on this game. These guys had eight false starts in this game and that's not us. We had nothing to do with that. They can't get coordinated because of the noise. What a great factor. It felt like what it feels like to be here at Lumen. That was a thrill. Thrill for our young guys who hadn't heard it like that, hadn't felt it like that, and they understand why we talk so much about them, why it's such a factor and all that. Anyway, we got to give a lot of credit to our fans being part of this game, just like they've been in the past. That was really obvious today."
– Cornerback Devon Witherspoon led the team with 11 tackles in his first game at Lumen Field. Sure, he got to take part in the "mock game" scrimmage back in August before missing the entire preseason with a hamstring injury, but that didn't compare to his first actual game at home with the Seahawks.
"That was just a sample of what it was today because today, oh my lord, communication we had to communicate before they started yelling, you know. But it was pretty dope though," Witherspoon said.
Witherspoon also had two passes defended, which included a near interception of Dalton in the first quarter.
"I got pretty close, man," Witherspoon said of the near interception. "I really dropped that though. It was just a tough catch for me, but I dropped it so I got to hear about that in the meeting room."
– Wide receiver Jake Bobo caught his first touchdown on a 5-yard pass from Smith in the fourth quarter. Bobo managed to tap both feet in bounds along the back of the end zone to give the Seahawks a 37-20 lead with 4:17 left to play.
"I was so fired up that Jake got that," Carroll said. "We missed some opportunities to him today, but he's going to be a big factor. He did some really good things in this game today. I couldn't see how intricate it was at the back line, but I'm sure he did it perfectly. He would figure out how to get in bounds. Great little play, great call, great throw by (Smith), and also to finish it off like that."
Bobo's touchdown came with Charbonnet and extra offensive lineman Raiqwon O'Neal on the field for the play. All three were teammates last year at UCLA.
"I was hoping I got both feet down," Bobo said. "You know, it's just something you kind of throw your feet down there and hopefully they come in bounds. They did thankfully. I don't know how close it was, but great ball. Like I said, (Smith) kind of put in a spot I didn't really have a choice (but to catch it)."
– Kicker Jason Myers was a perfect 5-for-5 on field goals and 3-for-3 on extra point attempts on Sunday after missing three field goals in the first three games. Myers converted field goal tries from 43, 35, 33, 37 and 39 yards.
"What a great bounce back," Carroll said. "He's a great player. That was something else. This was him."
Injuries:
– Defensive end Dre'Mont Jones left the game with a hip injury in the third quarter and did not return.
"His hip tightened up. I don't know. Don't know the extent, but hip got tight," Carroll said.
– Outside linebacker Darrell Taylor took a blow to his shin and was unable to remain in the game.
"He got hit in the shin and had an old injury there. It's just aggravated enough we had to hold him out," Carroll said.
– Cornerback Tre Brown sustained a concussion and was ruled out in the first half.
– Head coach Pete Carroll said that safety Jamal Adams will be playing next week against the New York Giants. Cornerback Riq Woolen "has a great chance to come back" and left tackle Charles Cross "has a real chance" to make it back as well.