Destructive ATM thieves: Pair smashes truck through store hours after Christmas celebration
WANTED IN NORMANDY PARK -- Just hours after a community came together to celebrate Christmas -- it was devastated as a local market was destroyed by a pair of truck-stealing ATM thieves who Normandy Park police need your help identifying. "December 7th, that evening we had our annual Christmas tree lighting, which was right outside of the store here. Hundreds of people were here for the event," says Normandy Park Det. Jeremy Hedrick. "Several hours after it ended, in the early morning hours of December 8th, several minutes before the actual burglary takes place, you can see people walking back and forth in front of the store, kind of scouting things out. Then you see a truck pull up onto the curb in front of the store, then backup violently through the glass. You see at least one suspect tie a rope around the ATM machine. It takes them a couple tries to yank it out of the ground and the truck actually comes all the way into the store, backs all the way up to the desk, in order to get enough of a running start to get the ATM machine out of the ground." The spot where the cash machine stood at the Normandy Park Market is still empty. The bolts that secured the cash machine to the floor have been busted in half. The stolen truck was later found in Des Moines. The ATM was found in Federal Way -- in another stolen vehicle. While the market's front doors have been replaced and most of the damage has been fixed, the store's owner is still in shock with the destruction the crooks did "First of all you don't think about a truck driving through your front door," says Normandy Park Market owner, Paul Wilcox. "All the time and effort that goes into putting a door together or a building together, to come in here and see the doors shattered, the glass shattered, the Lotto machine dented and broken, the customer service desk broken and dented, it's hard to explain." And what makes it worse is police think this is not the first time these two crooks have struck. We featured video on Washington's Most Wanted from a store in Graham two weeks ago showing a spitting image of the same crime. "The MO is very similar," says Det. Hedrick. "So, it was another stolen vehicle that was backed into a grocery store. They attempted to hook up to an ATM machine and yank it out of the ground. Again, they were wearing gloves and hoods. Appeared to be two suspects involved. They were unsuccessful in that attempt. What we're really looking at is suspect who have now caused hundreds of thousands of dollars in damage to two different businesses, and appear that they're likely to do it again, and they're obviously stealing vehicles to commit these crimes as well, so any information the public can offer that would help us identify who these suspects are would be absolutely incredible."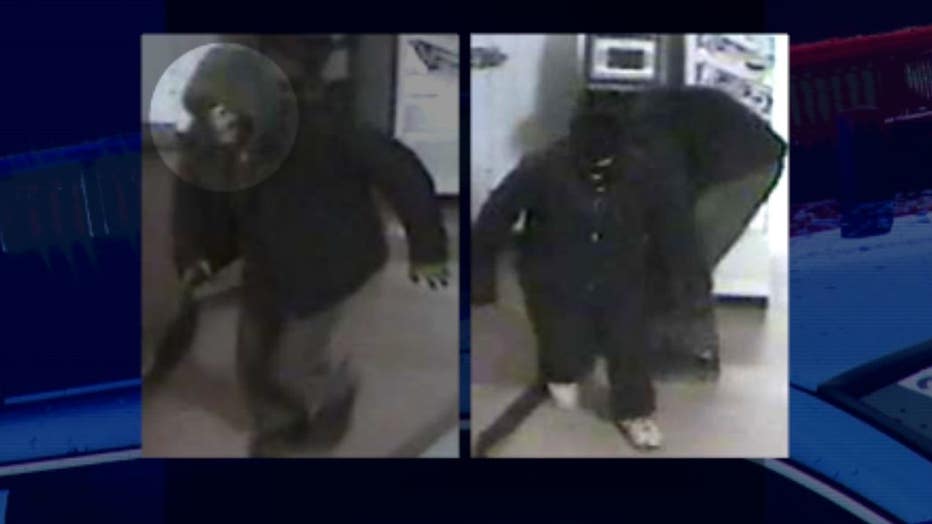 Suspects in Graham store burgary, attempted ATM theft
We get a much better look at the crooks from the Graham heist, though the suspects in both burglaries were well-disguised. One of the Graham suspects wore what looks like a black and white skeleton mask. The other has on one of those robber-like ski masks. If you can tell detectives who these destructive ATM-stealing store burglars are that could be the same suspects behind the Graham and Normandy Park heists, call an anonymous tip into: CRIME STOPPERS: 1-800-222-TIPS You must call the Crime Stoppers hotline with your tip to be eligible to receive a cash reward for information leading to a fugitive's arrest. CLICK HERE for information on how to TEXT A TIP to Crime Stoppers.