Deputies safely arrest domestic violence suspect armed with machete in Key Center
PIERCE COUNTY, Wash. - Deputies say they were able to safely deescalate a situation with an armed suspect, and bring him into custody earlier this month. 
According to the Pierce County Sheriff's Office (PCSO), on March 4, deputies responded to the Key Center area for reports a Domestic Violence Protection Order Violation.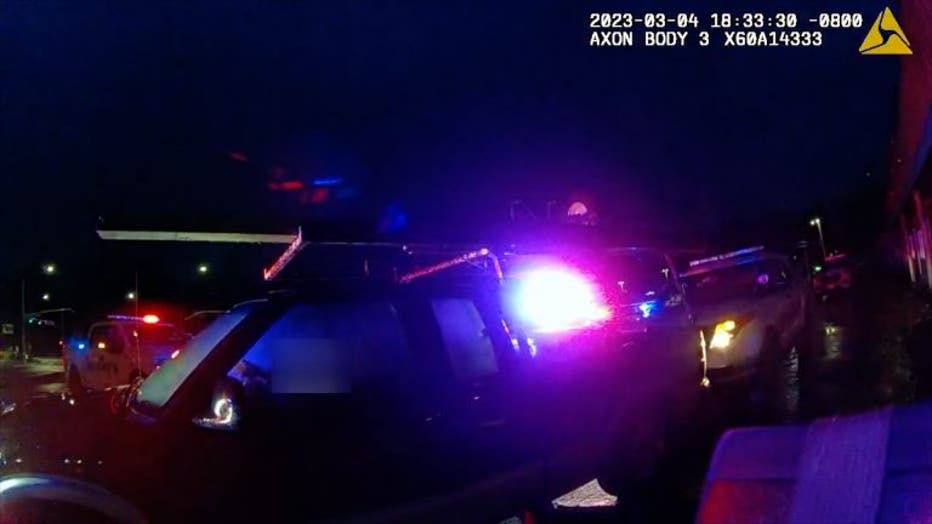 Pierce County Sheriff's Office
When the victim called 911, she told police that the suspect had been sending her messages, threatening to kill her. When she saw the suspect parked in his car a few miles from her home, she became worried he would follow through with the threats.
Another person closer to the parking lot also called 911, telling officers that the suspect was telling people he was going to kill his family. The suspect also said he was carrying a large knife.
This gave deputies probable cause to arrest the suspect.
When deputies arrived, they saw the suspect pull out a large machete. This led authorities to draw their weapons. 
Authorities say they tried convincing the suspect to surrender, but after multiple attempts, they realized they were dealing with a person in crisis. Deputies then used de-escalation tactics by bringing in a Designated Crisis Responder (DCR) to call the man on the phone.
RELATED: Seattle Police looking for domestic violence suspect
The DCR's were not able to get the man to cooperate, but deputies continued to negotiate for more than an hour.
According to the PCSO, without any cooperation from the suspect, deputies decided to use pepper spray. When that did not work, deputies smashed the driver-side window. 
Deputies then grabbed the suspect's arms, got him out of the truck and into handcuffs.
RELATED: Police safely arrest armed DV suspect who assaulted his mother, neighbor in South Everett
The PCSO says the suspect was booked into the Pierce County Jail for a Protection Order Violation, Felony Harassment and Resisting Arrest.