Dodgers face the Mariners leading series 1-0
SEATTLE - The Los Angeles Dodgers face the Seattle Mariners with a 1-0 series lead. Saturday's game is the second time these teams match up this season.
Seattle has a 41-31 record at home and an 81-66 record overall. The Mariners have a 55-24 record in games when they record at least eight hits. Los Angeles has a 41-31 record on the road and an 89-57 record overall. The Dodgers have hit 229 total home runs to rank second in the NL.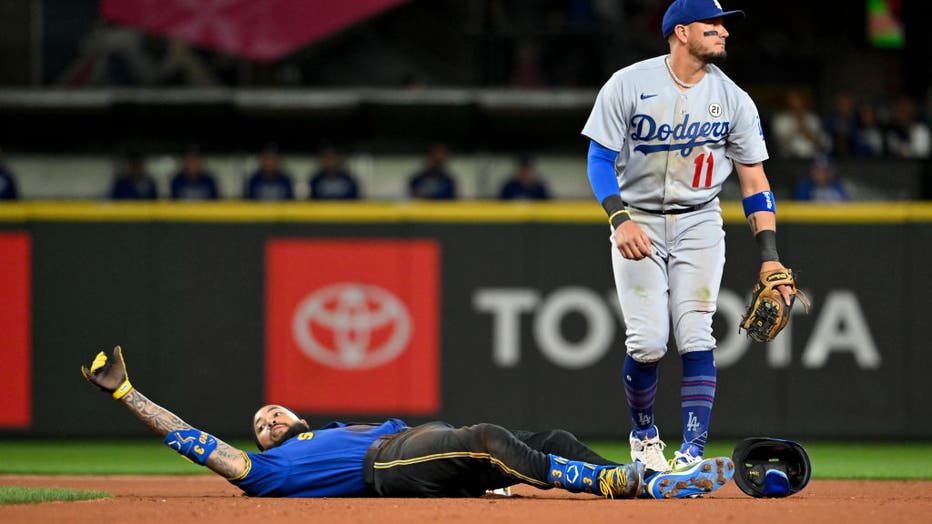 SEATTLE, WASHINGTON - SEPTEMBER 15: J.P. Crawford #3 of the Seattle Mariners gestures at second base after hitting a double during the seventh inning during the seventh inning against the Los Angeles Dodgers at T-Mobile Park on September 15, 2023 in
PITCHING PROBABLES
Dodgers: Clayton Kershaw (12-4, 2.61 ERA, 1.07 WHIP, 123 strikeouts)
Mariners: Bryce Miller (8-5, 4.05 ERA, 1.11 WHIP, 109 strikeouts)
TOP PERFORMERS
Julio Rodriguez has a .290 batting average to lead the Mariners, and has 34 doubles, two triples and 30 home runs. Teoscar Hernandez is 11-for-39 with a home run and five RBI over the past 10 games.
Mookie Betts ranks second on the Dodgers with 77 extra base hits (37 doubles, a triple and 39 home runs). Max Muncy is 9-for-38 with a double, a triple, three home runs and nine RBI over the last 10 games.
LAST 10 GAMES
Mariners: 4-6, .244 batting average, 4.29 ERA, outscored by one run
Dodgers: 5-5, .268 batting average, 5.04 ERA, outscored opponents by 10 runs
INJURIES
Mariners: Emerson Hancock: 60-Day IL (shoulder), Tom Murphy: 10-Day IL (thumb), Marco Gonzales: 60-Day IL (forearm), Penn Murfee: 60-Day IL (elbow), Robbie Ray: 60-Day IL (flexor), Easton McGee: 60-Day IL (forearm), Evan White: 60-Day IL (adductor)
Dodgers: David Peralta: day-to-day (undisclosed), Gus Varland: 60-Day IL (knee), Wander Suero: 15-Day IL (back), Tony Gonsolin: 60-Day IL (forearm), Jake Marisnick: 60-Day IL (hamstring), Yency Almonte: 15-Day IL (knee), Michael Grove: 15-Day IL (lat), Jonny Deluca: 10-Day IL (hamstring), Daniel Hudson: 60-Day IL (knee), Tyler Cyr: 60-Day IL (shoulder), Dustin May: 60-Day IL (forearm), Jimmy Nelson: 60-Day IL (elbow), Alex Reyes: 60-Day IL (shoulder), Gavin Lux: 60-Day IL (knee), Walker Buehler: 60-Day IL (elbow), Blake Treinen: 60-Day IL (shoulder), J.P. Feyereisen: 60-Day IL (shoulder)
Los Angeles Dodgers (89-57, first in the NL West) vs. Seattle Mariners (81-66, third in the AL West)
Seattle; Saturday, 6:40 p.m. PT