Ferguson's Thanksgiving mixed with kindness, sadness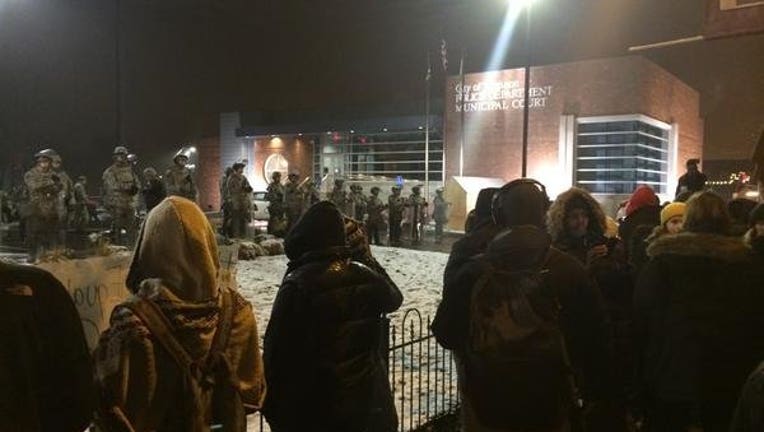 article




FERGUSON, Missouri (CNN) -- National Guard members were on duty in Ferguson, Missouri, on Thanksgiving but the people who came up to them only wanted to spread goodwill, bringing turkey and other treats.

CNN affiliate KSDK reported that dozens of citizens visited one post at a shopping center.

"We just all have to make sure that we are taking care of one another," Terry Pimmel told the station. "That is our mission."

Gov. Jay Nixon also stopped by to see the troops.

Other volunteers bundled up and painted boards that cover the holes where windows used to be in buildings trashed during recent protests, according to CNN affiliate KMOV.

"We came out here because we thought that anything would be better than just blank plywood," Avi Ryan, 13, told KMOV.

Some members of the family of Michael Brown, who was fatally shot in August by Ferguson police officer Darren Wilson, gathered at his father's place for their first holiday dinner since Brown's death.

There was a chair left empty at the dining room table of Michael Brown Sr., a photo posted to Twitter by Ferguson Action showed.

A shirt with the words "Gone (Too) Soon" was draped over the chair and Brown Sr. wore a shirt that said, "Justice.

Small protests overnight

Perhaps it was the biting cold, or maybe it was because of Thanksgiving. But Ferguson was much calmer early Thursday than it had been the previous two days.

A few dozen protesters showed up outside police headquarters in Ferguson late Wednesday night. And standing under a "Seasons Greetings" sign stretching over the road, they fired obscenities at National Guard members who stood on watch outside the police department's offices.

But there were no incidents, no confrontations between the two sides. Police made two arrests, and no injuries or damages were reported.

A protest organizer told CNN that even though the numbers were small early Thursday, demonstrators will return night after night as they have done since the summer when Michael Brown, a black teen, was shot dead by Darren Wilson, a white police officer.

Nationwide, protests continued, but they too were peaceful for the most part. In Los Angeles, police arrested 130 protesters on misdemeanor charges of failure to disperse. In Oakland, California, police arrested 35 people for a variety of charges related to protests.

At the Macy's Thanksgiving Day Parade in New York on Thursday morning, seven were arrested after several people broke through barriers near the parade route to protest Monday's grand jury decision not to indict Wilson, New York police said.

Wilson's future

For his part, Wilson is in talks to leave the Ferguson Police Department and may give up being an officer altogether.

"It's not a question of if, it's a question of when," Wilson's attorney, Neil Bruntrager, told CNN's Don Lemon late Wednesday.

"Realistically, he can't go back to being a police officer. He knows that. There's no illusion about any of this."

Wilson has said he killed the 18-year-old Brown out of fear for his life during their encounter on August 9. He maintains he hasn't done anything wrong.

Though he hasn't said much, Wilson sympathizes with Brown's family, his attorney said.

"His remorse and his sadness about what happened is there, and it's real," Bruntrager told CNN.

"But in respect to the Browns, he's been very careful to sort of stand back. He knows that whatever he says, it's not going to be read as he means it."

The Browns' dismay

Brown's parents don't believe Wilson's version of events, telling CNN's Sunny Hostin their son would never have taunted the officer nor reached for his weapon

"He's a murderer," Brown's father said, referring to Wilson.

"He understood his actions. He understood exactly what he was doing. You know, he didn't have a second thought, a pushback thought, or nothing. He was intending to kill someone. That's how I look at it," Brown said. "He was going to kill someone at that point."

Michael Brown's mother said hearing that a grand jury had decided not to indict the officer who killed her son felt like getting shot.

"We heard this and it was just like, like I had been shot. Like you shoot me now -- just no respect, no sympathy, nothing," Lesley McSpadden told Hostin on Wednesday. "This could be your child. This could be anybody's child."

Investigation continues

Back in Ferguson, a one-mile stretch of West Florissant Avenue, the site of previous protests, was closed to cars and pedestrians, with authorities saying the burned-out buildings on the route are crime scenes.

One of those buildings is Flood Christian Church, where Michael Brown Sr. is a member.

The Bureau of Alcohol, Tobacco, Firearms and Explosives is leading an investigation into the fire that destroyed the church, a spokesman said.

Investigators have found that someone broke into the church, and the fire began in a foyer near the doors that were breached, the ATF spokesman said.

The church is some distance away from the strip of stores that burned Monday. Other nearby structures were untouched, which is cause for suspicion, the spokesman said.

Also Wednesday, Ferguson police were looking for clues as to who stole an AR-15 that was locked in a rack and plucked from a police car torched by rioters this week.

"They took the entire rack from the car," St. Louis County police Sgt. Brian Schellman said.




CNN's Moni Basu reported from Ferguson, and Steve Almasy and Saeed Ahmed wrote from Atlanta. CNN's Sara Sidner, Faith Karimi, Jason Hanna and Evan Perez contributed to this report.