Gonzaga Bulldogs, Spokane philanthropic group raise $30K for local families
SPOKANE, Wash. - Three players from the Gonzaga men's basketball team—Ben Gregg, Anton Watson and Rasir Bolton—helped a Spokane grassroots, social media-based philanthropic group raise over $30,000 for the families of a Spokane elementary school.
Rick Clark, the founder of Spokane Quaranteam, partnered with No-Li Brewery to provide $50 gas cards and $50 grocery cards to 277 different families with students at Logan Elementary School, where a majority of students qualify for free or reduced lunch.
According to Clark, Logan Elementary is one of the lowest-income schools in all of Washington, and he saw an opportunity to help families who may be struggling.
"My strongest memories as a child unfortunately were memories of being hungry. Not knowing where my next meal would come from. I would have done anything to have a team of 36,000 people helping my family find food," wrote Clark in a Facebook post. "I would do ANYTHING to help a kid not worry about food."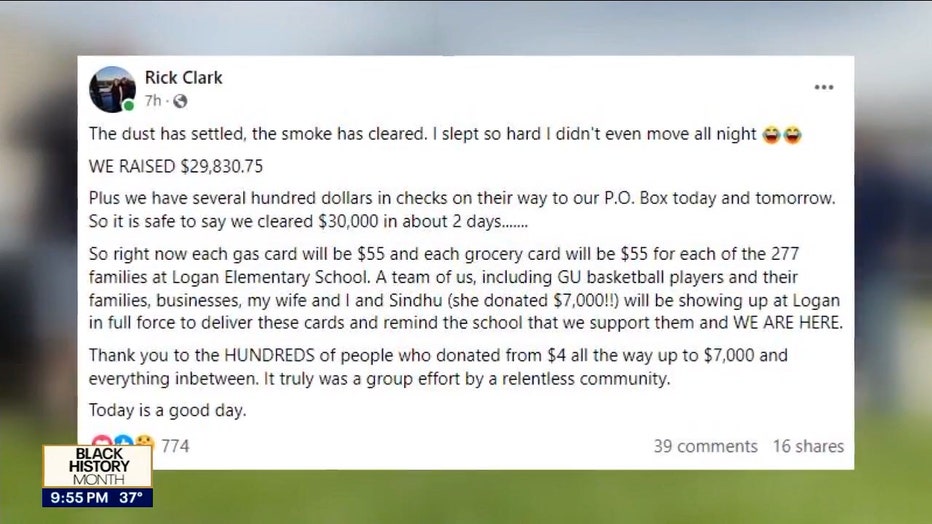 (FOX 13 / Spokane Quaranteam)
Clark told FOX 13 News that name-image-likeness (NIL) money was offered to Watson, Gregg and Bolton to help spread awareness of the fundraiser, but each of them refused to accept money.
Get breaking news alerts in the FREE FOX 13 Seattle app. Download for Apple iOS or Android. And sign up for BREAKING NEWS emails delivered straight to your inbox.
As of Wednesday night, Clark received 345 donations in 48 hours.