Hawks vs. Broncos: Key players to watch in Super Bowl XLVIII
By Sam Farmer

Los Angeles Times

A look at three players you should know and three others who will need to come through for each team.

3 SEAHAWKS YOU SHOULD KNOW

Clinton McDonald, defensive tackle

The Broncos use at least three wide receivers 90% of the time. That means Seattle's nickel defense will be on the field most of the time. McDonald anchors the middle of that front as the nickel nose tackle.

Byron Maxwell, cornerback

Considering how much Peyton Manning throws the ball, the Seahawks need a solid corner opposite All-Pro Richard Sherman. Maxwell showed his value after Brandon Browner was hurt and Walter Thurmond was suspended.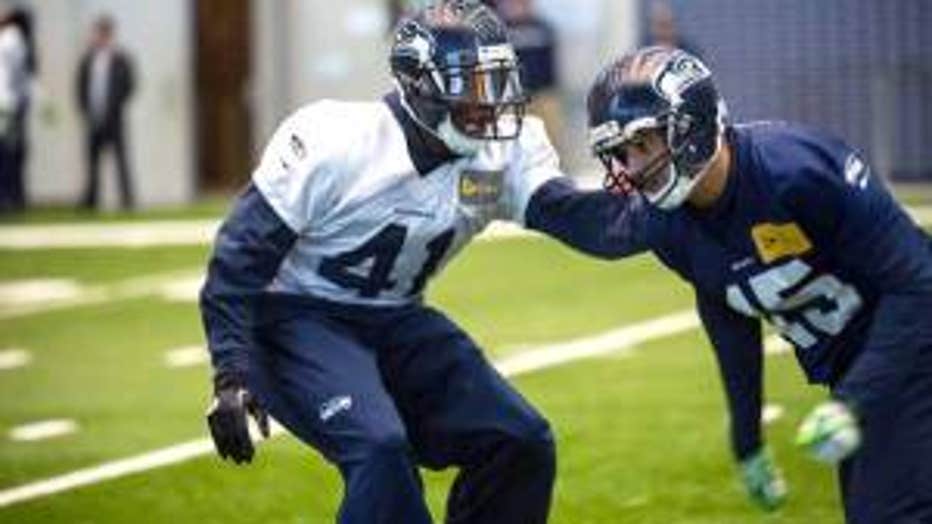 Byron Maxwell (Photo courtesy of Seahawks.com)


Michael Robinson, fullback

This game will be about playing keep-away from Manning, and that means the Seahawks controlling the clock. Robinson is the blocking back who helps open holes for Marshawn Lynch, getting him to linebacker level.

 

3 SEAHAWKS WHO MUST COME THROUGH

Russell Wilson, quarterback

Wilson is incredibly elusive, and he can make plays with his feet as well as his arm. He can also get into trouble by scrambling too much. Can he maintain his composure on the biggest stage of his life?

Marshawn Lynch, running back

The centerpiece of Seattle's offense, "Beast Mode" generally needs to be gang tackled. He has had back-to-back 100-yard games in the playoffs, and he wears defenses down, often breaking big runs in the fourth quarter.

Richard Sherman, cornerback

A confident trash talker, Sherman is also among the best defensive playmakers in the league. His pass breakup that clinched a trip to the Super Bowl exemplified his incredible length and athleticism.

 

3 BRONCOS YOU SHOULD KNOW

Trindon Holliday, receiver/returner

Holliday is a scary returner who can change the game with one play. Since joining the Broncos in 2012, he has led the NFL in kick-return average (32.5 yards) and is second in punt returns (10.8).

Danny Trevathan. linebacker

Trevathan might be Denver's defensive MVP. He's fast enough to corral fleet-footed quarterback Russell Wilson and has great hands for interceptions — as long as he doesn't fumble away a pick-six, as he did in the opener.

Julius Thomas, tight end

A former college basketball player, Thomas earned his first Pro Bowl invitation this season with 65 receptions and 12 touchdowns, which place him third in the NFL among tight ends. He became one of Manning's favorite targets.

 

3 BRONCOS WHO MUST COME THROUGH

Peyton Manning, quarterback

Yes, he threw for 55 touchdowns and 5,477 yards, but Manning's most impressive NFL record this season was in football distribution — five offensive players scored at least 10 touchdowns this season.

Demaryius Thomas, receiver

The Broncos are loaded with sure-handed targets, but none is more of a big-play threat than Thomas. He ranks first in the NFL with 35 receptions of 25 yards or longer over the last two seasons, and scored 14 touchdowns this season.

Terrance Knighton, cornerback

If the Seahawks want to run up the middle, they have to move "Pot Roast," a 6-foot-3, 335-pound space eater in the middle of the Broncos defensive front. Knighton isn't just a lump; he's quick enough to get to a quarterback.