2 killed in wrong-way crash on West Seattle Bridge identified as Snohomish HS students
SEATTLE - Seattle police are investigating a deadly crash overnight on the West Seattle Bridge. 
Officers responded to reports of a white pickup truck driving the wrong way in the westbound lanes of the bridge and the truck crashing into another car before 12:30 a.m. Wednesday.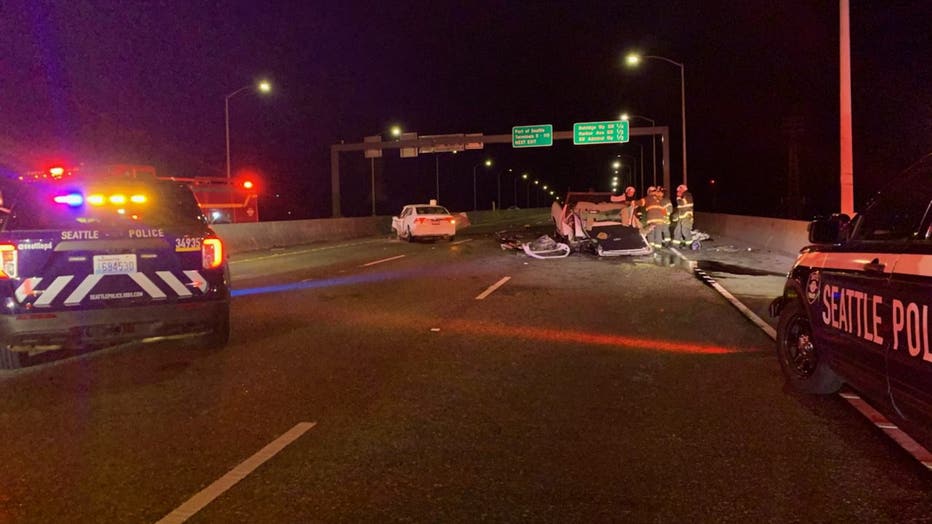 Fatal West Seattle Bridge crash (Seattle Police Department)
When officers arrived, they found the two cars had extensive damage. 
The driver of the pickup truck was taken to the hospital with serious injuries, police said.  
According to police, he showed signs of impairment and is under investigation for vehicular homicide. 
Seattle Fire Department medics responded, and the driver and passenger inside the car were pronounced dead at the scene. They were both 18 years old. 
They have been identified as 18-year-old Khalea Thoeuk and 18-year-old Riley Danard. They both appear to be students at Snohomish High School. 
In a statement, the district said:
"It is with extreme sadness that I write to tell you that we have learned that two students from our Panther community have passed away after being involved in a tragic car accident early this morning. We are reaching out to parents/guardians to allow you to share this news with your student in whatever way you feel is appropriate. Out of respect, student names have not been released and we are asking our Panther community to please respect these families' privacy. We do know that some students are already aware of these deaths and that they may be discussing it with each another." 
The district also noted that mental health professionals will be available to students. 
The investigation remains ongoing.