Seattle bar owner: I feel bullied by $15 minimum wage supporters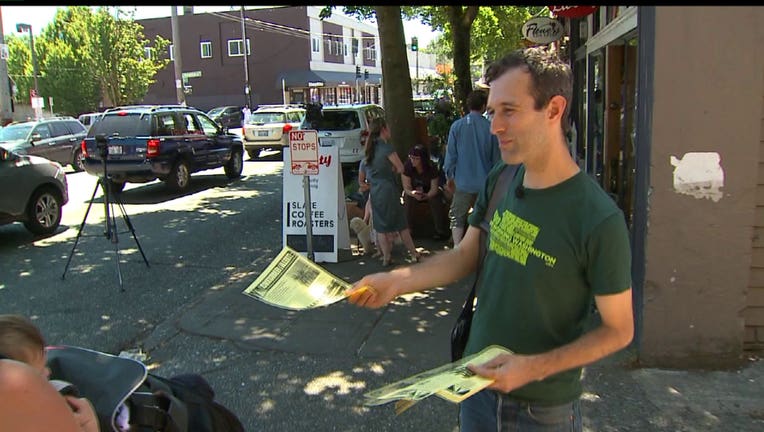 article


SEATTLE -- The $15 minimum wage for Seattle workers is a done deal, as far as Mayor Ed Murray and supporters are concerned. But opponents are not giving up.

A lot of small business owners worried about the financial blow want the issue to go on the ballot.

The fight is sparking yet another round of tensions.

On Tuesday. it wasn't just a protest supporting the $15 minimum wage. This time supporters targeted specific businesses who are against the hike.

"A really small fringe group is trying to use shady tactics to repeal that law," said Sage Wilson, a member of the activist group 'Working Washington'.

Wilson was referring to 'Forward Seattle', a group made up of small business owners who once fought for an alternative $12.50 an hour wage.

Now, Forward Seattle is gathering signatures to put the wage issue on the ballot and asking voters to repeal the $15 minimum wage.

"Their paid signature-gatherers are outright lying to people about what they are signing. They are telling people that they are in support of the minimum wage, but, in fact ,what they are doing is, in fact, repealing the minimum wage."

Andrew Friedman, owner of the Liberty bar on Capitol Hill, supports Forward Seattle. And because of that, Working Washington members protested outside his bar.

"These people are from out of state who are coming here to promote their agenda," Friedman said.



Forward Seattle members say they are not misleading anyone and that Working Washington is trying to hinder their progress.

Friedman says he feels bullied.

"This protest today is to bully small businesses, it is to scare small businesses not to speak out," Friedman said.

"Working Washington does not engage in anything like that. Are we letting people know who these businesses are? Yeah we are," Wilson said.

But Friedman is refusing to keep quiet about an issue that could kill his business. The wage increase would mean price increases for customers and possible job cuts for his staff.

"I don't think they understand the harm that it will do to small businesses like ours," server Lela Joseph said.

Joseph says she makes enough without a wage increase.

Typically on a Friday or Saturday night, probably $30 to $35 an hour if you include tips," Joseph said.

She's more worried about not having a job if Liberty shuts down.

"For every $1 it goes up, for me that's $20,000 a year in addition to payroll," said Friedman.

Friedman and Forward Seattle say they were initially pushing for a $12.50 minimum wage.

When they learned they could not put that charter amendment on the ballot this year, they started the initiative to get the $15 minimum wage issue on the ballot so voters could have the final say.