Sick orca J50 hasn't been spotted in days, feared stranded or dead


FRIDAY HARBOR, Wash. -- A sick and starving juvenile southern resident orca known as J50 hasn't been spotted in several days, with officials worrying she is stranded or dead.

On Thursday, the National Oceanic and Atmospheric Administration (NOAA) announced 4-year-old J50 hasn't been seen alongside her mother - known as J16 - or the rest of her resident pod in several days.

"Unfortunately J50 has not been seen in several days of favorable conditions and sightings of her pod and family group, including J16, her mother," NOAA officials said. "Teams were on the water searching yesterday and are increasing a broad transboundary search today with our on-water partners in Canada."




Multiple research boats from both sides of the border are actively searching for her, officials said. Any recreational boater who suspects they have spotted a stranded orca is encouraged to call the stranding hotline at 1-866-767-6114.

Including J50, there are only 75 orcas left in the pods that live in the Puget Sound.

Earlier this month, J50 was missing from her pod for several days, but turned up alongside her mother.

The juvenile female orca -known as Scarlet - was part of the southern resident "baby boom" that occurred when 11 calves were born between 2014-2016. Including Scarlet, only five calves from the baby boom are still alive.

NOAA Fisheries and its partner Sealife Response, Rehab and Research on Monday released new aerial photos of ailing local orca J50 to document a "dramatic decline in condition" between 2017 and 2018 and a "worrying continuation of this decline in the last month."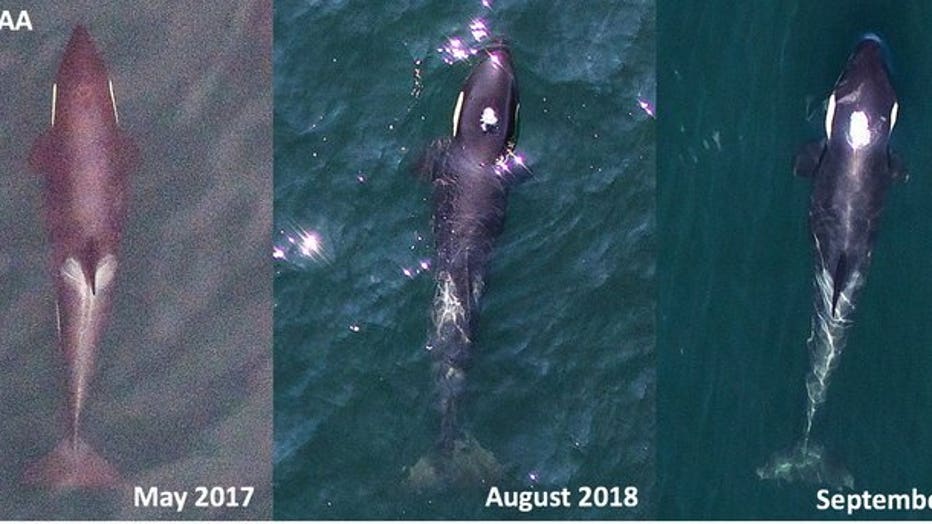 Aerial images of Southern Resident killer whale juvenile J50, taken on May 31st 2017 (left), August 1st 2018 (center) and September 3rd 2018 (right) for comparison. In the 2018 photos, she is in poor body condition revealing a very thin profile, and


Federal biologists said Wednesday they are preparing a plan to capture and treat the critically endangered orca if there is no other way to save her in the wild.

Veterinarians believe they have exhausted treatment options in the field that included twice injecting the free-swimming whale with antibiotics in Pacific Northwest waters. Despite the treatment, J50 is thinner than ever due to undetermined health issues.

There hasn't been a successful birth in the population since 2015.

This story is breaking and will be updated shortly.