Trio charged for breaking into car, stealing purse & buying hundreds in marijuana products
UPDATE: Pierce County Prosecutors have charged Leann Paige Hetzer with two counts of second-degree identity theft, unlawful possession of a stolen vehicle and attempted theft of a motor vehicle. Tiffany Ahrendsen was charged with unlawful possession of a stolen vehicle and second-degree identity theft, and Duane Brister is facing charges for the same thing. 
Hetzer and Ahrendsen both appeared in court and were released. Brister did not show up and a bench warrant was issued for his arrest.
Previous story:
Pierce County detectives say two men and a woman broke into a car and stole a woman's purse, racking up nearly $500 at a smoke shop. Now, they're wanted for fraud. 
The crime was reported on Feb. 21 when the victim, 53-year-old Alexandra Lopez, parked her car about 100 feet from the entrance to the LA Fitness in Puyallup. 
Her daily routine cost the woman hundreds of dollars. 
Lopez's husband, Ian, said she left her purse inside the car, tucked underneath the seat. She thought she took an extra layer of protection by covering it with a blanket, but someone was watching.  
"My wife's whole life was in her wallet," Ian said.
He said the two of them tried to act fast: his wife reported the break-in to security, while he called to cancel her credit cards.  
Unfortunately, they weren't quick enough. The thieves made it to "Smoke & Beer," a smoke shop just a few blocks away, and racked up roughly $490 in purchases.
The store owner, who did not want to be identified, said two women and a man came in to buy cigarettes, marijuana products and a water pipe. He caught them on surveillance video after they came in a second time, saying something felt off about them. They allegedly tried buying more items, which raised some red flags. 
"It angers me more than anything," Ian said. "He got footage of them trying to use the card again, and he asked for ID, and they produce my wife's driver's license as [their] license. So he immediately took the driver's license and a credit card from them and they took off." 
They didn't give up so quickly. Ian said the trio swiped at a gas station and tried sending money via Cash App, but by then, all cards were canceled and transactions were rejected.  
"Be a contributing member of society. Don't be a problem or a burden on society that's all these people are," Ian said. 
He's angry and frustrated as crimes of opportunity are on the rise, and victims like his wife are left mending their sense of safety.  
"She didn't want to drive her car for a while. She was scared to park, go shopping or anywhere else, especially the gym," Ian said.  
The latest vehicle theft trend report by the National Insurance Crime Bureau (NICB) for 2022 shows Washington ranking third across the country in car thefts, behind Texas and California. 
A total of 46,939 cars were stolen in 2022 across the state, which is a 31% increase from 2019, the NICB said. 
Here's how can you prevent being a victim of opportunity: 
Remove or hide all valuables
Lock your car
Don't leave keys or fobs inside
Don't leave your vehicle running unattended (exhaust in cold months makes these vehicles easy to spot)
Use anti-theft devices (alarm, kill switch, steering wheel lock)
Park in well-lit areas
In Lopez's case, Pierce County officials still need help identifying the three people wanted for fraud.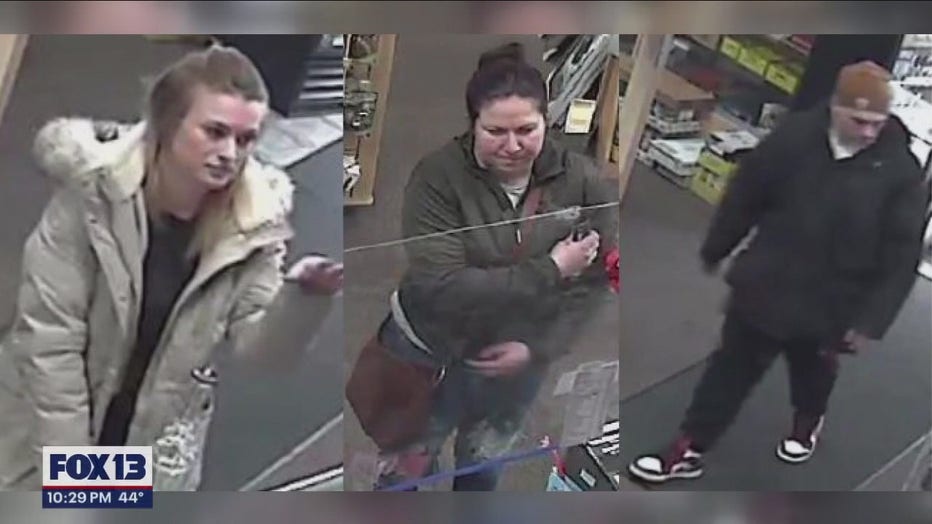 They are also looking for a newer gray Honda Accord, with a damaged passenger mirror. 
Crime Stoppers of Tacoma-Pierce County is offering a cash reward of up to $1,000 for information that leads to an arrest in the case. You can leave an anonymous tip through the P3 Tips App or by calling 1-800-222-TIPS.