Woman returns 'enchanted' rock to Texas park after having 'nothing but bad luck'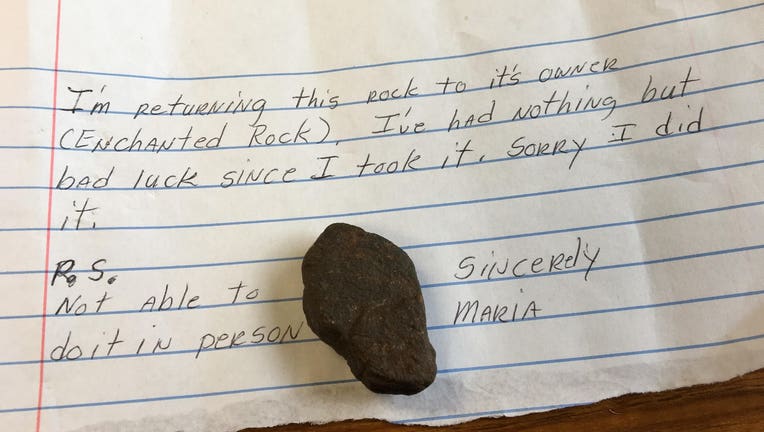 article


LLANO COUNTY, Texas – A visitor to Texas' Enchanted Rock returned a small brown stone to park headquarters with a note, saying that the rock had brought her nothing but bad luck.

"I'm returning this rock to it's (sic) owner (Enchanted Rock)," read the accompanying note, which was signed by someone named Maria. "I've had nothing but bad luck since I took it. Sorry I did it."

Maria also added, "P.S. Not able to do it in person."

Enchanted Rock State Natural Area lies north of Fredricksburg in Central Texas.

The Texas Parks and Wildlife Department posted a photo on Facebook of the nondescript rock and note, adding a link to several tales of ghosts and spirits haunting Enchanted Rock.

Maria is not the only one to return a rock swiped from a natural area. Several Facebook users commented on the post, saying they had done the same thing.

That creeping guilt is a common phenomenon among visitors to other stunning, natural areas preserves across the country.

Officials at Arizona's Petrified Forest National Park have even made a display filled with scores of returned rocks, along with the accompanying apology notes. Staff members at the park refer to it as the conscience pile, according to The New Yorker.