J.P. Crawford two-out double gives Mariners 3-2 walk-off win over Rangers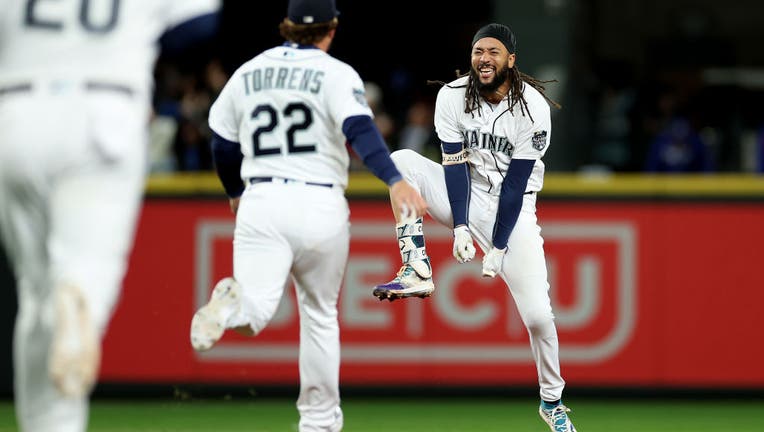 article
SEATTLE - J.P. Crawford saved the season for the Seattle Mariners.
With two outs in the bottom of the ninth and their season teetering on the brink, Crawford drove a Jonathan Hernández pitch just over the head of left fielder Evan Carter to steal a 3-2 victory over the Texas Rangers on Thursday night that keep Seattle's playoff hopes rolling into the final weekend of the season.
"Everyone's depending on me at that point. Two outs, bases loaded, bottom of the ninth. Shoot you got to just get it done," Crawford said.
The Mariners were staring at a loss that would have all but ended their realistic hopes of a postseason berth. They would have fallen two games behind the Houston Astros and three games behind the Toronto Blue Jays for the final two Wild Card spots with just three games left to play. Instead, a shaky Aroldis Chapman opened the door for Seattle in the ninth inning before Crawford's base hit saved the day.
Cal Raleigh and Dylan Moore led off the ninth inning with consecutive singles to left field off Chapman to give Seattle one last chance. Chapman then had a wild pitch get by catcher Jonah Heim for the runners to advance before Chapman walked Ty France to load the bases with no outs. Texas then turned to Hernández to try to bail the Rangers out of the jam.
Pinch-hitter Mike Ford popped out to shallow center field and Josh Rojas did the same into foul territory near third base as another chance appeared ready to slip through Seattle's fingers.
Instead, Crawford's heroics keep Seattle's hopes alive heading into the final three games of the season.
"We were in need of a hit with runners in scoring position and we got one," manager Scott Servais said. "Tonight's about fight. You play all season long, spring training and all the work that goes into it and it kind of comes down to you need to win a game, you need to get a big hit and our guys found a way."
With the double, Crawford is now batting .667 with three doubles, a home run and 22 RBI.
"It's pretty incredible what he's done all year, but that kind of just sums up his season I feel like," starter Logan Gilbert said. "It seems like when you go back and think about big moments or big games, he's come through most of the time and that's kind of who he's been. Yesterday with the leadoff homer, he's the spark plug that gets us going."
Gilbert pitched well for Seattle in his outing against a high-powered Texas offense. Two solo home runs were the only damage he allowed with just three hits, no walks and five strikeouts allowed over six innings. 
After retiring the first seven batters he faced, Gilbert left a fastball over the middle of the plate that Leody Taveras drove into the center field seats to give Texas a 1-0 lead. Then with two outs in the fourth inning, Adolis García drove a hanging slider over the left field wall into the Seattle bullpen for a 2-0 advantage.
Julio Rodríguez snapped a streak of five straight plate appearances with a strikeout by taking a curveball away from Jordan Montgomery out to right field for his 32nd home run of the season to cut the Texas lead to 2-1 in the bottom of the fourth inning. Raleigh singled and Moore walked with two outs to put runners on, but France popped out to second base as the Mariners were unable to get closer.
Caballero singled with one out and Crawford followed with a single to left field that should have put two runners on. Instead, Caballero tried to take the extra base and got thrown out at third base. Rodríguez grounded out to first base to end the inning and the threat was erased.
Another missed change came in the next inning for Seattle. Eugenio Suárez doubled to lead off the sixth inning only to be left stranded at second base with Seattle unable to deliver the key base hit.
"(Assistant coach) Carson Vitale said 'at some point we're going to have to get a hit with a runner in scoring position.' And he was right," Servais said. "He said 'we only need one, if we get one we'll probably win the game' and he was right."
Sam Haggerty's walk against Andrew Heaney served as Seattle's only baserunner in the seventh and eighth innings as the Texas bullpen appeared set to coast to a victory that would clinch a playoff spot for the Rangers.
But the Mariners burst through the opening Chapman provided in the ninth inning for their biggest win of the season. If Seattle finds a way to sneak into the playoffs come Sunday afternoon, Crawford's magic will be one of the more remembered moments in regular season team history.
"There's no better feeling," Crawford said of the reaction to his efforts. "Some of these moments you will never forget. It's a very vivid memory of mine already in my head. Just hearing that. There's no better feeling in the world."
Seattle now finds themselves a game behind Houston and two games back of Toronto in the Wild Card race. The Mariners hold head-to-head tiebreakers over both teams and also would win a three-team tie between Seattle, Houston and Texas for the AL West crown. But that still means Seattle needs multiple victories over the final three games to make any of those scenarios possible.
Toronto closes with a three-game series with the Tampa Bay Rays, who have nothing to play for after the Baltimore Orioles wrapped up the AL East on Thursday. Houston has a three-game series with the Arizona Diamondbacks, who have yet to clinch a Wild Card spot of their own in the National League chase.
"The whole team knew that we needed that that big hit right there," Rodríguez said. "And just to kind of get it it was definitely like come on, like, it's not over yet, we can keep doing this."